Intel is all set to launch its Alder Lake chips on November 4. In the meantime, benchmarks have already started showing up on CPU-Z with seemingly impressive results. One such leaked benchmark shows that the upcoming Core i5-12600K is 50% faster than its predecessor, the Core i5-11600K, in multi-threaded use cases.
The Core i5-12600K seems to have a base clock of a 2.9GHz and a 3.7GHz boost. This is achieved with the help of 6 performance cores with hyperthreading and 4 efficiency cores. For multi-core, it boosts up to 4.5GHz and 4.9GHz on single-core with 16 threads.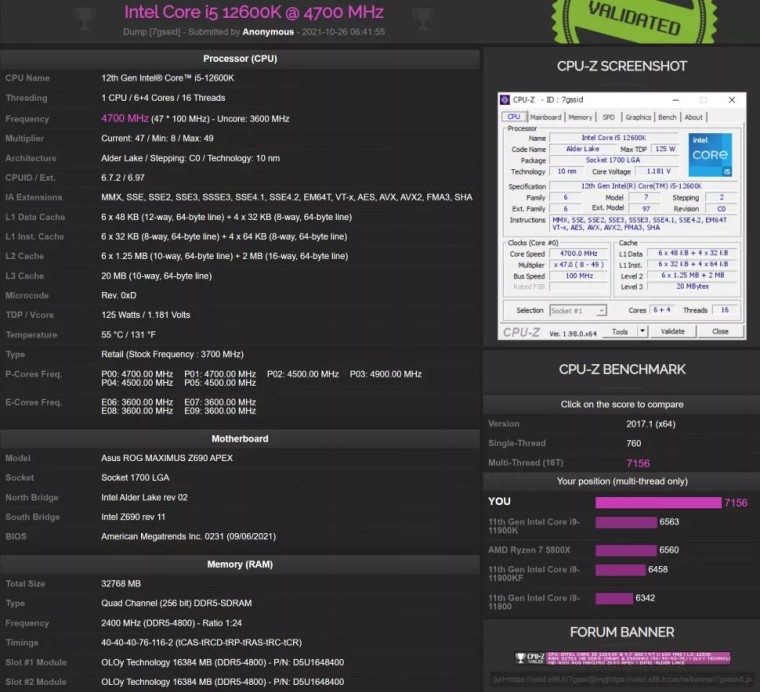 As you can see in the above image, the Core i5-12600K outperforms the Core i9-11900K with a score of 7156 over 6563, respectively. It also outperforms AMD's Ryzen 7 5800X processor, which is its closest competitor as far as the price range is considered. ASUS's ROG Maximus Z690 Apex and ROG Maximus Z690 Hero were the motherboards used for the benchmarks. There were also three different DRAM used - OLOy, Corsair, and TeamGroup, all running at 4800 MT/s.
Although the performance in benchmarks seems to be great, the real-world performance might differ. Someone even purchased a Core i9-12900K early, but unfortunately isn't able to use it. As mentioned before, Intel will launch Alder Lake processors on November 4. It is possible that the company will launch the Z690 motherboards along with it as well.