For much of this year, we've been hearing rumours and speculation about the prospect of Nokia launching a phablet, but so far, there's been no official word from the company on its plans in that regard. Just last month, a display panel for such a device was apparently caught on camera.
We're still waiting to finally see this mystical handset in all its glory, but for now, we'll have to be happy with some benchmarking stats, spotted by China's dospy.com, which point to a Windows Phone 8 phablet called the Lumia 825.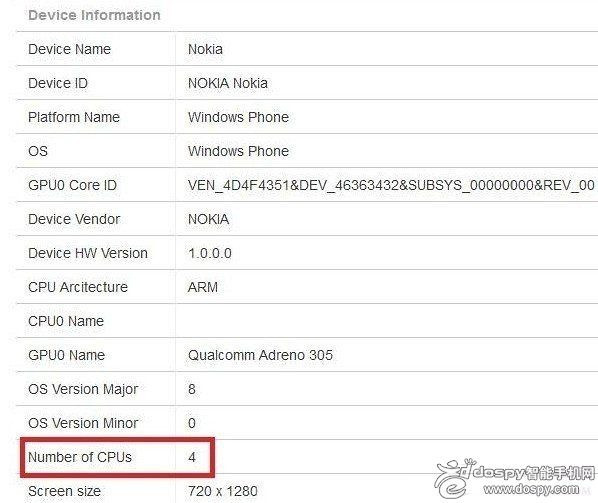 Based on the results from GFXBench, the device is expected to feature a display with HD (1280x720px) resolution, possibly 5.2-inches in size, along with a quad-core CPU and Qualcomm Adreno 305 GPU. Dospy.com speculates that the chipset will be from the Snapdragon 400 family, clocked at 1.2GHz. 
The indicated specs point to a device that's far from a flagship, but rather a well-featured mid-range device, which also coincides nicely with the Lumia 825 moniker, hinting that the handset may be intended as a replacement for the capable but unremarkable Lumia 820. 
The 825 would feature the largest display of any Lumia handset - bigger even than the recently launched 4.7-inch Lumia 625 - or indeed of any Windows Phone so far. For now, the Samsung ATIV S, with its 4.8-inch display, holds on to that crown. 

Will Nokia's phablet just be a phone with a big screen, or will it also include stylus support?
Bigger things are apparently on the horizon though. Nokia is widely expected to launch an even larger phablet, possibly with a 6-inch display, and featuring Full HD (1920x1080px) resolution, later this year, coinciding with the arrival of the Windows Phone GDR3 update. That update will bring essential enhancements to the operating system in order to support quad-core processors and 1080p displays, along with other improvements for existing devices. 
Curiously, however, this wouldn't be the first Lumia 825 to emerge from Nokia. A version of the Lumia 820, exclusively for developers and Nokia staff, is also referred to as the Lumia 825. 
Source: dospy.com via Coolsmartphone | upper image via dospy.com 

> Check out our designs for the fictional 'Nokia Lumia 1080' phablet with Windows Phone 8.1 
> Beyond GDR3: Details on Windows Phone update plans