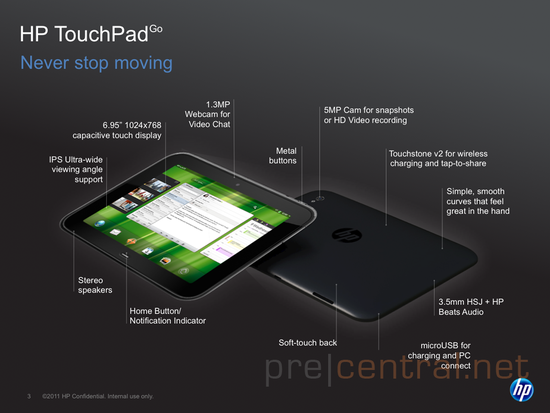 HP's original version of the TouchPad tablet went down in flames last August but the 9.7-inch product with a 1.2 Ghz dual-core processor was supposed to be followed up by another 7-inch version. While that tablet may never see the light of day, some new marketing slides from HP showing the product have found their way to the Internet. PreCentral.net has the slides which describe the HP TouchPad Go in full detail.
The slides show that the TouchPad Go would have received a processor upgrade compared to the original, with a dual-core 1.5 GHz Qualcomm processor inside. It would have also had 1 GB of RAM along with other new features like a GPS and a five megapixel rear-facing camera. The HP TouchPad Go would have had a 6.95-inch touch screen but would have kept the same resolution (1024x768) as the 9.7 inch version. The plastic buttons on the HP TouchPad casing would have been replaced with metal ones for the Go version. Naturally the HP TouchPad Go would have used HP's WebOS operating system. The article speculates that this version of the tablet would have been made primarily for business users.
Before the whole TouchPad division grounded to a halt last August, HP had plans to release the TouchPad Go sometime this fall. It would have been available in 16 and 32 GB versions. It would have also come in WiFi only models along with 3G and/or 4G wireless options. Pricing details were not revealed in the leaked marketing materials.
Image via PreCentral.net