Microsoft's Windows Update system appears to have gone bonkers again. An older version of the KB4023057 update is now trying to make its way to Windows 10 machines again, only to result in an installation error.
A Windows user took to Reddit to share the problem with installing KB4023057. According to the Redditor, the update failed to install after the download process. But what's more interesting is that the same update appears to have been installed already back in December 2018, with the latest update that has just been rolled out carrying the release date 2018-11. A separate post on Microsoft's community forum also corroborates this finding.
Originally KB4023057 was been made available to the April 2018 Update (1803) and all older Windows 10 versions and added improvements to Windows Update reliability, according to Microsoft's support page. That update also works to free up space on your PC's storage to give way to important Windows updates.
The installation error in some PCs is likely due to the fact that KB4023057 is already installed on those machines. It's not clear what changes (if any) this update brings with it and why Windows Update is trying to install an older version of KB4023057.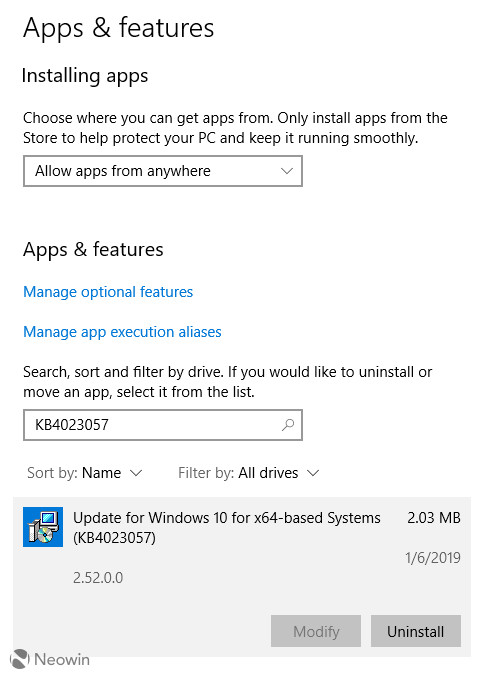 As of this time, the issue seems to be limited to only a small number of users of Windows 10 version 1803. For those experiencing this problem, you can try removing the existing update by heading over to the Settings menu and then tapping the "Apps & features" section. Type KB4023057 in the search bar and click on the package to see the "uninstall" option. After that, restart the PC and it should install without error.
Source: Molly2925 (Reddit) via Windows Latest