Early in 2020, Google introduced policy changes to the Play Store meant to ensure that apps have the right permission to access background location data. Now, the search giant has previewed a new section in Google Play that will increase the transparency around how apps are using your data.
Google announced today that, beginning in the second quarter of 2022, developers will be required to include information about how their apps collect and share data as well as other data pertaining to privacy and security. With the new safety section, users can check what type of data is collected by the app and how it's used. These pieces of information may include location, contacts, name, email address, photos, videos, audio files, and storage files.
The new section will also show if an app encrypts data it gathers and obeys Google's policy for creating apps and games for children. It will also highlight whether specific data being accessed is essential for an app's functionality and whether an independent party verified an app's safety section. There are elements in it as well that will show if users can request to have their data removed if they uninstall an app. These pieces of information must be included when developers submit or release updates to their apps beginning next year.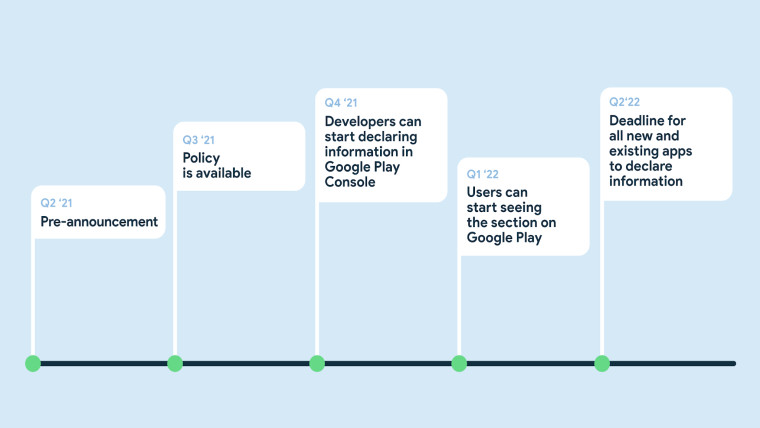 Developers will gain access to the new policy requirements and resources starting in the third quarter of this year and then they can add the necessary information in the Google Play Console by the fourth quarter. The safety section will go live in Google Play in the first quarter of 2022.
It's noticeably a similar policy change to what Apple introduced last year for app listings in the App Store. Apple's Privacy Labels essentially provide an overview of data that an app gathers and what it does with it. It's interesting to see how Google will implement this policy in its own ecosystem.