The Black Shark 2 made its debut a few months ago and although its specifications and pricing are impressive, it isn't something you'd expect to see available for purchase any time soon if you're located in regions like the United States. While one can always hope, for the time being, we will have to settle with a brief hands-on during E3 2019.
The Black Shark booth wasn't huge by any means but offered plenty of handset demos for all interested. By the numbers in its booth, it was evident that not many were familiar with Black Shark or its offerings.
The Black Shark 2 on its own, looks and feels like any modern smartphone, powered by the latest from Qualcomm with a Snapdragon 855 processor and can be configured with up to 12GB RAM and 256GB of internal storage. The display is an AMOLED variant measuring in at 6.39 inches with a resolution of 1080 x 2340, with claims that it offers the "world's lowest latency touch" thanks to a 240Hz "touch report rate".
Along with plenty of power under the hood and a good looking display, you get booming sound thanks to the phone's dual front firing speakers. It was quite surprising to be able to hear audio at all considering the environment. Also, like most other gaming phones, there is customizable RGB lighting.
But what makes the Black Shark 2 stand out is its controller accessories. By adding the protective case to the phone, it makes it possible to attach game controllers to the left and right-hand side of the device. Now, you don't have to use both if you don't want to and have the option to just use the left or right-hand side controllers on its own.
Now as for buttons, you can see there are plenty, with the left controller offering an analog stick, four directional buttons, a back button, and two shoulder triggers. The right controller offers a touch-sensitive pad, four directional buttons, a start button, and two shoulder triggers. All of the buttons, sticks, and triggers feel good and were quite responsive.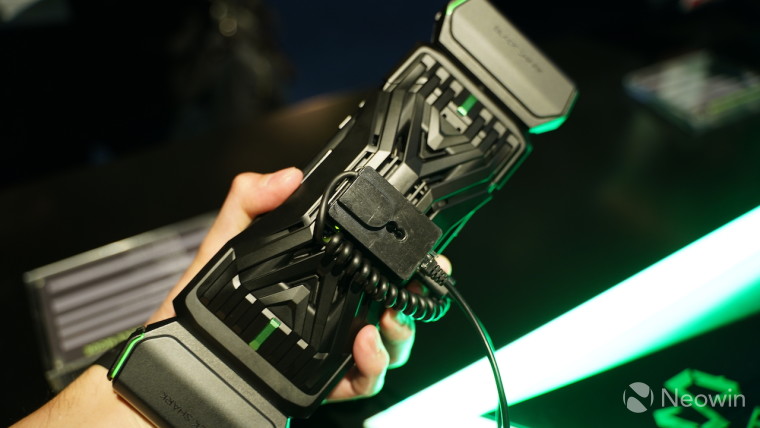 When it comes to cooling, the phone already offers "Direct Touch Liquid Cooling 3.0" but apparently, that might not be enough if you are going to be gaming for hours on end. So the firm offers a different case for the phone, one with a fan to keep things extra cool. Now as you can see from the image above, this thing is quite the behemoth. But as for how much noise it generates, it was hard to tell due to the environment.
Overall, the physical controls were a joy to play with and seem like a great option for someone that occupies a lot of their time with mobile gaming. For now, those in Europe can purchase the Black Shark 2 'Black Shadow' variant for €549 with 8GB/128GB or €649 for the Frozen Silver or Black Shadow 12GB/256GB option, and in Asia with a few more color options. As for other regions, those interested can only hope that this will be made available at some point in the near future.