Update:
Since this article was originally published, @Obstructable - who is part of hacking group SKidNP, but has no affiliation with Lizard Squad - has contacted Neowin to clarify that he defaced Phantom Squad's website, and not Lizard Squad.
He told us that the original reference to Lizard Squad was inserted as a joke, but he later revised the amendments to the site to include references both to himself and to SKidNP. Below is a screenshot of the site, captured by Neowin, a couple of minutes before the entire site went offline: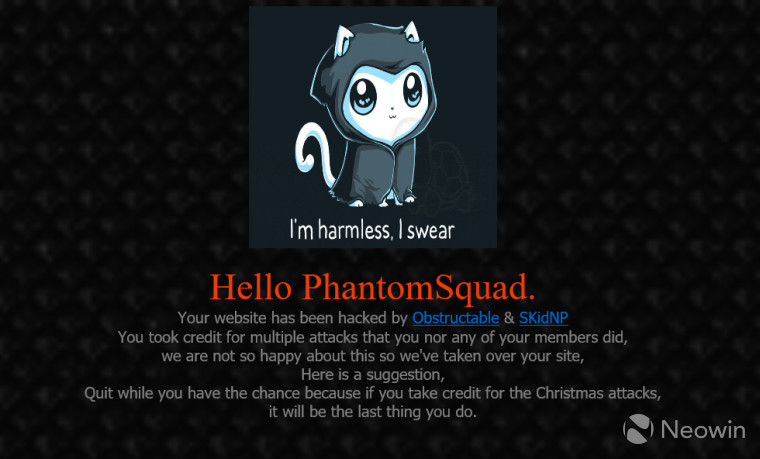 And a tweet posted by @SkidNP shortly afterwards to support their claim:
---
Original article:
In recent days, the online hacking scene has exploded - with several new 'collectives' appearing on social media platforms such as Twitter. A new hacking warfare has taken place, and there appears to be no signs of it cooling down just yet.
One collective in particular caught the interest of many; namely Phantom Squad. It claims to have taken down Xbox Live on Thursday - which saw multiple Xbox Live services facing outages throughout the day.
It now appears that the penny has turned - and rather than Phantom Squad dishing out the attacks, its rival collective, Lizard Squad, popularized for the takedown of Xbox Live and PlayStation Network during Christmas 2014, have claimed to have not only taken control of Phantom Squad's Twitter accounts, but also to have defaced their website. The full statement on the defaced website states:
Hello Phantom Squad. Your website has been taken over by Lizards.

You took credit for multiple attacks that you nor any of your members did. We are not so happy about this so we've taken over your site. Here is a suggestion. Quit while you have the chance because if you take credit for the Christmas attacks it will be the last thing you do.
Sent to us by Lizard Squad themselves, through a series of Tweet exchanges from members of the collective, Lizard Squad explained that they had defaced the website of Phantom Squad for 'taking credit for multiple attacks' that none of Phantom Squad's members carried out.
Lizard Squad's statement on the defaced page warns Phantom Squad that continuing to claim credit for attacks, particularly those planned for Christmas 2015, will result in that being 'the last thing that they do'.
Source: HarmIessss | Image: Harmless