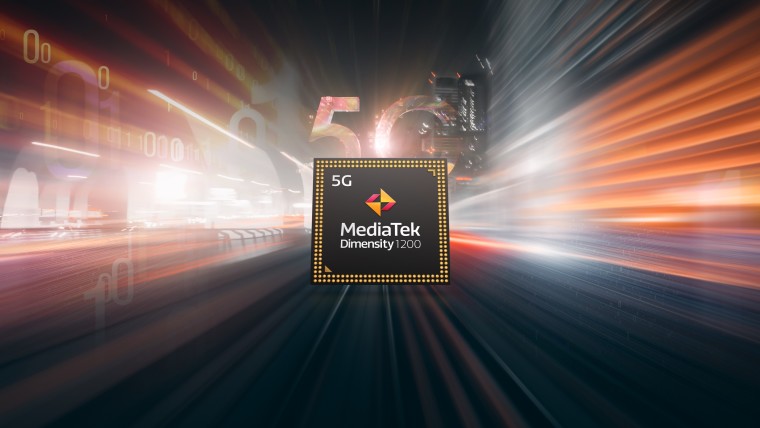 MediaTek has announced the latest in its lineup of high-end Dimensity chipsets for smartphones, the Dimensity 1200 and Dimensity 1100. Naturally, the most powerful one is the Dimensity 1200, which is MediaTek's new flagship, but they have some things in common, like dual 5G SIM support and the fact that both are built on a 6nm process.
The Dimensity 1200 adopts a strategy similar to Qualcomm's flagship processors, with one top-tier core, three high-performance cores, and four efficiency cores. However, the top-tier core here is still a Cortex-A78 core, running at 3GHz, instead of using Arm's latest Cortex-X1 designs. The three performance cores are also Cortex-A78, running at 2.6GHz, and the efficiency cores are Cortex-A55 at 2.0GHz. The difference for the Dimensity 1100 is that the four performance cores are all the same, and there's no single top-tier core. Both also have an Arm Mali-G77 GPU with nine cores.
The new chipsets also come with MediaTek's latest APU (version 3.0) for AI image processing, and both have features such as panorama night shot, multi-person bokeh, noise reduction, and HDR. However, the Dimensity 1200 supports photos up to 200MP, while the DImensity 1100 only supports 108MP.
The differences continue in terms of displays, with the Dimensity 1200 having support for 168Hz refresh rates, something we haven't seen in a phone yet, while the Dimensity 1100 sticks to 144Hz. For gaming, MediaTek has the new HyperEngine 3.0 which adds support for 5G data and call concurrency and improved touch responsiveness. MediaTek also claims support for ray tracing on the new chipsets.
The new Dimensity chipsets should make their debut inside phones at the end of the current quarter or the beginning of Q2.