It's been a crazy year. When I wrote about what Microsoft had planned for 2020 last year, no one was predicting a global pandemic, yet here we are. The Redmond firm missed a lot of targets this year, and while some of it can be blamed on COVID-19, others can't.
To recap, Microsoft made big promises for 2020. It said that the Xbox Series X was coming, along with the dual-screen Surface Duo, but it also promised to deliver the Surface Neo, Windows 10X, and the Surface Hub 2S. We got some new Surface PCs this year, but strangely, not a new Surface Pro or Surface Laptop.
What we got
Xbox Series X|S
The next generation of Xbox consoles is here, and of everything that Microsoft did this year, this tops my personal list. There are two flavors: the Series X and the Series S, with the Series X on the high-end promising things like 4K 120fps gaming. They both have DirectX Raytracing, and they have super-fast SSDs that reduce loading times to a fraction of what they were on their predecessors. There's also a feature that lets you pick up a game right where you left off when you launch it.
Perhaps most importantly, the new generation of Xbox consoles can play all of the games that the Xbox One series could play, and more. That gives it a library of thousands of games at launch, and you don't have to throw a single game in the trash when you upgrade.
Surface Duo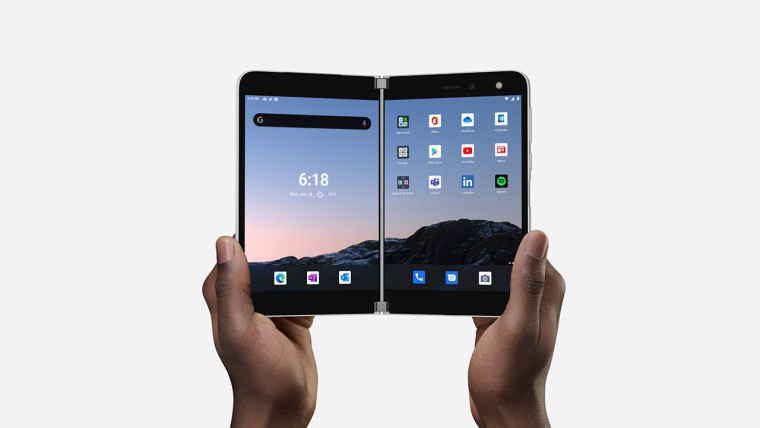 The Surface Duo is an interesting case from Microsoft. It was announced alongside the Surface Neo and Windows 10X at an October 2019 event, but the latter two products never shipped. That left Microsoft just shipping a dual-screen Android phone that had its own custom launcher and apps on it.
Microsoft sent the Surface Duo to exactly 50 reviewers, not sending out any additional units after the product was actually released. Reviewers were generally unimpressed, citing software bugs and the terrible camera, but the general consensus was also that the second generation of the product could be more interesting. The hardware was also praised, given how thin it is when unfolded.
Surface Laptop Go
The Surface Laptop Go was the one surprise product that Microsoft had planned for this year. A smaller and inexpensive version of the Surface Laptop 3, some criticized it for the low pixel density and the lack of a backlit keyboard. I was more impressed by it, mainly because all of the downsides are on the spec sheet and there are no unwelcome surprises.
Surface Go 2
The Surface Go 2 was definitely a notable improvement over the original. The screen is a bit larger at 10.5 inches, but the chassis is the same size so it has narrower bezels. It also comes with an option for an Intel Core m3 processor instead of just a Pentium Gold, offering a much-needed performance boost.
Surface Book 3
The Surface Book 3 looks exactly like the Surface Book 2, and it's mainly a spec bump. Microsoft swapped out the eighth-gen Intel Core processors for 10th-gen 'Ice Lake'. With the new integrated Iris Plus Graphics, it provided a serious boost of power when the display is detached. The GPU in the base was upgraded too, with an Nvidia GeForce GTX 1650 with GDDR5 in the 13.5-inch model and a GTX 1660 Ti in the 15-inch model. You can check out the review here.
Surface Pro X
When I wrote my predictions for 2020, the Surface Pro X 2 was at the bottom of the list as 'unlikely', and to be fair, I was half right. We got a new Surface Pro X, but it's such a minor upgrade that it's considered a new configuration of the existing one. It has a new Microsoft SQ2 processor, which offers a higher clock speed on the CPU and the GPU. It also comes in a new Platinum color, and has more colorful accessories.
What we didn't get
Windows 10X
Windows 10X was and still is set to be an all-new version of Windows. When Microsoft introduced it, it said that it was designed from the ground up for dual-screen devices, something that actually wasn't true. In fact, we had heard about it well ahead of time as Windows Lite.
Nevertheless, Microsoft actually did start testing Windows 10X through the Microsoft Emulator app, but it only released two builds, one in February and one in March. After skipping April, Windows and devices chief Panos Panay confirmed in May that Windows 10X is being repurposed for single-screen devices, with dual-screen support coming at some point down the road.
Panay said that Microsoft was using a more common sense approach, deciding to meet customers where they are. Of course, while "where they are" is single-screen devices, Windows 10X will require you to go out and buy a new PC to get it anyway.
The OS is now expected to ship this spring on new single-screen hardware, with dual-screen support coming in 2022.
Surface Neo
The Surface Neo was announced alongside Windows 10X and the Surface Duo, and it was supposed to be the hero device for the new OS. It was going to be Intel Lakefield-powered, unlike the Snapdragon 855 in the Surface Duo, and of course, it's bigger than the Duo. That was the whole idea, in fact. Android is better for phones, and Windows is better for PCs.
Obviously, the Surface Duo was the easier product to make. A dual-screen device isn't particularly hard to engineer, and with the Duo, Microsoft was just using another company's pre-built operating system with a custom launcher. With the Neo, it had to build an OS from the ground up. It just felt a bit strange, releasing the Surface Duo without the Windows-powered Surface Neo alongside it.
Officially, the Surface Neo is delayed indefinitely. When Windows 10X was delayed, Panos Panay said Microsoft would revisit dual-screen support when the time is right, not mentioning why the time is right for dual-screen Android devices.
Surface Hub 2X
The Windows 10X delays have shown through in other product launches as well, such as the Surface Hub 2X. Microsoft announced the Surface Hub 2 in May 2018, promising it for 2019. It showed off new features like tiling and dynamic rotation. Four months later, Microsoft totally backtracked on it, saying the Surface Hub 2 will be broken up into two products, the 2S and 2X.
The Surface Hub 2S is basically a newer version of the original product, putting the old OS in the new chassis. The Surface Hub 2X was the one that actually had the features that were originally promised, and that was being pushed back to 2020. The delay was announced in February, but Microsoft promised to bring some of the 2X's features to the 2S.
Surface Studio 3
The Surface Neo, Windows 10X, and Surface Hub 2X were the only products promised for 2020 that didn't get delivered, but I still expected more. The Surface Studio 2 was announced in October 2018, and even then, it had last-gen mobile processors. It comes with seventh-generation H-series chips and Nvidia GTX 1070 GPUs.
In case you haven't been keeping track, Intel is up to the 10th-generation in both its H-series mobile processors and S-series desktop chips. A new Surface Studio definitely would have been a likely product for this year, but it didn't happen. We'll just have to add it to our 2021 predictions.
Surface Pro 8 and Surface Laptop 4
For the last couple of years, Microsoft has launched a new Surface Laptop and a new Surface Pro at its October event. That didn't happen this year, despite brand-new 11th-generation processors being available from Intel. Rumor has it that the products are coming in January.