Back in 2014, when Microsoft launched its first-generation Band, it also released an app called Microsoft Health. While that app acted as a companion for the Band, it was much more than that, acting as a gateway to the company's new health and fitness data platform, in an effort to make it easier for users to stay well, and stay fit.
Here's a snippet of what we wrote on the subject back in November 2014:
The Band, by itself, was not good enough for Microsoft. The software giant loves its large-scale platforms and it needed something more to make the product cohesive. And so, Microsoft Health was born.

Health is an ambitious project from Microsoft to take all of the data that they can collect and provide you with actionable information. The platform is open to other devices as well, provided the vendor wants to link-in to the system; Jawbone has hopped on board, for example, along with a few others.
Since then, Microsoft of course released a second-generation wearable, the Band 2, last October. But in recent days, questions have been raised about whether or not Microsoft would ever release a Band 3, amid claims that the company has ended its efforts to get Windows 10 running on the device - a move that was anticipated even before the Band 2 was unveiled.
But Microsoft's latest move raises more questions than it answers.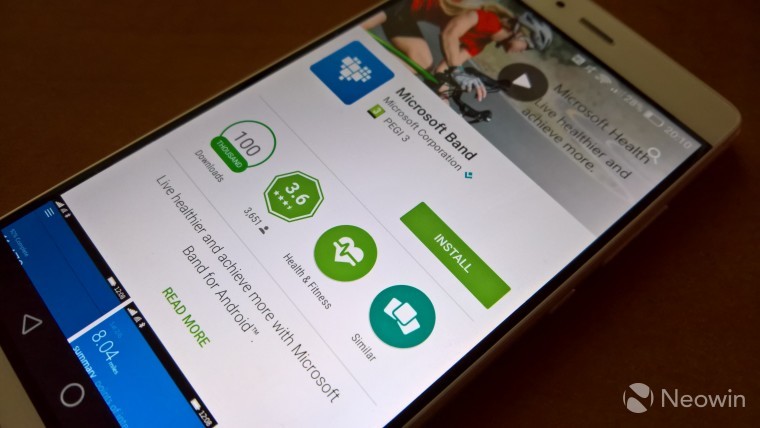 Today, as WinBeta spotted, Microsoft updated its Health app on Android, and for some reason, it renamed the app as 'Microsoft Band'. The complete changelog for that update reads:
We've got a new name! The Microsoft Health app is now the Microsoft Band app, everything else is the same.
Bug Fixes
No change seems to have been made yet on iOS, but it's a different story on Windows 10.
At time of writing, the Windows Store still listed the app as 'Microsoft Health' on Windows 10, but if you install the app - or if you manually update it, if it's already installed - you'll see that it subsequently appears on Windows 10 PCs and phones as 'Microsoft Band'. On Windows Phone 8.1, the app listing already says 'Microsoft Band'.
The reason for this change is far from clear - and Microsoft has so far offered no explanation for it.
On the face of it, this could be interpreted as proof that the company isn't planning to bring an end to its Band hardware line. But given that Microsoft's plans for a diverse Health ecosystem involving third-party hardware partners never fully materialized, it could just as easily be an implicit admission of failure, consolidating what remains of the platform around its own hardware brand.
But if the end is indeed nigh for Band, and the company doesn't intend to release a Band 3, what does this mean for the Microsoft Health platform?
Your guess is as good as ours - so be sure to let us know your thoughts in the comments below.
Update: No surprises here, but as @teroalhonen spotted, Microsoft is now referring to the app on iOS as 'Microsoft Band' too. Still no explanation from the company about why it's made this change though.