As it would seem, we're at the end of the week, which means a bit of a recap is in order. The Xbox got a sleeker, disc-less variant, preparations around the availability of the May 2019 Update have started to gather some steam, and new icons were made available for some services. Be sure to find all that, and the usual bit extra, in your Microsoft digest for the week of April 13-19.
Going all digital
What better way to start this section than with a couple of free games? Granted, these are only free if you have an active Gold subscription, but that still counts for something. The two specific titles are Tom Clancy's Ghost Recon Advanced Warfighter 2, and Outcast - Second Contact.
If those two aren't quite your cup of tea, you might want to check out Ninja Gaiden II which has been enhanced and added to the Backward Compatibility list.
Remaining in the realm of free games, there's Forza Street, a casual, evidently mobile-oriented entry in the series. The game is now available for Windows 10, with it confirmed to make an appearance on iOS and Android later this year.
For those who want something more akin to previous entries in the Forza series, there's going to be news related to a new Forza Motorsport entry next month. Specifically, on May 7, 11AM PT, the next Forza Monthly stream will commence on the Forza channel on Mixer. Though Turn 10 is asking for feedback now, the upcoming title is slated for release sometime in 2020.
Those with an Xbox One should start getting the April 2019 Xbox Update, which brings a smaller floating keyboard, better access to Game Pass Quests, a new restart option in the Power Center, suggested app uninstalls, and a reprogrammable OneGuide button.
Speaking of the Xbox One, Microsoft has announced a disc-less variant of the One S dubbed the All-Digital Edition. We knew this was coming, though more details are always nice to have. For example, it has 1TB of internal space, costs $249.99, and includes Minecraft, Sea of Thieves, and Forza Horizon 3 (not Horizon 4 for some reason). Furthermore, it comes with a Game Pass offer which allows folks to get three months of the service for just $1. An interesting related tidbit is that Microsoft plans to keep the price of the One S All-Digital Edition $50 lower than the regular One S at all times – even during sales.
Since we touched on it briefly in the last couple of paragraphs, Xbox Game Pass now has an Ultimate tier. This combines it and Xbox Live Gold into a singular $14.99/month subscription, which is a reasonably good deal given how much the two cost separately. It should be available later this year, with more details probably being shared at E3 on June 9.
The last gaming-related tidbit is an odd one to be sure. The Minecraft movie that was rumored all the way back in 2014 has gotten yet another release date. This time it's March 4, 2022, and it's difficult to say whether the hype around it will still be as strong as it would've been at the sandbox title's peak popularity five years ago.
The May 2019 Update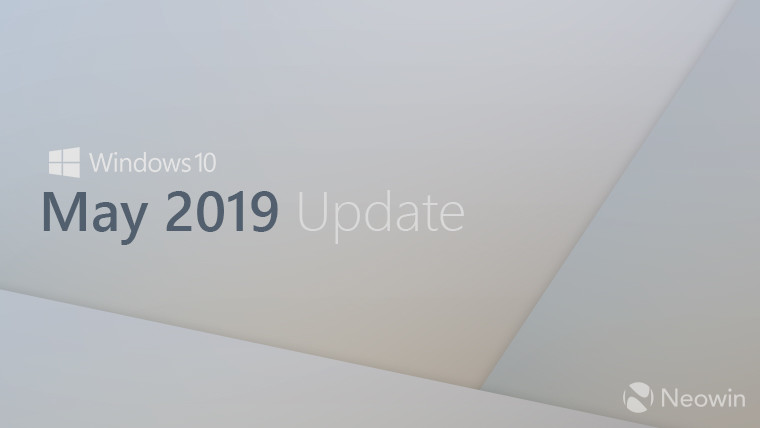 For those who've made the jump early to 19H1 – the May 2019 Update -, Microsoft has decided to stop offering 20H1 builds. This isn't the company cutting off access for no reason, as those on build 18362.53 have issues upgrading to 18875, the latter of which is part of the 20H1 branch. This only affects 19H1 to 20H1 upgrades, and if you're already on 20H1, you should be fine.
As it's just around the bend, more things related to the next feature update have started to surface. One such thing is the SDK, which includes XAML Islands v1, improvements to WSL (Windows Subsystem for Linux), and Windows UI Library 2.1.
Those of you eager to get your hands on this thing will be happy to know that it is now available on MSDN. Of course, access to it requires an active subscription, but it's available nonetheless, for those interested.
Lastly, Intel has also stepped in and updated its DCH driver to version 26.20.100.6709 with support for version 1903 – or the May 2019 Update. This variant of the driver introduces a redesigned Command Center, is now compliant with WDDM 2.6, and supports the DirectX 12 Shader Model 6.4 compiler on seventh-gen Intel Core chips (or newer), or those equipped with HD Graphics 610 or higher.
Icon changes
It's been a bit of bad week for Outlook, as the Redmond giant confirmed a data breach involving the web service, only to add onto it another unfortunate twist this week. While the breach took place between January 1 and March 28, there was allegedly another level to it, thanks to a compromised Microsoft customer support account which reportedly had access to the content of users' emails. Microsoft allegedly confirmed that 6% of the users hit by the breach were also affected by this customer support mishap. Non-premium users were the only ones hit by these Outlook.com-related breaches.
Switching gears a little, those who use the Skype Insider program should now be getting version 8.43.76.38, allowing them to be notified when a contact comes online. This small capability was readily available in the older variant which the company killed off, though efforts are being made to reach feature parity.
There's also more in the Insider program, this time for Office and in the Slow ring. If you're on the Monthly Channel (Targeted), you should be getting version 1904 which brings the redesigned icons, account switching, the simplified ribbon, and more. The nearly forgotten UWP Office Mobile apps will also be getting these new icons, despite them not receiving any other new features in a while. And yes, the OneDrive app on Windows is also getting its newest icon treatment, though you'll need to be an Insider to access it now. The version of the sync client to look out for is 19.073.0415.0001.
Something that won't be getting any more updates is the Windows 8 store. Come July 1, 2019, it will join Windows Phone 8.x in the cessation of all app updates or indeed the ability to install apps from the marketplace. Those on Windows 8.x devices are still covered until July 1,2023.
The Fast ring
Hot corner
Hot corner is a section of The Fast ring dedicated to highlighting five Microsoft-related stories that haven't been covered over here, but might be of interest.
Logging off
Much like last week, we also end with Edge-related news. This is due to Microsoft finally opening up more on what Edgium will be all about.
For starters, we know that the folks up in Redmond are working to bring syncing of favorites between Edgium and Edge on iOS. As far as Edge on Android is concerned, it should get the ability to sync passwords, auto-fill, open tabs, and more between PCs and mobile devices in the coming months.
Speaking of new things to be added, a new build has been added to the Edge Dev preview channel, specifically version 75.0.131.0. This is quite the jump from the previously available 74.1.96.24 and a mere 2 smaller iterations from Canary's 75.0.133.0. The new build brings media casting capabilities, and some known issues with Chrome extensions that require a Google account. On the bright side, key features coming down the line are dark mode, accessibility improvements, grammar tools, smooth scrolling, reading view, translation, and inking. Presumably that also includes spellchecking, which isn't yet available.
The same build mentioned above is now available for 32-bit devices too, though it's still limited to Windows 10-based systems for now. No word on when it'll arrive for Windows 7, 8.1, and macOS, in preview form or otherwise.
Missed any of the previous columns? Be sure to have a look right here.