As smartphone prices have gone up, some companies have found it important to try to package as much of a flagship experience as possible into a package that costs much less than the top-tier offerings. OnePlus was founded on that principle back in 2013, but even Apple got into this idea with the iPhone SE in 2016, which got a successor early this year.
So, Samsung hopped on board with the Galaxy S20 FE, which takes a lot of what was in the original Galaxy S20 series and delivers a package that starts at $300 less than the base Galaxy S20's launch price. It has the same flagship processor, the same main camera, and a battery that's actually bigger than that of the Galaxy S20, and it makes sacrifices in some other areas to save money.
It's great to Samsung embrace this idea, and all in all, the Galaxy S20 FE is an awesome product. I got the 5G-enabled variant, which is the only version available in the U.S. Here in Europe, you can get a 4G-only variant, but I wouldn't recommend it.
Specs
| | |
| --- | --- |
| CPU | Qualcomm Snapdragon 865 (Octa-core) - one 2.84GHz Kryo 585 Gold, three 2.42GHz Kryo 585 Gold, four 1.8GHz Kryo 585 Silver |
| GPU | Adreno 650 |
| Display | 6.5 inches, 1080x2400, 407ppi, 120Hz, Dynamic AMOLED |
| Body | 159.8x74.5x8.4mm (6.29x2.93x0.33in), 190g (6.70oz) |
| Camera | 12MP main + 12MP ultra-wide + 8MP telephoto, Front - 32MP |
| Video | 4K - 60fps, HDR10+, Front - 4K - 60fps |
| Aperture | f/1.8 + f/2.2 + f/2.4, Front - F/2.2 |
| Storage | 128GB UFS 3.0 |
| RAM | 6GB |
| Battery | 4,500mAh |
| Color | Cloud Lavender, Cloud Mint, Cloud Navy, Cloud White, Cloud Red, Cloud Orange |
| OS | Android 11 with OneUI 3 |
| Price | €729-€759/$699 |
Yes, you read that correctly, the 5G variant of the Galaxy S20 FE 5G comes with a Snapdragon 865 chipset, even in Europe. However, the 4G variant comes with an Exynos 990. It's not that the Exynos 990 doesn't support 5G, because that's inside the Galaxy Note20 Ultra I reviewed a few weeks ago. I have no idea why this is the way it is, but I'm extremely glad Samsung decided to give Europe a Snapdragon variant.
Day one
Design
There isn't much that stands out about the design of the Galaxy S20 FE, but that's not necessarily a negative. It's your typical smartphone slab, but Samsung swapped out the glass backplate for plastic, and while that can be a bummer, the soft-touch finish Samsung is using here is great, and the phone just feels really nice to hold. I find that I'm an increasingly bigger fan of matte or soft-touch backs compared to glossy ones every time I hold one. Also, red isn't usually among my favorite colors, but this thing looks beautiful. Samsung calls it Cloud Red, and I think it fits. There's a sort of haziness to the color, but it's still very vibrant and looks fantastic.
While we're looking at the back, the camera module does create a significant bump despite some downgraded specs. It's smaller than the Galaxy Note20 Ultra - thankfully - but it's definitely noticeable. By now, I think we're all used to camera bumps, though, and this one isn't outrageous by any means.
Going around the edges of the phone, it's all business as usual. The right side of the frame has the power/Bixby button, plus the volume rocker. One thing you notice just looking at the sides is that the screen doesn't curve over the edges, and the phone is thicker than the regular S20, allowing the frame to be thicker as well. Samsung still chose to have a bit of a ridge around the power and volume buttons, though, which I'm ok with. It adds a bit of personality to the design. The left side of the phone has nothing of note.
The top edge of the phone has the SIM and microSD card slot for expandable storage, plus a microphone for video recording.
Finally, the bottom edge has the USB Type-C port for charging, a speaker grill, and another microphone.
Display and sound
The display in the Galaxy S20 FE is a 6.5-inch Dynamic AMOLED panel with a 120Hz refresh rate, and it maxes out at Full HD+ resolution, 2400x1080. That's a downgrade from the rest of the Galaxy S20 lineup, but I think Samsung made a very smart decision cutting back on the resolution instead of the refresh rate. I've always defended that going beyond 1080p on a smartphone isn't a necessity, and the higher refresh rate is way more interesting as a feature. Samsung actually puts its own Galaxy Note20 to shame, since that phone had a Full HD+ screen and it was limited to 60Hz, and that started at $999.99 at launch.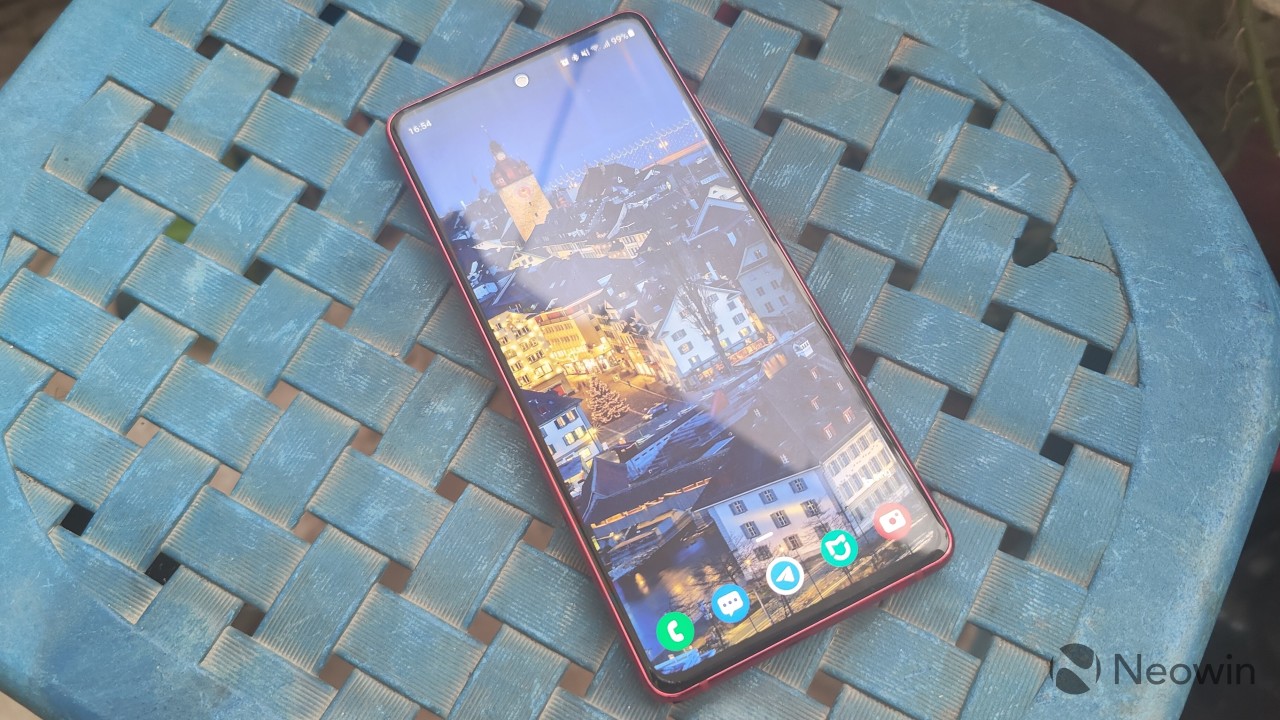 There's another thing I like about this display - it's flat. Curved edges were all the rage for a while a few years ago, but accidental touches can get annoying, especially as screen sizes get bigger and it gets harder to handle phones with one hand. Flat edges are much less problematic, and while there are some noticeable bezels all around, it's not a big deal to me. Otherwise, it's a solid Samsung display, with great colors and no noticeable issues in my experience.
Samsung continues to deliver in terms of sound, and we actually get stereo speakers on this more affordable package. The earpiece is amplified to double as a second speaker, just like many flagships do. As usual, that means it's harder to muffle the sound with your hands, specifically in landscape orientation. The speakers can get pretty loud, and audio quality doesn't suffer much as you increase the volume. All in all, the media experience is great on this phone.
Camera
The camera setup is the most notable downgrade in this phone compared to its more expensive siblings, but even then, the main camera is the same 12MP sensor used on the regular Galaxy S20. The ultra-wide and telephoto cameras are both downgraded in some ways, but I'm just glad that Samsung didn't give in to the trend of putting in useless sensors like macro or depth cameras to cut costs. At its core, the camera setup on the Galaxy S20 FE is the same as the more expensive phones in the family.
I'm a big fan of that ability to zoom in and out on a scene with different levels of optical zoom, so this is pretty great. In terms of the actual quality of the cameras, it's what you'd expect from Samsung. The camera has a tendency to oversaturate, and some shots feel a bit dark than I would get with other cameras. However, I do like how sharp and detailed images usually are in well-lit scenes, and the shutter speed is pretty good, so it can handle moving objects like cars better than some other phones.
The ultra-wide and telephoto cameras aren't quite as good, though, but they're in line with some other mid-range phones like the OPPO Reno4 Pro 5G. They tend to oversaturate even more, and shots aren't nearly as sharp. It's still a decent camera, but not the best. Also, at night, the camera loses a lot of its qualities, and while night mode helps (see the last two images), it's not as bright or visible as the aforementioned Reno4 Pro 5G.
In terms of features, Samsung's flagships are all pretty much the same, so you get features like Single Take, which records a few seconds of video and saves the best moments as static pictures, pro video recording, and so on. The Galaxy S20 FE doesn't support 8K recording, which is probably not a hardware limitation considering the chipset and main camera are the same as the other Galaxy S20 family members. I assume Samsung just wanted to artificially create some advantages for the more expensive phones. I will say, though, video quality out of this phone just isn't that great. Some colors are very exaggerated, and if you enable HDR10+, it gets very blurry.
Performance and battery life
As mentioned above, the Galaxy S20 FE 5G is powered by a Snapdragon 865, even if you're in Europe. I don't know why it was done this way considering other Samsung phones support 5G with the Exynos 990, and there's a 4G variant of the with that chipset, too. But I'm not complaining, because this chipset does wonders for battery life and even performance. The phone also has 6GB of RAM, which is less than any of Samsung's other flagships this year. This is more of a problem than I expected, as I've noticed some tasks get killed in the background and some things are forced to refresh. I've had some annoyances with browser tabs refreshing automatically because of this, but it's not that bad.
Still, if you live in Europe, that Snapdragon 865 is what matters the most. Let's take a look at some benchmarks, starting with AnTuTu, which is an overall test. Since I got the Android 11 update during the review period, I decided to run the benchmarks twice, so I'll mention both scores for each test starting with Android 11.
Compare that to the Galaxy Note20 Ultra, which I reviewed a few weeks ago. That phone costs almost twice as much, and even with 12GB of RAM, it falls noticeably behind, and it's hard not to blame the Exynos chipset for that. The Galaxy S20 FE pulls ahead in almost every field. On Android 10, the score was actually slightly higher, at 580,605.
The results in GeekBench changed significantly after the Android 11 update, and they're actually lower than the Note20 Ultra here.
The Galaxy S20 FE actually lags behind noticeably here, especially in single-core performance. However, running Android 10, the scores were higher, with 885 for single-core and 3090 for multi-core. The single-core score is still lower than the Note20 Ultra's, but the multi-core was significantly higher. It's worth noting that the benchmarks on the Galaxy Note20 Ultra were all run on Android 10.
Finally, we have GFXBench, a test focused on the GPU.
In this case, the Galaxy S20 FE actually performs worse than the Galaxy Note20 Ultra. Again, performance was better on Android 10, but not enough to make this the faster phone. Still, the performance levels aren't too far at all, and the phones seem to trade blows, despite the huge price difference.
On top of that, the battery life of this phone is much better than the Galaxy Note20 Ultra. With that phone, I always had to be careful with my usage just to have it last me through the day. With the same battery capacity, the Galaxy S20 FE always lasts me through the day, even with a couple of hours of YouTube video playback. I did have problems with the battery life when I got the update to Android 11, so I ended up having to factory reset the phone, but that seemed to fix the problem for the most part. I do have to say, battery life seems slightly worse after the update, even with a reset.
Software
When I first got the Galaxy S20 FE, it was running the same Android and OneUI versions as the Galaxy Note20 Ultra I already reviewed, but I did get the update to Android 11 and OneUI 3.0 during the review period. The update changes a few things, but most of the changes aren't that major. The notification shade and quick actions panels now have a transparency effect I quite like, and the lock screen shortcuts now use black and white icons.
The Settings app has gotten some slight UI tweaks, as have other system apps like Phone and Messages. The Gallery app, however, does feel a bit faster when swiping through your pictures. There's also a carousel at the bottom that shows you previews of what pictures are next.
While there isn't much that's changed with this release, I figured it was worth talking about DeX, since one of our readers commented on my Galaxy Note20 Ultra review saying I forgot to mention it. I did give the experience a try, but not wirelessly as I was recommended to do. I don't have any TVs or monitors I can project to wirelessly, so I used the Genki Covert Dock to connect to my monitor.
While DeX isn't really a full PC experience, it actually works really well for the most part. Not every app is well optimized for it, and Microsoft's Edge browser is one of the few that aren't, sadly. Still, Samsung's own browser works fairly well with a proper tabbed interface, and most of the experience is pretty nice. The apps that matter do support it, though, like Microsoft's Office suite. The touchpad supports the gestures I'm most used to, like two-finger scrolling, so there wasn't a huge compromise using it.
I did notice one problem with the keyboard, every now and then it would skip a few characters while I was typing. It seemed like the phone sometimes forgot I was using the physical keyboard for a second and try to pop up the virtual one, before going back to the physical keyboard. This only seemed to happen with a USB keyboard and not a Bluetooth one, so maybe my old keyboard is to blame for that.
DeX is definitely a viable experience, but I'd never use it if I can have an actual PC instead. If you can't afford to carry around a PC and you want your phone to double as one, DeX can be of some help, but I don't know how many people will truly find a use for it. I have to commend Samsung for at least giving you the option, though.
Conclusion
Samsung launched the Galaxy S20 FE at an event called "Galaxy for every fan", and FE stands for Fan Edition. It was meant to be a Galaxy flagship that was more affordable for Samsung fans, but for me, it wasn't that because I wasn't really a Samsung fan. What the Galaxy S20 FE did do was turn me into a fan, so maybe that name was justified after all.
Samsung's flagship smartphones are expensive, and I haven't really felt they delivered enough to justify that price. But the company made some incredibly smart decisions in making this phone, and delivered an experience that isn't lacking significantly in any way. You don't have a glass backplate, but the plastic is totally fine and actually feels really nice to the touch. The camera setup isn't as good, but it's not too much worse either, and the main camera is even the same as before.
The screen is still great, and Samsung smartly opted to keep the 120Hz refresh at the cost of resolution, which was the best decision that could have been made here. Samsung also didn't sacrifice performance, leaving the Snapdragon 865 chipset in, even in Europe, and plenty of internal storage to boot. 6GB of RAM is perhaps the biggest sacrifice here if you're used to multi-tasking (specifically in DeX), but for most users, it will be just fine.
It's especially baffling to me that Samsung managed to pack such a big punch into this phone when the Galaxy Note20 started at $999.99 with a similar plastic build, a 60Hz Full HD display, and otherwise comparable specs for performance. Of course, it had advantages, but it was also $300 more, and you were certainly not getting $300 more worth of phone. The Galaxy S20 FE offers stellar value within Samsung's lineup, and while it's not quite at iPhone SE levels of affordable, it's certainly a strong contender for value king in the Android space.
If you're interested in it, you can grab the Galaxy S20 FE 5G on Amazon US for $699.99. Prices vary across Europe, but it's also available on Amazon UK for £699.
Pros
- Flagship performance - A Snapdragon chip in Europe - Display - Stereo sound - Not many compromises
Cons
- Camera loses appeal at night time - A bit more RAM would be nice
Release
September 23, 2020