Microsoft launched its first wearable fitness device a little more than six months ago, vowing it could change the way people view information about their health. There are still glaring omissions that make Microsoft's lofty goal a bit too far-fetched for now, but the company has made strides in recent months with some major improvements.
Since purchasing a Microsoft Band about half a year ago, I've used the device every day for almost 24 hours a day, save for about an hour or so of charging each morning. During my work day, the Band is essentially a notification machine, giving me quick alerts for texts, emails and calendar events. Microsoft added the ability to respond to texts with a virtual keyboard or voice transcription, though both options are too cumbersome to use frequently. At best, these are all nice complimentary capabilities – the real selling point for me, and likely for most people, is the Band's primary focus: health and fitness.
During workouts, the Band is most useful simply for logging basic statistics, including duration, heart rate, and calories burned. The four exercise tracking modes available – workout, guided workout, running and biking (the final mode was added in a February update) – don't offer much different capabilities beyond the obvious, which limits their usefulness for more advanced data. In the latter two modes, the Band will track your distance and average pace, but it still also gives your heart rate and calories burned. Unfortunately, there are some seemingly obvious features missing.
The lack of interval running and customizable workouts are glaring omissions.
The most glaring – one I wrote about shortly after the Band's launch – is there's no way to track any kind of running except distance runs. Interval tracking is nonexistent on the Band, though it's a common feature on fitness devices with run-tracking capabilities. It'd be easy to fix the omission by allowing users to set a duration, in terms of either distance or time, as well as a recovery period to match the features of competing devices, but Microsoft hasn't given any indication it plans on doing so. Even mid-tier running watches without GPS capabilities offer a mode that ends intervals and starts recovery time after hitting a lap button, so it's a rather blatant oversight for a device that offers a running mode.
Microsoft's omission of an interval running mode is indicative of its target audience for the device. The company clearly isn't courting serious athletes at the moment, instead appearing to focus on workout newbies. The guided workout mode is a nice starting point, providing beginners with downloadable exercise routines, but I have a hard time seeing many people using the mode more than a few times because of the lack of flexibility.
There's no ability to alter the guided workouts in the companion app in any way, and once you start one, you're locked into its set routine. That can be difficult if you're at a gym and the equipment you need is occupied. The ability to edit and create workouts would be a major benefit, so hopefully Microsoft has those abilities planned for a future update.
One area where I haven't had any problems is the feel of the device. Unlike most reviews I've read of the Band, I've never found it to be uncomfortable; similarly, I also differ from what I assume is the majority in that I much prefer having the screen on the outer-facing side of my wrist. When I tried the screen facing the inside of my wrist, it made exercises requiring any range of motion in my hand more difficult, as the screen is the most rigid portion of the device. I'm sure others will disagree, but I've tried wearing it both ways, and having the screen on the top of my wrist felt like the way to go.
Despite some obvious flaws with its capabilities, there's still a lot to like in the overall package of the Band – particularly how it provides a cohesive experience with the Microsoft Health platform.
Microsoft Health may not have received the publicity the Band did when the duo was jointly announced in late October, but it's easily the most important part of Microsoft's new fitness focus. With it, the company stores all of a user's statistics tracked with the Band, from workouts to sleep to steps. Additionally, Microsoft has said it uses machine learning from information stored by the cloud-based service to provide insights for each user about where his or her activity fits against people with similar body types.
At launch, that was a big promise, but Microsoft didn't really deliver. The company took a step in the right direction when it launched its online Microsoft Health dashboard earlier this year, and an update last week finally added the insights Microsoft had promised when the service was first revealed. With last week's update, users can now get information about their health compared to "people like you" – people who have "similar characteristics such as age, gender, weight and height." That's pretty powerful information for someone who wants to know how his or her fitness level stands against peers. Microsoft still needs to add insights for individual workouts as there are for overall statistics, but it's definitely a massive improvement from having no dashboard or insights at launch, and hopefully the company will continue to refine the service.
I've actually found myself looking at the online dashboard more than I do the companion app, which is both good and bad. It's great that there's more in-depth information available, but this is the same kind of information I'd hope would be displayed somewhere within the smartphone app itself. I'm also hopeful that the recent Microsoft Store listing for the Health app that included iPad, Windows and Xbox One versions of the app wasn't an error, as it'd make tracking the Band's information even more convenient depending on where you are.
The launch of a full SDK for the Band may help refine features of both the Band and Health further, with developers filling any gaps left by Microsoft. Given the Band's limited user base – Microsoft reportedly only ordered 30,000 units for the device's launch – it's likely that it won't be a developer hotbed, however.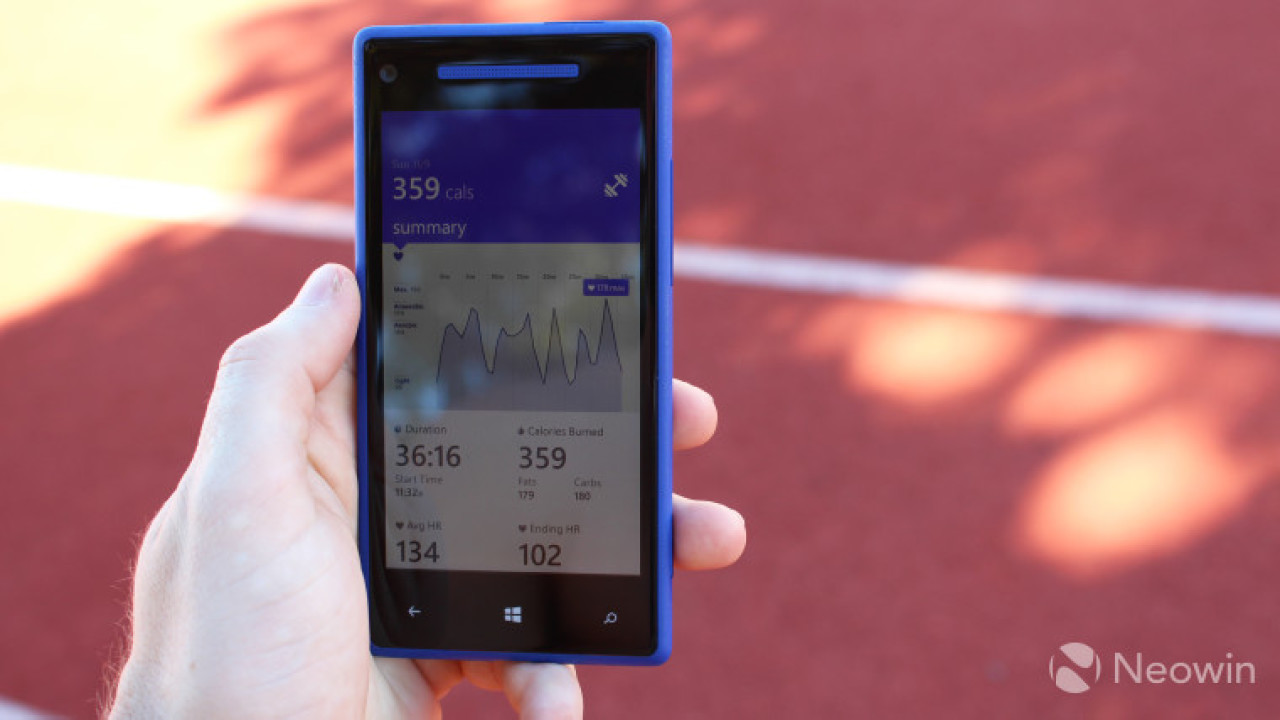 Microsoft has a lot of promise with the Band, but upon release it was clearly a prototype being tested on a mass audience. If the company can attempt to keep its firmware and capabilities updated with as much zeal as it has for its Microsoft Health platform, then there's a possibility it could become the best wearable fitness device on the market.
Microsoft Band is now a product worth considering.
In my six months since purchasing a Microsoft Band, one aspect of the device is abundantly clear: It's a fitness tracker that desperately wants to be something more, and the Health platform is trying to push it to reach that goal. The device is jam-packed with sensors (some of which aren't even in use), though there's not much you'll do with the Band that competing devices aren't already doing.
But for right now, the Band has moved up from being a product I probably wouldn't recommend to one I would easily advise considering alongside competing devices. It's nowhere near being a perfect wearable fitness device, but if Microsoft keeps investing in it and the Health platform, it could become something people of all athletic abilities should want.