Today I'm excited to bring you a user review of the new Sony Xperia Z3 as well as the accompanying Magnetic Charging Dock.
The Z3 comes in 4 colours, White, Silver Green, Copper and Black.
I have long been a Samsung smartphone user previously owning the Galaxy S2, S3, Note II and Note 3. I became accustomed to the way Samsung present their devices both in terms of hardware and software and that worked for me on the most part. Where it didn't work I knew I could customise the look and feel how I wanted it, after all customisation is what Android is all about!

It's not just about Android use though, as I've also been using Nokia's latest Lumia phones running 8.1 for work purposes as well as dabbling with a Blackberry (Z10) and iPhone (5s).
I was eager to check out the Note 4 or possibly the Note Edge, but sadly they didn't live up to my personal expectations for what I wanted from my next handset, if I was to get another Note which was mostly a slimmer profile in a lighter device with more premium materials being used all round not just around the outer trim.
Enter the Xperia Z3... On paper it looked excellent and was the first time a Sony smartphone grabbed my interest, fond memories of my ancient Sony CMD J5 flashed through my mind!
I wasn't fussed about it not having a 2K resolution screen like the LG G3, having held that device I found it to be too big and too plastic in feel and while the screen was something to behold I didn't feel it offered a significant step away from the Note 3. I wanted a genuine upgrade from that phablet without sacrificing too much of why I loved it which, let's not beat around the bush, is still a powerhouse of a handset matching up against current flagships.
Let's take a closer look...
 Specifications

 

Item

Sony Xperia Z3 16GB (Black)

Operating system

Android 4.4.4 with Sony UI / Timescale overlay.

Display

5.2" IPS LCD
1080x1920 resolution
424ppi
Triluminus tech with X-Reality engine

Dimensions

146 x 72 x 7.3 mm (5.75 x 2.83 x 0.29 in)

Weight

152g

Battery

3100mAh non removable

Processor

Qualcomm MSM8974AC Snapdragon 801 (2.5 GHz) with Adreno 330 graphics

Wireless

Bluetooth 4.0 with A2DP
Wireless a/b/g/n/ac
NFC / DLNA / WiFi-Direct
GPRS/Edge/DC-HSPA/LTE
Dual Shock 3 & 4 wireless game controller pairing via Sony app
PS4 display streaming

Memory

3GB RAM
16GB internal storage
MicroSD card expansion slot

Camera

20.7MP rear camera wide angle with 2.2MP front camera.
Multiple supported modes with additional camera modules available to download from the Play Store.

Hardware capable of: HDR photo (at 8MP resolution or below only)  HDR video (at 1080P 30fps or below only) / 1080P 60fps / Auto high speed 120fps module with audio / Timelapse module / Multiple auto focus modes (multi-point, single point, touch focus, object tracking).

SteadyShot software based stabilisation for video option but at the expense of a slightly cropped in picture unlike OIS solutions on other brands.

Single LED flash with fill light mode.

Ports and connectors

MicroUSB 2.0 for charging/data/USB OTG/USB host
Magnetic charging point
3.5mm headphones jack

Sensors

Accelerometer, gyro, proximity, compass, barometer

Protection

Up to IP68 water/dust proofing
Nylon reinforced corner cushions for impact absorption
In and out of the box
Sadly I can't match the Underwater Unboxing that Carphone Warehouse did for this handset to show off the waterproof credentials it bears with pride, but what I can tell you is that this thing is premium to the teeth. The fit and finish is excellent with metal outer trim coupled with nice glass front and back panels. The panels themselves appear to be treated (or at least have this illusion) with some kind of anti-glare coating and the camera lens even more so as you move it about in sunlight. You can see a glint of purple/blue in the reflection which was pretty cool to observe and is in no way distracting.
The magnetic charge point is a welcome feature and gives an additional option should you not wish to deal with opening the flap to charge via USB.
The rear design is sleek although some have questioned the placement of the camera so far into the corner as a stray finger could photobomb your images.
The Z3 ships with a USB On The Go (OTG) cable which is a nice inclusion, and something other manufacturers don't seem to do. It is suitable for connecting USB sticks to transfer or view media content from the phone with. Sony bundles File Commander, which from my usage so far appears to be a rather robust file management app. It's not as pretty or as sophisticated as ES File Explorer but it certainly has similar features.
The OTG cable can also be used to start the pairing process with a DualShock PS3 controller.
The main ports are on the left side of the phone, these being MicroUSB and the magnetic charging points. It would have been nice to relocate them to the bottom of the phone as it can get a bit awkward sometimes especially when using the phone with a charging cable latched on to the side of the phone. A minor complaint though and I'm getting used to it as the days go on.
The only other extras you get are a MicroUSB cable and mains USB plug. Some regions will also get Sony's noise cancelling headphones, sadly the UK is not lucky enough to get that.
A nano sim is what the Z3 takes. There's a small tray you pull out behind the flap and place the sim on that. Next to the tray is the SD card slot. At present the highest capacity SDXC cards go up to 128GB which are fully supported. You can bet a left leg that larger cards will also be supported even if the spec sheet says "up to 128GB".
Sony also gives you a free matte screen protector. Upon first inspection the screen protector seems fine in quality but I found that it made text appear more fuzzy and gave a grainy look to any solid colour displayed on screen. One of the drawbacks of matte finished screen protectors unfortunately.
Magnetic Charging Dock
The Z3 continues to sport the magnetic charging port that other Xperia handsets had before it, and MobileFun were kind enough to send me one for review. This one is model DK48 and is designed for the Xperia Z3 and Z3 Compact, and has a MicroUSB port on the back so you simply use the existing USB cable via the mains to get going.
Note: I could not get the magnetic dock to start charging the Z3 powered by the computer USB ports. It appears to need mains USB to work effectively.
The magnet on the dock lifts up to latch on to the phone as you bring it closer. the charging pins then make contact and the phone enters charging mode.
The lockscreen will appear and it will also rotate to match the horizontal orientation the Z3 is now in.
For an official accessory it is affordable at around £30. I was honestly expecting it to be costing more given how much other makers charge for official extras.
In the box with the DK48 you only get the dock and a few inserts, with varying inner sizes for other Sony phones that also have magnetic charging ports. Only one of the inserts seemed to fit the Z3 perfectly use with the Z3 and Z3 Compact when attached to Sony's official cases.
UPDATE: It turns out the extra inserts are for use when you have the Z3 and Z3 Compact in an official case!
A full charge from 1% to 100% took around 3 hours and 20 minutes. I didn't record the time unfortunately but going from 1% to 50% took about 1 hour.
Ergonomics
It's important that a modern smartphone is ergonomic in the hand and in use. It's pointless having a great phone if it doesn't feel right or perform well. Sony have done a great job here. The 5.2" screen size is almost perfect for one handed use (I have medium sized hands) and the frame of the phone itself is just a shade taller than other medium sized handsets such as the Galaxy S5, yet slimmer in width and thickness as well as losing a few grams in the process.
Ergonomics also has another function and that's material quality. Everyone perceives quality differently and I'm not qualified to make that decision for others but I can share my own opinion on this. The Z3 genuinely feels very premium and while other makers add metal bits to their handsets and then label them as "Premium" Sony makes no song and dance about it on the whole. Pick it up and it feels like a luxury item, you can tell it means business just by looking at it. It is slippery in the palm though and a few times I've placed it on an uneven table and watched as the handset slowly began to slide down towards the Earth!
The metal trim surrounding the phone is in a matte textured finish that is comfortable to the touch and quickly warms up, so using it outside in the cold won't be a problem.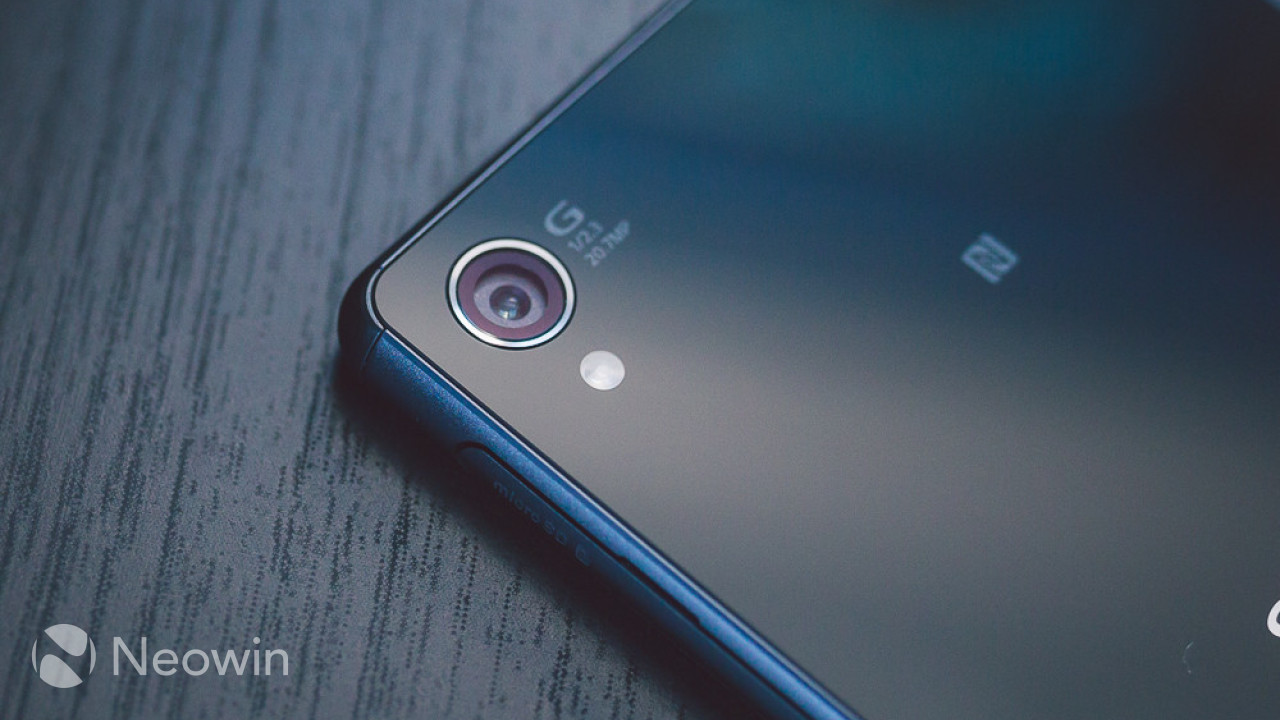 One thing I did notice with construction of the handset is that if I tap the centre of the phone on either side I could hear a slight hollowness, like as if there's empty space under the glass inside the phone's body. If I tap the Note 3 in the same areas it sounds solid, as all the parts that make it up are packed so tightly that they leave no room for any hollowness.
This is by no means a negative, just an observation that I thought was interesting considering the spec of the phone and the materials used on the exterior.
It's also worth adding that Sony has put some thought into what happens when a handset like this is dropped, and replaced the corners with nylon bumpers for impact absorption. For all intents and purposes these corners look no different to the rest of the metal trim and the only way to tell the difference, is to either tap it with the tip of your nail or to touch it in the cold as it will be the only part that's not cold to the touch.
Compared to the Galaxy Note 3 (bottom) and Galaxy S5 (middle) the side profile offers both form and function. The flaps for the dust and water protection are also metal with rubber gaskets on the inside. The power button sets the whole side apart  and all the buttons have a solid feel and action to them.
Is a 5.2" smartphone too large?
Let's compare the Z3 to a couple of other handsets I have on hand, the Galaxy Note 3 and the Galaxy S5; these two handsets provide a good basis for comparison, because from my own experience those who find the Note 3 too large in the hand tended to much prefer the S5 as a nice balance between frame and screen size.
As you can see the Z3 is a little taller than the S5 yet has shorter width. The screen size between the two are almost identical differing only by 0.1".
In terms of thickness, the Z3 is the slimmer handset and the curved edging really does help it feel at home in the hand. You'll notice the bottom is completely free of any connections and port holes. Sony opted to keep to the Xperia design form they call OmniBalance. On the left side of the phone we have connection ports for the magnetic charging point and MicroUSB port hidden under a flap.
There is a multi coloured notification LED hidden in the top left corner!
The camera
Google's own camera application was my go to for quick snaps, because of how quickly it loaded up and was ready for action as opposed to taking a few seconds like the OEM camera apps that ship with other Android handsets.
The Sony camera app loads as quick as the Google one, and is ready to focus and shoot almost immediately. I found autofocus speed to be good, and the multiple modes on offer are very welcome.
A few of the camera features were mentioned in the specifications table, but there are far too many to list out and we'd be here all day going through them.
The important thing to note is that the camera always starts up in Superior Auto mode. This is Sony's way of getting the best average out of the camera immediately, so all a user has to do is fully depress the shutter button to get the shot.
I think Sony could have implemented this a bit better though. For starters I want the choice on what mode the camera starts at as I rarely use auto modes. That and the fact that Superior Auto doesn't allow you to manually change anything, you must enter the Manual module which unlocks many more options in the settings screen such as ISO range up to 3200 if shooting at 8MP resolution. ISO 12,800 as touted by Sony during the Z3 announcement is only available in Superior Auto mode strangely, so you just have to let the camera app decide when it is to be used which is a shame.
Of course this is a software thing, we know the hardware is capable, so we could well see an update in the near future which has a more logical approach to how the camera and modes all function.
Let's hope the Android L update does indeed bring full manual control to the camera, because this sensor coupled with RAW image recording and manual control will be something really special for sure.
UPDATE: Member Scottland of OcUK forums has given a great tip on how to get the Sony camera app to remember to launch in manual mode. Simply create a shortcut on your launcher or homescreen to the camera application and launch the camera via that. It seems that launching the camera from the hardware button or the lockscreen soft button results in it starting up in Superior Auto mode all the time.
The screen
It would initially appear that the Z3 screen is no different to the Z2 screen, but Sony has made tweaks here and there to further power efficiency with new screen memory technology to reduce the redraw rate for screen effects that don't need it, as well as improving the image processing engine to give a brighter display outdoors and a clearer overall image in multiple conditions.
I experienced the increased brightness/contrast first hand this week, and can happily confirm that I found this screen more viewable in bright daylight than my Note 3 which was already very good outdoors. Sony's engine automatically adjusts the contrast and at first all dark greys look a lighter shade which feels weird, but soon you grow to appreciate it as everything is so viewable in the bright sunlight. I could not find an option to turn this off. Even setting image enhancement for the Super Vivid and X-reality modes to Off had no affect with this.
The last LCD screened smartphone I owned was the HTC Magic. Ever since then I've had an AMOLED display handset. Once you've had AMOLED that long you become accustomed to a certain look and feel to the screen that no other screen can quite match. Sony has done a damn fine job with their new Trilumius technology and X-Reality engine on this IPS LCD panel. Shadows are very detailed and colours are very punchy. Speaking of colours, the Z3 comes with a default colour tone bordering on the blue side which is said to be by design, as people tended to favour a slightly bluer tone than a warmer one. To compare, here is a photo of my Z3 next to the same photo being displayed on my IPS LCD computer monitor (calibrated to 6500K).
You can see that the skin tone is not quite matched up with the LCD behind it and the grey backdrop is most definitely blue biased. Thankfully those of us that prefer a more accurate colour representation have been in Sony's minds, and they have provided a white balance settings screen where you can fiddle with the RGB controls until your eyes can take no more.
Again, here's an updated comparison of the above photo but this time with the white balance adjusted on the Z3 which resulted in a marked improvement in skin tone but the grey backdrop still retained some blue tint. I will adjust the white balance once I have more time but for now skin tones were the important bit to tweak. It's worth noting that I turned off the Sony image processing engine that sharpens and makes images and video more vibrant for the purpose of this exercise.
Reading text is also a very pleasant experience and thanks to the very low brightness at the lowest value you can read an eBook in complete darkness without as much as a hint of glare. At the same brightness setting the text sharpness appears a little sharper than the Note 3. With a smaller screen and higher PPI this is to be expected though. With the lights off in bed and reading a book with a white page I found even on the lowest brightness that the AMOLED display had something off about it.
The upshot of AMOLED though is that where available, you can set the background to black and text to white so the only thing you see if white text in the darkness, but personally for me that only worked well for a short while before my eyes started to strain. I am finding the IPS LCD on the Z3 to be a better late night book reader.
This is of course a personal preference and your mileage may well vary.
I found viewing angles to be excellent as well. Side by side with the Note 3 the IPS LCD held up very well. Black colours are never going to be better than an AMOLED, but the Sony panel surprised me with how good it could resolve black and shadow detail.
Above are a couple of photos displaying some extreme viewing angles outside of normal every day use to give you an idea of just how far LCD panel technology on a phone has come. The first photo shows a corner angle of the extreme degree. From this viewpoint we can see really the only flaw in LCD technology. There is a washed out grey cast on the Z3 display but the moment you go to a more normal angle this is completely gone.
The second photo shows an angle directly below both handsets and in this example a surprising twist whereby the IPS LCD is more viewable than the Super AMOLED panel on the Note 3.
The screen also has an efficient auto brightness mode, and from my experience at any slider value below 50% when in it, the screen will be biased toward a lower brightness levels indoors. The moment you step outdoors the brightness will quickly ramp up until auto contrast adjustment kicks in. I found that the auto brightness response to lighting conditions was quicker than other handsets I have used in the past.
Overall the screen is very responsive and performance of everything is very fluid. I noticed no stuttering during normal usage and this was a marked change compared to the competition which I found to have microstutters throughout the customised UI especially when scrolling large lists.
The sound
Sony are experts when it comes to entertaining our eyes and ears, and if anyone in the smartphone market is going to put out a handset that offers both of these in a single unit, it will no doubt be them. The Z3 certainly doesn't disappoint. Their audio chip appears to be capable of high levels of detail on my earphones of choice -- the Sennheisser IE80, although my music format experience stops at lossless Flac files, as I have no access to high definition audio files that the Z3 is capable of playing either directly on the phone itself or via a USB DAC, that's right, you can connect a USB DAC and output all audio to it as you can see from the screenshot below.
Sony also offer a handful of built in apps to cover playback of audio, video and still images. The Walkman music playback app does a fine job of playing back your music albums and also allows access to the online music service.
I am a PowerAmp fan, so was glad to see it worked just as it did on my previous handsets, lockscreen playback worked flawlessly which was the important part. Nobody wants to have to unlock their phone every time they want to change a track.
The front facing stereo speakers are also of good quality. They have decent volume with good detail especially in the vocal range. They're not going to give HTC's Boomsound stereo speakers found on the latest One series a run for their money but what they do offer is a nice and well rounded presentation and once you enable the S-Force Front Surround mode in the sound settings screen you are treated to some really sweet stereo surround sound effects that further improve the media experience if you don't have a wireless speaker or earphones close by.
My only criticism of the speakers is that they don't have as much bass as I would perhaps like but this is one of the trade-offs to be made when you factor in the IP68 rating.
Making calls
Who would have thought that you could make and receive calls from these things ;)
I'm glad Sony didn't do a Samsung and limit the functionality of the dialer application where T9 searching is concerned. On other handsets and even on free dialer apps off the Play Store, you can search a contact and click on the result to choose what to do next, be it call, text, view the contact or whatever. On Samsung's dialer you can only call the contact. To view or do other things you must find the contact from the contacts tab.

Call quality seemed perfectly fine to me as well. Both sides of the conversation were audible, but I did need to turn off the clear voice mode for the speaker under Call Settings because I felt it made the other end's voice sound a bit tinny.
Like on all Android phones, you can leave any active call and do other things. Just press the home button or select an app from the app switcher button. Not many people know this feature, so it's always worth a shout I find. The active call will minimise to the notification tray, and the status bar goes green. Simply pull the bar down and click the call to return to it.
OEM features
The Z3 comes with an array of connectivity features to allow what you see and hear to be seen and heard on connected displays ad devices around the home or office. Most of these features are also featured on competing handsets from other brands, but named differently, but a few are unique which puts Sony a step ahead of the competition.
The Windows tethering feature is an interesting one that allows you to pair your Windows 8.1 or above computer via Bluetooth to the Z3 and share the mobile 3G or 4G connection with that computer. Useful to have as a backup should your main line ever go down.
There is also a Remote Shares feature that allows you to map folders from any computer on the same WiFi network on the phone, which is then available to any application on the phone you may have installed. A handy way to wirelessly back up phone contents directly to your computer, especially if you're connected via Wireless-N or if you simply want to browse your documents and media from the phone without having to get to the computer.
Custom Android UI and Launchers
By now most readers will be aware that anything visual can largely be customised and tweaked until minds begin to melt. It's no different here, and Sony provide a theme engine where you can apply colour themes and download new ones to suit your tastes.
What you cannot change in any of these handsets is the system UI outside of the homescreen launcher, such as the settings screens (above) and other areas of Android. On the whole this doesn't matter too much, but it does highlight the efforts manufacturers will go to in order to differentiate their look and feel of the same operating system version.
UPDATE: Member Scottland also pointed me in the direction of this XDA post whereby you can download and install the Android L inspired Theme then apply it from within the Sony Xperia Theme application. I've just installed the latest Beta version and it works flawlessly. On Andorid 4.4.x you do not need to be rooted to use these themes and in time we will see some of the more popular 3rd party themes show up on the Play Store ready to install and apply.
This is a really nice touch that Sony have allowed third party themes to be used in the same way users have been using them on Cyanogen ROMs on their Android phones for a while now without having to root.
I favour a more organised approach to my phone though. Opting for Nova Launcher opened up the doors to new animations and transitions, more customisation power and gesture based actions on the homescreen. Sony's Timescale interface works well, but I like to keep things personalised where possible.
It must be said that Sony seem to be one of the few who try to keep things in-line with stock Android on Nexus devices as much as possible. Apart from the white settings screen scheme everything else feels like it could otherwise be a part of Android 4.4.x.
Battery life
Everything I have talked about is rendered useless if the battery doesn't last, and on some phones users are forced to carry battery banks or spare cables/batteries in order to cover themselves. Sony say you should get 2 days normal use out of the Z3, and while many took that with a pinch of salt initially, eyebrows fell firmly into normal positions once reviews started pouring in.
The Power Management screen shown below gives a fair battery estimation based on your recent usage history.
The Internet has been buzzing the past few weeks about the long battery life of both Z3 and Z3 Compact. I can confirm that the battery does indeed live up to those claims, and if I were to use my phone less heavily I would easily reach or exceed that 2 day milestone.
Unfortunately  because of where I work, the weekdays see cell reception toggle between -90dBm and -102dBm so my battery doesn''t last as long as most people out there, although I am getting more life out of it than I was from the Note 3 around work. Sometimes I'd have to plug in the charger half way through the day!
Good stuff Sony.
Conclusion
The Z3 took me by surprise. It's the first Sony phone that grabbed my interest since the K800i and even though I've only had it for a few days, I feel I've exhausted exploration efforts to find the stuff it can and can't do for how I want to use a smartphone throughout the day. I'm sure I'll find a few more tricks here and there or someone will point them out and when that happens I'll be sure to post updates.
Sony are on a twice yearly release schedule for a new flagship and despite this I am quite confident that the Z3 will be my sidekick for much longer than that, that is of course unless the Z4 is something seriously exotic!
My time with the Z3 has shown that great battery life, stunning picture quality and flagship performance can be had from a smartphone that doesn't cost the Earth, and you can go about your day without having to percentage watch that battery meter. All in a sleek premium package that's both form and function to boot.
Pros
Battery life. Performance. Styling. Build quality.
Cons
Cam controls. Left side ports. Fixed battery. Screen protector.