Deborah Kerr in The King And I recommended whistling a happy tune when afraid. Now fearful Americans can sing along to their favourite tracks while shooting anyone who causes them consternation with a 50,000 volt electric charge. The annual Consumer Electronics Show (CES) in Las Vegas, expected to see more than 140,000 visitors this week, is no stranger to bizarre gadgets but the iTaser - as it has been dubbed - must rank as one of the oddest. It combines a Taser stun gun, used by 12,000 police and security forces worldwide including the Metropolitan police, with an MP3 player and earphones.
As to what tracks anyone toting such a device might download onto the 1GB player, which is integrated into the gun's holster, anything by Sparks or Frank Zappa must be fairly high on the list. Arizona-based Taser International sells the handheld stun guns under the rather hyperbolic banner of 'Changing the World and Protecting Lives'. It maintains that the iTaser "allows for both personal protection and personal music for people on the go".
"Personal protection can be both fashionable and functionable," according to Rick Smith, founder of the company, who also used CES to unveil a new Leopard-print Taser aimed at the more feminine arm of the stun gun-loving community.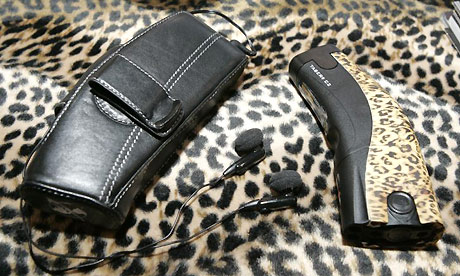 Full article: Guardian Unlimited