With the first day of TechEd North America 2013 in the books, let's take a look at everything Microsoft has talked about today.
First, news of the cheap Surface RT ($99) and Surface Pro ($399) swept through the conference. We waited 2.5 hours to purchase the tablets, and talked to attendees today who waited almost as long. Maybe the waits will get shorter as the conference goes on, but so far it shows no signs of letting up.
Microsoft made a lot of product announcements this morning. These include Windows Server 2012 R2, System Center 2012 R2, and SQL Server 2014. All of these releases include deeper integration with Windows Azure, giving enterprise customers the ability to burst into the public cloud to improve the development and testing phases of a product lifecycle, to improve customer-centric load testing, and to handle seasonal traffic.
We watched Brad Anderson and others give an entertaining keynote presentation where they went into further details on many of the product releases. Anderson even arrived on stage in style, driving an Aston Martin, and we covered the keynote with an interesting and entertaining live blog.
We were able to spend a little bit of time with the newly announced Acer Iconia W3 running Windows 8.1. The smaller form factor was widely praised, although there are still some concerns about the size of the keyboard vs. the size of the tablet itself.
Then we learned some details about Windows Azure, including the facts that the trial now includes $200 worth of free credits, MSDN subscriptions give you free monthly credits, and you're not charged for virtual machines unless they're actually running.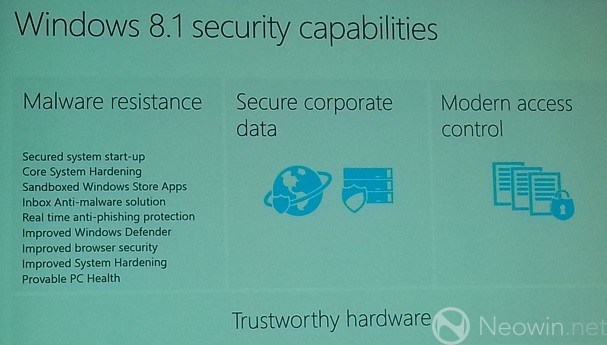 Lastly, we described some of the new features that will be included in Windows 8.1. While everyone knows about the "Start" button controversy, Microsoft said that they're planning on improving the UI by letting users focus on the environment they prefer, whether it be the desktop or the app world. In addition, they're providing a lot of new security features, including one that sounded particularly interesting - currently called "Provable PC Health" - whereby a cloud instance checks your installation to ensure it's not infected.
The first day had a lot of great information and we look forward to learning more details from TechEd as the week goes on!