Apple's iPad has long dominated the tablet scene with its ease of use, robust App Store and unmatched battery life. But, after several years of releasing new iterations of the iPad Mini and iPad, it was clear that Apple needed a larger tablet that was geared towards productivity.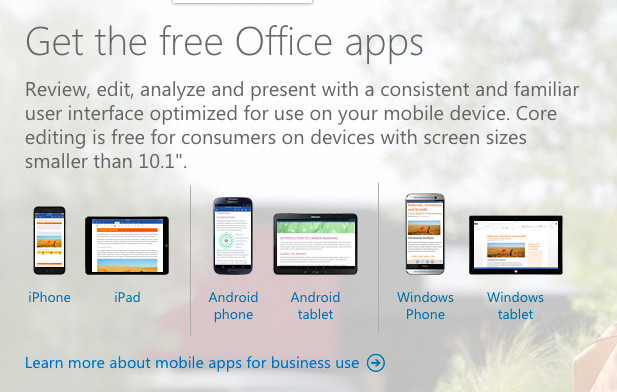 With that said, Apple will soon offer its first productivity-focused tablet in the form of the iPad Pro. When it comes to choosing professional software, an obvious choice is Microsoft's Office suite, that is comprised of Word, Excel, PowerPoint, Outlook and more. While previous iOS devices did not require payment for the use of Office, those purchasing an iPad Pro will be required to purchase a subscription to Office 365.
This is not something new or unique to the iPad Pro as Microsoft has a strict policy about what kind of devices will receive its Office suite for free. Unfortunately, due to the 12.9-inch screen size of the new iPad Pro, users will be required to pay for Office 365. Other devices below 10.1-inches will still be able to use Office for free.
The iPad Pro is slated for release in November. Apple will offer an optional keyboard and Pencil accessory with its 12.9" unit, which will start at $799 USD.
Source: Ars Technica | images via Apple / Microsoft