Alongside yesterday's Deals with Gold announcement, Major Nelson today announced the July edition of Xbox Game Pass, with eight games releasing between July 4 and the rest a week later on July 11. Without further ado, here are the games releasing tomorrow:
Middle-earth: Shadow of War - July 4 (PC, Xbox One)
Experience an epic open-world brought to life by the award-winning Nemesis System. Forge a new Ring of Power, conquer Fortresses in massive battles and dominate Mordor with your personal orc army in Middle-earth™: Shadow of War™.
My Time At Portia - July 4 (PC, Xbox One)
Start a new life in the enchanting town of Portia! Restore your Pa's neglected workshop to its former glory by fulfilling commissions, growing crops, raising animals, and befriending the quirky inhabitants of this charming post-apocalyptic land!
Undertale - July 4 (PC)
In this RPG, you don't have to kill anyone.
Each enemy can be "defeated" nonviolently.
Dance with a slime. Pet a dog. Whisper your favorite secret to a knight.
Or, ignore this choice and rain destruction upon your foes.
Blazing Chrome - July 11 (PC, Xbox One)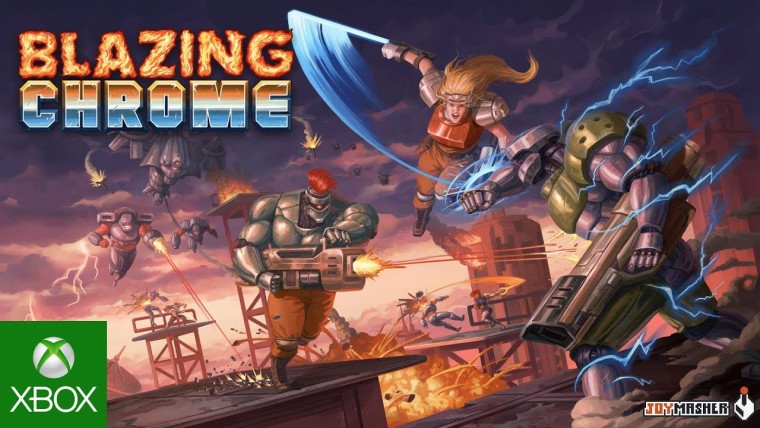 The world is under the machines domination, putting the few humans alive on the edge of total extermination. Bring your best pal and kick some metal butts to free the humankind while enjoying a classic run'n'gun, fully loaded with action and exciting fights. Between Contra and Metal Slug, Blazing Chrome is made by and for arcade and action fans.
Dead Rising 4 - July 11 (PC, Xbox One)
Dead Rising 4 marks the return of photojournalist Frank West in an all-new chapter of one of the most popular zombie game franchises of all time. With an unmatched level of weapon and character customization, ambitious new features including new zombie classes and EXO Suits, Dead Rising 4 delivers a heart-pounding experience as players explore, scavenge and fight to survive in an epic open world sandbox.
LEGO CITY Undercover - July 11 (Xbox One)
Join the Chase! In LEGO® CITY Undercover, play as Chase McCain, a police officer who's been tasked with going undercover to hunt down the notorious – and recently escaped – criminal Rex Fury and putting an end to his city-wide crime wave.
Timespinner - July 11 (PC)
Timespinner is a beautifully crafted story-driven adventure, inspired by classic 90s action-platformers. Join timekeeper Lunais on her quest for revenge against the empire that killed her family, using time-bending powers to explore a vast connected world.
Unavowed - July 11 (PC)
One year ago, a demon possessed you; forcing you to tear a trail of bloodshed through New York City. Your salvation finally comes in the form of the Unavowed – an ancient society dedicated to stopping evil.

You are free, but your world is in tatters. You have no home, no friends, and are wanted by the police. Your old life is gone, but perhaps you can start a new one. Join the ranks of the Unavowed, and fight against the oncoming darkness.
On top of these games becoming available to Game Pass users, you can also expect the Gears 5 Versus mode, during the Gears 5 Tech Test launching sometime this month. All Game Pass members get access with no preorder required, so keep an eye out for that announcement.
Ten games are also scheduled to leave Game Pass during July, they are as follows:
Aftercharge (July 9)
Warhammer Vermintide 2 (July 10)
LEGO Movie: The Videogame (July 16)
Dandara (July 31)
Dead Rising 2 (July 31)
Hitman Season 1 (July 31)
Metal Slug XX (July 31)
Defense Grid: The Awakening (July 31)
Hexic 2 (July 31)
Iron Brigade (July 31)
Finally, there are more than 1,500 Microsoft Reward Points up for grabs with the Xbox Game Pass Quests for July in games such as Monster Hunter: World, Hollow Knight, Forza Horizon 4, LEGO Batman and many more.
Xbox Game Pass for Console comes in at $9.99 per month with the first month only costing $1, and you can cancel at any time. If you don't own an Xbox console, Game Pass is also available to those on Windows 10 PCs at an introductory price of $4.99 per month. Xbox Game Pass Ultimate, which includes both of the above as well as Xbox Live Gold, costs $14.99 per month, but is available for the moment at $1/mo.