Although Huawei might not be as familiar of a brand as Samsung or LG, the company has existed for quite some time and is the largest telecom equipment manufacturer in the world. For a good, long stretch it produced mobile handsets for others in anonymity as an ODM, but has more recently attempted to introduce itself as an OEM.
Like companies before it, Huawei struggled to penetrate markets outside of Asia, but was lucky enough to get its foot in the door by becoming one of the coveted manufacturers of Google's Nexus smartphones in 2015. Thanks to the Nexus 6P, Huawei has been able to elevate its presence globally, but more importantly in the US.
But not one to rest on its laurels, the company started the new year with a bang, announcing a plethora of products in January at CES 2016. Although the Mate 8 took much of the shine, the Honor 5x is undoubtedly one of the more intriguing offerings, being a mid-tier handset with a beautiful exterior - that can be purchased unlocked for $200 USD.
As a refresher, the Honor 5X features the following hardware specifications:
1.5 GHz octa-core Snapdragon 616 processor

5.5-inch IPS LCD display 1920 x 1080 resolution

2GB of RAM

16GB storage with microSD expansion up to 128GB / Dual SIM

13MP rear camera, 5MP front camera

3000mAh battery (740 hours of standby time)

Android 5.1 with Huawei's Emotion UI
With an enticing price and reasonable set of specifications, will the Honor 5X become a consumer's "perfect storm"?
Design / Display
The Honor 5X is touted as a "no nonsense" handset that offers a metal build, a fingerprint reader and more. Above all, Huawei is trying to hammer in the fact that you can have amenities of a high-end device, but not have to pay an arm and leg.
The handset is a nice simple slab with metal accents meant to add a touch of refinement; and for the most part this is true. But, the 5X is a bit enigmatic. When handled for the first time, there's a different emotion that's invoked and it doesn't quite match the purported opulence of the handset.
Huawei does a good job of placing premium materials where necessary - the volume rocker / power button and back panel - these are the areas you are most likely to touch when handling the 5X, so the areas are wrapped in metal to pique the senses. The brushed aluminum back, the chamfered edges, the textured metal buttons - these elements make the phone feel superb in hand and take what would be a somewhat average phone and escalate it to a higher level.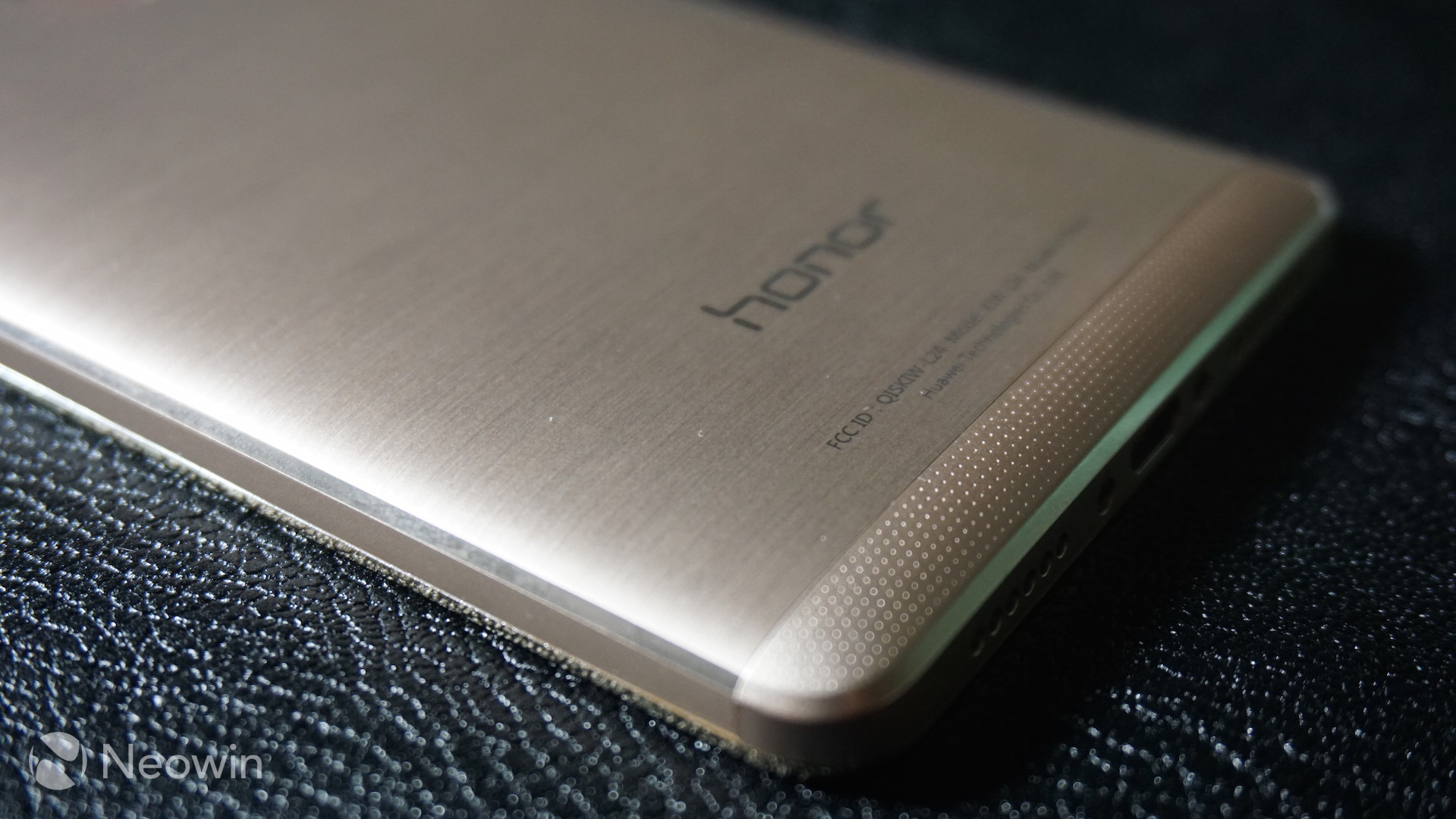 Being a budget handset, Huawei has made some very calculated choices by placing plastic accents on the top and bottom end of the back cover. While one could argue this is mainly for better reception of the internal antennas, I will argue that this is a calculated cost cutting measure. The dimpled accent of the plastic goes well with the motif of the handset and while not premium, it still does feel good in hand. The front is also plastic, with chrome accents that hark back to the early days of Android smartphones and perhaps a nod to early Galaxy devices.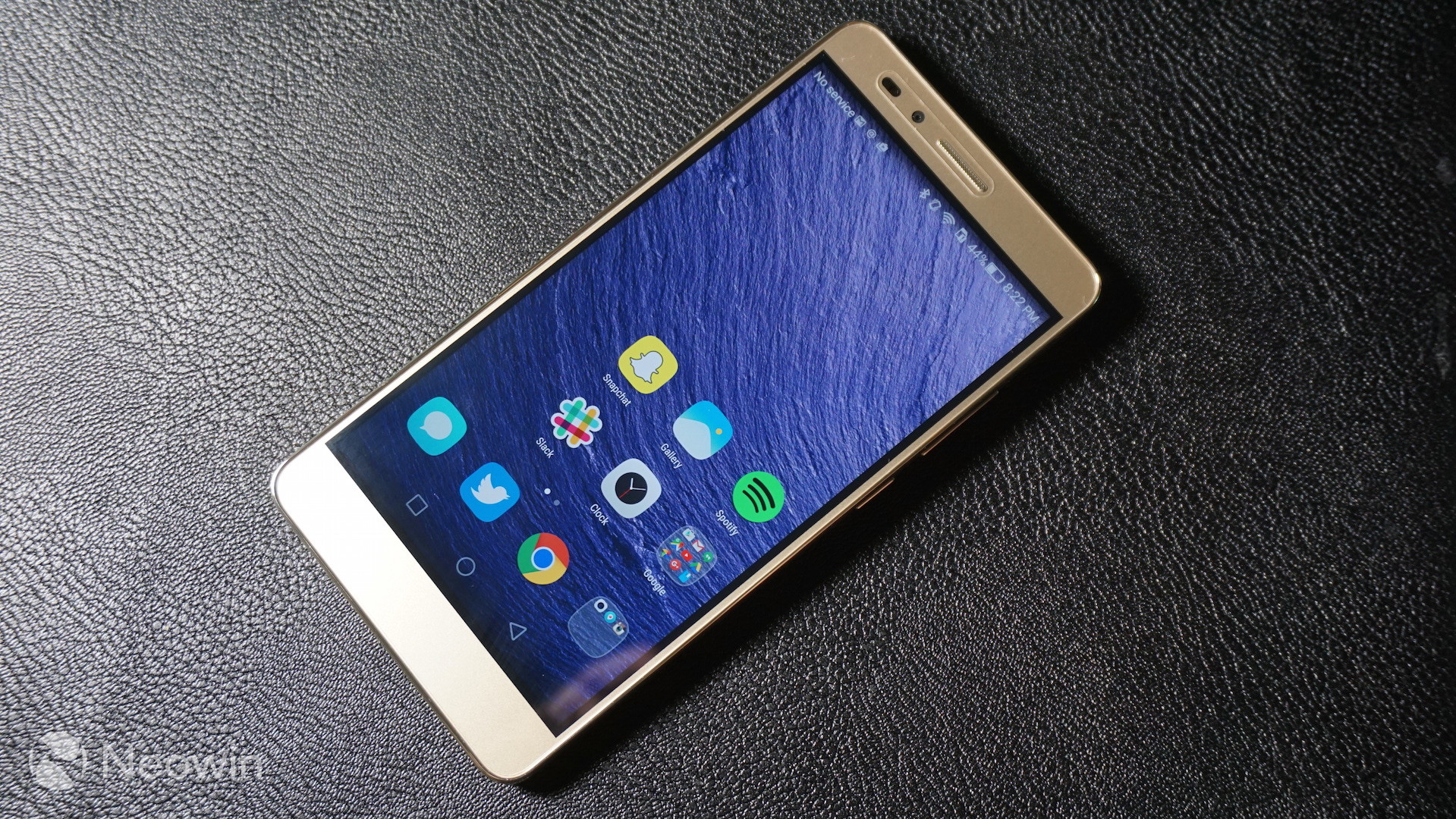 As for the screen, the 5.5-inch display offers great looking colors and it looks crisp. The 1080p display can also be tuned to the users liking, thanks to Huawei's inclusion of a way to adjust the color temperature. Being an IPS display, text and images can be viewed from extreme angles and still retain the same vibrancy as if looking head on. The only time the display met its match is when it was hit with direct sunlight. As with most, if not all displays, the sun had the ability to make the colors look a bit washed out, but everything was still legible.
Software
The Honor 5X offers its own skinned version of Android dubbed EMUI (ver. 3.1) that is based off of Android 5.1.1. This is my second outing with a handset produced by Huawei and I can honestly say that EMUI is different from what you would find on an LG or Samsung. When I first used it, a couple months back with the Mate 8, it definitely caught me off guard for a few reasons.
EMUI is different, in that it does not offer the universally adopted App Drawer. If unfamiliar, this is an area of Android that allows you to store all your applications. Rather than having icons and folders running rampant on the home screen, the App Drawer neatly tucks away all the icons leaving them hidden from view. Without an App Drawer, EMUI users must rely on folders and while there is nothing wrong with this, it is a bit different. While I personally enjoy a clean look by hiding everything, I was able to emulate this by simply placing all the folders and icons on a second screen. If you want to take it a step further, you can manage the apps by disabling the ones you will not be using.
Like most manufacturers, Huawei takes the approach where more is better. They include a plethora of different options and customizations. While this is great, what makes it hard to appreciate is the difficulty in accessing all of the options. The settings menu is broken down into two categories: General and All. The 'General' offers access to the most commonly accessed areas of a device like Wi-Fi, Bluetooth, Brightness ,Wallpaper, Sound and more. Things get a bit more convoluted when you click the 'All' tab and are greeted with a little over 20 different categories. After using the phone for close to a month, I still find some options hard to locate.
I like that Huawei at least attempts to make things simpler by categorizing the settings into two sections. But, I hope that in future iterations of EMUI, things will be easier to navigate and locate. Overall, it does take quite a bit of effort and time to get used to EMUI, but once setup, everything functions as expected.
Performance
While I know that a $200 phone won't compete with top-tier behemoths, I found the experience of the Honor 5X a bit underwhelming. I knew there would be a period of transition (from using a high-end device), but after the first week and still finding the device a bit sluggish, I decided to restore the unit and start fresh. For the next couple of weeks, I used the device for my daily routine which included: Twitter, email, web browsing, text, etc.
Even with the reset, I still experienced stuttering that was apparent even in the most basic scenarios. Again, I wasn't expecting lightning quick reactions when opening apps, but I was hoping that there wouldn't be apparent animation stutters in the UI. While the experience is passable, those expecting a buttery smooth experience will be disappointed.
Despite its less than stellar performance, the 5X does have a silver lining in that it provides excellent battery life, lasting nearly two days on a single charge. Naturally, times will vary depending on how you use your device, but most power users should be able to at least get through one full day with power to spare.
Fingerprint Reader
While a fingerprint reader isn't completely necessary, it sure does make for a much better experience when unlocking a device. Even though the Honor 5X is a $200 device, the fingerprint reader still works just as well as Huawei's other, more expensive devices. The fingerprint reader is located on the back of the device and although it isn't the quickest scanner to register a fingerprint, it is accurate and easily on par with more expensive handsets from the likes of Samsung and LG. Huawei has taken the fingerprint reader a step further, as it can be used for smart functions like taking photos, answering a call and more. Unfortunately, those that want to use the fingerprint reader as a form of authentication for payment via Android Pay will be disappointed, as the 5X does not have a NFC chip.
Camera
The 5X packs a 13MP shooter that lacks optical image stabilization (OIS), but takes good images during the day.However the device definitely lacks the ability to capture scenes perfectly when it comes to low light or night time shots. On the video side of the things, the 5X offers passable image quality, but it won't be something that you will most likely come to rely on.
The software offers your standard array of shooting modes, but does not offer a manual mode found on more recent handsets. The 5X does offer the ability to change the ISO, white balance, exposure, saturation, contrast and brightness - but the options to make these adjustments are buried into the settings menu, making it difficult to make adjustments on the fly.
Furthermore, when you are making these adjustments, there is no real preview mode, but instead you will have to make do with a shadowed overlay that gives you a peek at what changes you are applying. The image is available, but the overlay makes it difficult to accurately judge the changes being made.
Simply put, the Honor 5X offers an okay camera, that won't "wow" anyone when you show them the results. This is particularly true for anything taken in low light and videos. You can check the gallery towards the bottom of the review for more samples of the day and nighttime shots.
Conclusion
For the most part, the Honor 5X is an interesting handset that attempts to offer everything, but falls short of expectations. There isn't one great thing about the Honor 5X. The outer build is solid, but it doesn't quite invoke the sense of owning a premium device despite its metallic shell. The performance of the handset also leaves something to be desired. Huawei touts the handset as "no nonsense", but clearly there is a little nonsense to be had and should be expected at the $200 mark.
What's very clear in 2016 is that landscape for mobile is quickly changing. Although it took quite some time, brands like Huawei are beginning to penetrate more markets and the world is taking notice. While the Honor 5X might not be the "perfect storm" we were hoping for, it does offer a glimpse of what could come in the near future - an affordable handset, that functions on all levels and offers a premium experience.
Pros
good screen great battery life price build quality
Cons
sluggish performance camera