If you're buying a 15-inch laptop, it's important to think about why you're buying it, more so than with a 13-inch laptop. If you just want the big screen, you can go for something like a 15-inch Surface Laptop 3.
But one option that you get in the 15-inch form factor that you don't get at 13 inches is power. You can get anything from an ultrabook to a gaming laptop to a mobile workstation in the 15.6-inch size, and the laptop can weigh anywhere between three and 10 pounds.
The HP Envy 15-ep0098nr is made for creators, and it delivers power in a stylish package. It has a 45W hexa-core Intel processor, an Nvidiai GeForce RTX 2060, and it weighs under five pounds. Moreover, it brings over a beloved feature found on Spectre laptops, the 4K OLED display.
Specs
CPU
Intel Core i7-10750H (2.6 GHz base frequency, up to 5 GHz with Intel Turbo Boost Technology, 12 MB L3 cache, 6 cores)
GPU
Nvidia GeForce RTX 2060 Max-Q
Body
35.79x23.68x1.84cm, 2.14kg
Display
15.6" diagonal 4K UHD, UWVA, BrightView, micro-edge, AMOLED, multitouch-enabled, edge-to-edge glass, 400 nits, 100% DCI-P3 (3840x2160)
Memory
16GB DDR4-2933 SDRAM (2 x 8GB)
Storage

512GB Intel SSD

Connectivity
Intel Wi-Fi 6 AX 201 (2x2) and Bluetooth 5 Combo (Supporting Gigabit file transfer speeds)
Ports
(2) USB 3.1 Gen 1 Type-A
(2) Thunderbolt 3
(1) HDMI 2.0
(1) 3.5mm audio
(1) AC smart pin
(1) MicroSD
Battery
6-cell, 84 Wh Li-ion, 200W Smart AC power adapter
Webcam
HP Wide Vision HD camera with camera shutter and integrated dual array digital microphone
Audio
Audio by Bang & Olufsen; Dual speakers
Material
Aluminum
Color
Natural Silver
OS
Windows 10 Home
Price
$1,499.99

Day one
Design
Coming in HP's Natural Silver color, I'd call the design of the Envy 15 a bit bland, and I've been very clear on how I feel about this with HP. The company has done such wonderful things with design that we really don't need silver laptops anymore. The bad news here is that I'm dead wrong. People want silver laptops, and that's why HP can't stop making them. But take a look at the Nightfall Black Spectre x360 with its copper accents; it's a thing of beauty.
But Envy is a step below that, of course. One thing you'll find about the Envy 15 is that it doesn't make any meaningful compromises. The chassis is still made out of aluminum, weighing in at 4.72 pounds, which is fine for a prosumer type of device like this. It also has HP's typical flat sides and sharp corners, giving it a clean look.
As you'd expect from a machine like this, there are plenty of ports, a stark contrast to the Dell XPS 15. And while Dell's XPS 15 only has two Thunderbolt 3 ports and one additional USB Type-C port, the two Thunderbolt 3 ports on the Envy 15 are full Thunderbolt 3 ports. That means that either one of them can power up to two 4K displays or a single 5K display. Also on the left side, you'll find a USB 3.2 Gen 1 Type-A port, HDMI 2.0, microSD, and a power port.
This machine comes with a 200W pin charger. This thing is way too powerful for it to ship with a USB Type-C charger, although you can use a standard 65W charger for a very, very slow charge. In fact, you'll probably even have to power down to get that to work properly.
On the other side, there's another USB 3.2 Gen 1 Type-A port for 5Gbps data transfer speeds, and a 3.5mm audio jack.
Honestly, there's not a whole lot to say about the externals. To me, one of the biggest things that impressed me was the full Thunderbolt 3 ports, since I was able to use a dock and connect both of my monitors, and also because many PCs don't have full Thunderbolt 3 ports like that.
Display and audio
The HP Envy 15 comes with a 15.6-inch 16:9 display and you can, of course, get it with a 1080p 300-nit panel, but that's not what HP sent me. The one that HP sent me has a 4K OLED panel, and honestly, that's the one to go for. I always recommend OLED when it's available. You get more vibrant colors, true blacks, and it's awesome. This is a feature that's been on the Spectre x360 15 for a few years, and I'm happy to see it making its way down to Envy.
OLED displays are beautiful, and since colors are rendered on true black instead of a backlight, they can be more vibrant. That presents a problem, since this laptop is made for creators, who would prioritize color accuracy over being pretty. Luckily, HP has a solution for that, and it hides right in the system tray as HP Display Control.
The Envy 15 has several different modes. By default, it's optimized for vibrant colors, although you can set it to be optimized for web browsing, photo editing, video editing, or not optimized for anything.
Again, and I just want to reiterate this, always buy OLED if it's an option. Sure, it has its shortcomings, such as burn-in after long-term use, but if you're going to use a screen, you should enjoy it. The overall user experience is super important, and the quality of the screen is a big part of that. That's why my reviews have big sections for the display and for the keyboard, because both of those things are so key to the overall experience.
The screen has a full 178-degree viewing angle, but one thing you'll notice is that the bezels are fairly big on the top and bottom. That's to be expected. With the Envy lineup coming in at a step below Spectre, it's no surprise that the bezels are a bit bigger. HP's Spectre lineup just underwent a big redesign where it now has narrow bezels on all sides, so perhaps we'll see that on the Envy lineup next year.
HP, as usual, is also committed to providing a premium audio experience. Combined with the OLED display, it makes for an excellent media consumption experience, whether that's watching movies or playing games, which this actually has the power to do.
The Envy 15 has two Bang & Olufsen speakers, which are located on either side of the keyboard. The quality is phenomenal, as is the volume. As far as laptop speakers go, these are definitely right at the top of the range in what you'll find out there.
Keyboard and trackpad
Speaking of how important the keyboard is, the Envy 15 has an awesome one. One thing that I like is that there's no numpad, something that you might expect to see in something this big. I much prefer that extra space being used for the B&O speakers, so you get the sound firing up at you.
The keys are silver and backlit, as you'd probably expect. They're comfortable and accurate too, something that HP seems to be getting better and better at with its laptops. Seriously, this thing feels premium all-around.
HP continues its trend of putting all of the buttons in the keyboard. You'll notice in the top-right there's a power button, and on the bottom-left, there's a fingerprint sensor. Also, take note of the button for the privacy guard on the camera in the top-right. That's disconnecting the camera internally; it doesn't even show up in Device Manager. Personally, I think that HP's solution is a lot more elegant than a lot of other privacy guards I've seen, which just place something over the lens.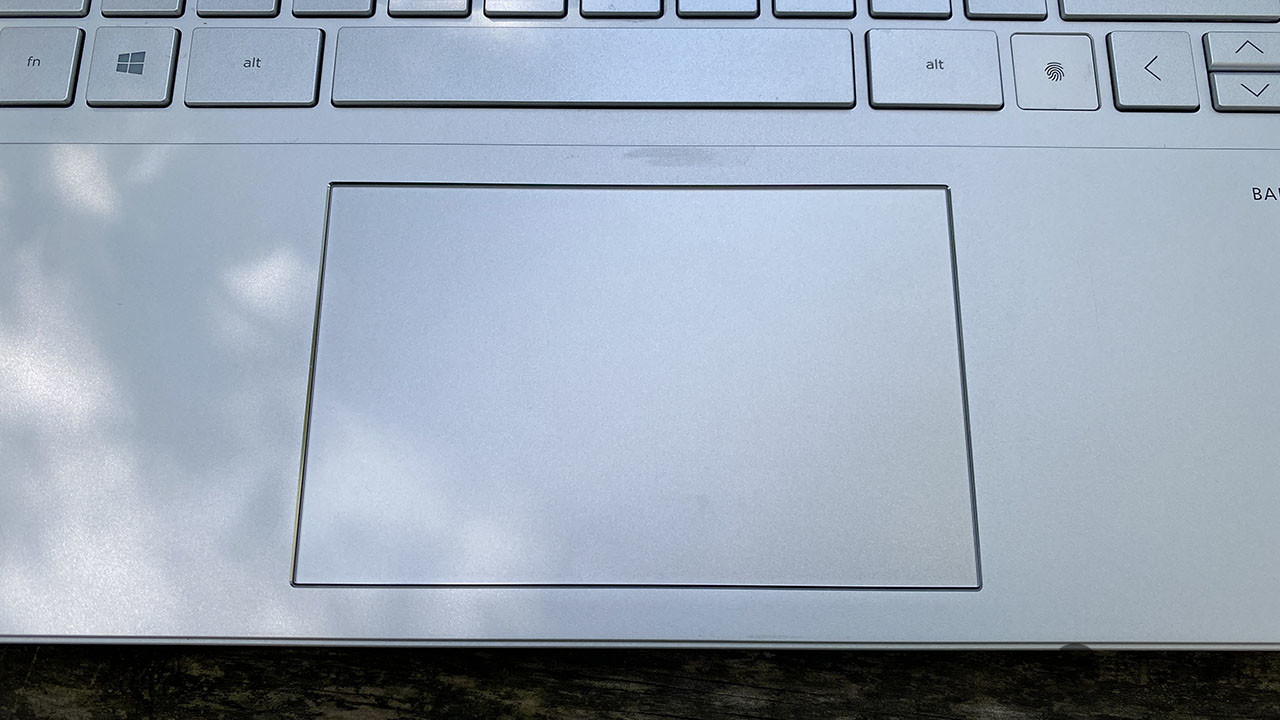 The trackpad is clickable and it's made of glass. It uses Microsoft Precision drivers, something that wasn't a given on HP laptops until recently. But that means that the trackpad is fast and responsive, and it supports all of the gestures that you're used to.
Performance and battery life
This is the best part, because not only is the HP Envy 15 a delight to use, but it's a powerhouse as well. The model that HP sent me includes an Intel Core i7-10750H, 16GB RAM, a 512GB SSD, and an Nvidia GeForce RTX 2060 Max-Q for $1,499.99. For an additional $400, you can boost that up to 32GB RAM and a 1TB SSD.
The Intel Core i7-10750H is a 45W hexa-core processor with 12 threads. It's the same type of CPU that you'd find in a high-end gaming laptop or a mobile workstation, but moreover, the GPU is the same as well. The Nvidia GeForce RTX 2060 supports things like real-time ray tracing and Deep Learning Super Sampling (DLSS).
The Envy 15 is part of Nvidia's RTX Studio program, so it uses Studio drivers instead of Game Ready drivers by default. The Studio program is aimed at creators that might be doing a lot of photo and video editing. And that's exactly what I did. I rendered 4K 60fps video, photos, and more. Sure, rendering time was more than on my desktop with its RTX 2080 Ti, but it's quite impressive for a laptop that weighs under five pounds. I did try to push it to the max by editing 4K 60fps video while 4K 60fps video was rendering and, well, don't do that.
Battery life impressed me, as it always does on HP PCs. For general work, I got over six hours, which is much more than I expected, considering the powerful internals and the high-res display. Typically, you have to make a choice between power and battery life, but this did better than many ultrabooks that I've reviewed. I got those results with the power slider on the notch above battery saver, as always, and at about 75% brightness.
For benchmarks, I used PCMark 8, PCMark 10, 3DMark, and VRMark.
| | |
| --- | --- |
| PCMark 8: Home | PCMark 8: Creative |
| | |
| | |
| PCMark 8: Work | PCMark 10 |
| | |
| | |
| 3DMark: Time Spy | VRMark: Orange Room |
| | |
| | |
| VRMark: Cyan Room | VRMark: Blue Room |
| | |
| | |

As you can see, all of the scores are pretty good. While this is aimed at creators, you can absolutely game on this too. And let me tell you; games are going to look beautiful on the OLED display. Like I said, it does use Studio drivers byb default, but you can easily switch to Game Ready drivers through the GeForce Experience app, and you can just as easily switch back.
Conclusion
The HP Envy 15 is a laptop that's great for just about everyone. Really, it masters just about any purpose you give it. Whether you're editing video, writing articles, playing games, listening to music, or watching movies, the Envy 15 has you covered. I don't know what else you could ask for.
Well, actually, I can think of a couple of things if we're going there. I'd love to see a more inspired design, but I guess that's what the Spectre lineup is for. I'd also like to have seen an LTE option, something that you really don't see in more powerful PCs, but LTE can always be valuable in a portable PC.
I can always think of one or two things I'd improve about a laptop though; it's my job. I'll never say that one PC is truly perfect. But man, this thing comes close if you consider the price. For $1,500, you're getting 4K OLED and a ton of power.
It's got a beautiful screen, a hexa-core 45W processor, Nvidia RTX graphics, powerful and clear speakers, and a great keyboard. All of that adds up to a PC that can handle just about any task you throw at it. If you want to check it out on HP.com, you can find it here.
Pros
Beautiful OLED display H-series and RTX power Audio quality Value for price
Cons
Dull design No LTE option