HTC launched this year's flagship handset back in May, with a Snapdragon 845 chipset, dual rear cameras, and dual front cameras. Interestingly, the device also has no buttons.
That's right, no buttons. Indeed, there are pressure-sensitive fake buttons, which provide haptic feedback vibrations when you press them. And of course, there's Edge Sense 2.0, HTC's method of allowing you to use squeezing the phone as a shortcut.
Ultimately, the HTC U12+ would be a fantastic phone, if it weren't for everything in that last paragraph. Here's our review.
Specs
| | |
| --- | --- |
| CPU | Snapdragon 845, 2.8GHz quad-core Kryo 385 Gold, 1.7GHz quad-core Kryo 385 Silver |
| GPU | Adreno 630 |
| Display | 6 inches, 1440x2880, 537ppi, Super LCD6 |
| Body | 156.6x73.9x8.7mm (6.17x2.91x0.34in), 188g (6.63oz) |
| Camera | 12MP + 16MP, Front - 8MP + 8MP |
| Aperture | f/1.75 + f/2.6, Front - f/2 + f/2 |
| Video | 4K - 60fps, Front - 1080p - 30fps |
| Camera features | UltraSpeed Autofocus 2 (PDAF + laser AF), 2x optical zoom, OIS, dual LED flash |
| RAM | 6GB |
| Storage | 64GB |
| Battery | 3,500mAh |
| Colors | Translucent Blue, Ceramic Black, Flame Red |
| Price | $799 |

Design
The HTC U12+ is one of the most visually appealing and originally designed phones I've seen in a while. The model that HTC sent me is Translucent Blue, which means that you can actually see through the case and look at the internals of the device. It's not like there's a whole lot to see, but it's pretty cool. It gives me that geeky satisfaction, without the phone looking too geeky to others.
Aside from that, the back of the device includes two horizontally placed camera lenses in the center. Below that and right in the middle is the dual LED flash, and below that is the fingerprint sensor.
On the left side, there's a nano-SIM slot, and on the bottom is the USB Type-C port and speaker. And of course, on the right side is where you'll find the pressure-sensitive buttons. The volume buttons are on top, with the power button placed below it.
I really think that HTC always has the design chops. The company never fails to create an original and appealing design while the rest of the industry seems to be copying Apple. This is a beautiful device.
But as always, I have to complain about HTC's decision to use a glass back (the frame is metal). Just like companies like Motorola and Huawei, HTC decided to make the back of the phone glass and not include wireless charging. This means that there's no actual benefit to the glass panel other than it looking pretty. While there's no reward, there is risk, as it's easier to break your phone.
Display and BoomSound
I really like where Super LCD has gone throughout the years. It actually used to be terrible, back in the days of the HTC One M8 and One M9. Back in those days, the white balance was so off that anything white would look tinted green. The HTC 10 is where it really turned around.
The U12+ uses Super LCD6 on a 6-inch, 1440x2880 display. Yes, that resolution means that it's 18:9, which is the current trend in smartphones. As you'd expect, it has very narrow side bezels, and the top and bottom are a bit larger. The top bezel does not include a notch, so there's a lot of space up there for the speaker and the dual-camera housing.
The colors on this screen are vibrant and accurate. It's definitely one of the best LCD screens on the market, and you might even mistake it for OLED, as the colors are that vibrant.
And of course, the U12+ includes HTC's famous BoomSound speakers. This includes a theater mode and a music mode, offering different audio profiles for each. For all of its faults, the U12+ provides a fantastic multimedia consumption experience.
It also comes with HTC's USonic headphones in the box. There's no 3.5mm headphone jack, so they connect via USB Type-C. Once you connect them, you can set them up through Settings. By playing sounds and detecting feedback, it will adjust the audio in each speaker for your ears.
HTC really does provide a great audio experience, whether it's through the speakers or the headphones. It actually rivals LG's G7 ThinQ, with one minor difference, which is that LG doesn't just provide the optimal experience with its own headphones. HTC gets points for providing them in the box though.
Pressure-sensitive buttons and Edge Sense 2.0
HTC's new pressure-sensitive buttons are one of the worst ideas for a smartphone ever. Sure, there have been bad ideas, but how many of them ruin such basic experiences as adjusting the volume or waking your phone?
One of the big problems is that nothing feels natural about them. The haptic feedback is just a bit too delayed, and you have to press it just a bit too hard. Don't believe me? HTC actually has a tutorial on how to use the buttons on its phone. The tutorial recommends using the case that comes in the box, and indeed, that does improve the experience a bit, but HTC loses points for expecting users to use a case that comes in the box instead of just building a better device.
Here's the worst part. The screen just randomly shuts off. I really don't know if it thinks that I'm pressing the power button, some Edge Sense quirk, or something else, but it's really hard to use this phone without an uninterrupted experience.
And then there's Edge Sense 2.0. I wasn't the one that reviewed the U11, the first phone with Edge Sense, so I'm new to this. The last HTC phone I reviewed was the U Ultra, and while that was a great phone, it was this weird device that came just a few months before the U11, so it didn't really have a place in the world.
By default, squeezing the sides of the device launches the camera, and you can also use it to take a picture, or if it launches in video mode, start recording. Vlad Dudau was actually using this feature to take pictures of himself underwater, and while the U11 is IP67 rated, the U12+ is IP68, meaning that it can be 1.5 meters underwater for up to 30 minutes.
However, the cons far outweigh the pros here. False squeezes are common, and even if you don't launch your shortcut by mistake, the phone indicates on the sides of the screen when it's being squeezed, so you just get that sometimes, especially when you're going to press one of the fake buttons.
Taking screenshots on the U12+ is an issue, as you can't actually press two of the buttons at once. You have to press the home button on the screen and the power button. Let me just say that it's a real pain to get a screenshot without those squeeze indications on the sides.
My biggest problem with the pressure-sensitive buttons and Edge Sense is that there's no real reason for these things to exist. If this was a phone with buttons, it would be one of my favorites. I love so many things about it. But those buttons really just kill the experience. Buttons on a device are such a core, fundamental thing that if you ruin it, it ruins everything.
Software
I'm actually one of those weird guys that doesn't prefer stock Android. I think that the beauty of Android is for manufacturers to provide different software experiences all while having the power of the Google Play Store behind it. People want a new experience when they get a new phone. That's why people moved to Windows phone, and that's why people switch away from iOS. With Android, you can get another Android device, and it can actually feel like a new phone.
I also think that there are skins that aren't great. HTC's Sense skin has gotten so much better over the years. There are few 'double' apps in there these days, as the old days left users with two browsers, two email clients, and so on. HTC pretty much sticks with Google apps now, with the exception of Gmail and Mail.
One thing that I really love is the Themes app. Themes allows you to browse through tons of free customizations, and with a couple of taps, change the wallpaper, icons, font, and more on your phone. I went with a Doctor Who theme, but there's really something for everyone.
There's also HTC Sense Companion, which provides suggestions from time to time. For example, it will try to learn your tastes and suggest restaurants, and provide traffic updates. It kind of reminds me of Google Now, back when that was more prominent in the OS.
Finally, there's the Highlights panel, which is apparently still called BlinkFeed, even though it doesn't say it anywhere. This will show you relevant news, social media updates, and so on. A lot of companies provide a panel like this, and frankly, I don't use it on any device.
Camera
I really like the camera on the HTC U12+. It could be a bit better in the low light department, but it's respectable. It's actually hard to say that it's better than most, since HTC's competitors are just doing so good in the camera department as well.
The main camera lens is 12 megapixels with an f/1.75 aperture, while the secondary 2x lens is f/2.6. That means that 2x is not good in low light, which is usually true of these types of things.
There are a few things that I want to note about the samples that I took. First of all, you'll notice that I took a bunch of pictures at the U.S. Open, mainly because I really like how this device captures action shots. Second, the flower shots came out great, as the U12+ automatically uses a bokeh mode, which actually seems to be a lot better than what competitors are doing with depth effects.
Finally, pretty much all of the nighttime shots came out pretty bad. Granted, my dog was dragging me around, but optical image stabilization should have saved me.

Another thing that deserves a shoutout is that the U12+ supports 4K 60fps video capture. This is a feature that's only found in last year's iPhones and higher, this year's Samsung Galaxy flagships, and only a couple of others. LG and Huawei haven't implemented it yet. Part of the reason the feature is rare is because last year's Snapdragon 835 didn't even support it, so this is new. Apple was the first to do it with the iPhone 8, 8 Plus, and X.
4K 60fps video capture is one of my favorite feature to arrive over the last year. For a long time, users had to choose between a high frame rate at 1080p 60fps, or a high resolution at 4K 30fps. You don't have to choose anymore. However, just remember that the videos take up a lot of space.
Performance
The HTC U12+ uses a Qualcomm Snapdragon 845 chipset with 6GB RAM. You should know that you're not going to run into any performance issues. The Snapdragon 845 is powerful, and it's more powerful than most people need, although it's the only chipset that supports that sweet, sweet 4K 60fps video capture.
But truthfully, most users can get by just fine with a Snapdragon 660 and 4GB RAM. After all, the Snapdragon 800 series is going in Windows PCs now, so just consider what you need in a phone. The U12+ has it.
For benchmarks, I used AnTuTu, Geekbench 4, and GFXBench. First up is AnTuTu, which tests a bit of everything.
This is right in line with what we've seen from the Snapdragon 845 chipset before. Next up is Geekbench 4, which tests the CPU.
You can see how it compares to previous devices, and it blows them away. Finally, GFXBench tests the GPU.
I almost feel like it's not worth it to run benchmarks anymore. After all, we've seen enough phones with a Snapdragon 845 to know what to expect, and this chipset is such a powerhouse that the truth is that you just don't have to worry about it.
Conclusion
The HTC U12+ is a great phone, with the exception of two fatal flaws, which are the pressure-sensitive buttons and Edge Sense. This device is absolutely beautiful with its translucent body, along with the Super LCD6 display. BoomSound adds to it for a great audio experience, and the USonic headphones are a great addition.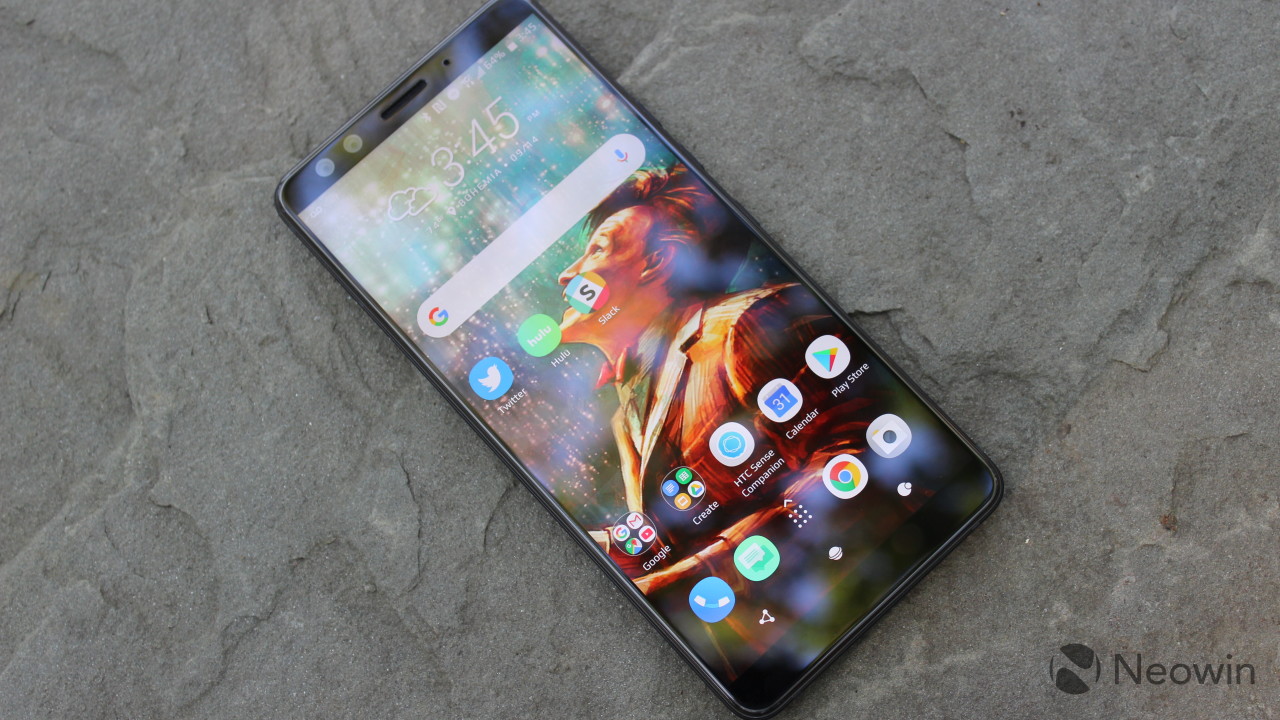 Again, this is a great device for consuming media. If you're watching movies or listening to music, the U12+ is great, with headphones or without.
It also has a pretty good camera, with a great bokeh effect. HTC gets points for 4K 60fps video capture as well.
But unfortunately, all of this is meaningless. While you're watching that movie, you have to make sure you're not holding it near the power button, because the display will shut off, and you have to be careful of Edge Sense. Actually, there's no easy way to hold this phone.
And for that reason alone, this device is not worth $799. Sorry HTC. I love your products, but this one is unusable.
Pros
Beautiful display Fast processor 4K 60fps video capture Translucent design
Cons
Edge Sense Pressure-sensitive buttons