Comet Lake S is Intel's 10th-generation of desktop processors, and the family of CPUs was announced last month. Intel was kind enough to send over a Core i5-10600K and Core i9-10900K to review, and frankly, this has been a fun project. While I've reviewed over a hundred Windows 10 PCs for Neowin, I've never started with just a CPU.
So I built a PC, something that I've also never done before. First of all, getting parts were hard with stores being closed and shipments being delayed. That's part of the reason that the Core i9 review isn't going live today. Let's start with the parts I used.
Parts
| Part | Model | Price | Vendor |
| --- | --- | --- | --- |
| CPU | Intel Core i5-10600K | $262 | Supplied by Intel |
| Motherboard | ASUS ROG Maximus XII Extreme | $750 | Supplied by Intel (Amazon) |
| GPU | Nvidia GeForce RTX 2080 | $709.99 | Pulled from another PC (Amazon) |
| CPU cooler | Intel BXTS15A | $35.40 | Newegg (Amazon) |
| Memory | HyperX Fury RGB 32GB (2 x 16GB) DDR4-2666 | $149.90 | Pulled from another PC (Amazon) |
| Storage | Western Digital Blue 1TB 2.5" SATA SSD | $119.99 | Newegg (Amazon) |
| Case | ASUS TUF Gaming GT501 ATX Mid Tower Case | $169.99 | Newegg (Amazon) |
| Power supply | Corsair CV650 80 Plus Bronze | $69.99 | Newegg (Amazon) |
| Thermal compound | Arctic Silver 5 High-Density Polysynthetic Silver Thermal Compound | $6.99 | Newegg (Amazon) |

The RAM and the GPU were pulled out of the HP OMEN Obelisk that I reviewed about a year ago, so we should be able to compare this Core i5-10600K with the Core i7-8700 that was in that machine quite nicely. I'll be using similar parts for the Core i9 review, although I'm waiting on a new CPU cooler for that.
It's worth noting that Comet Lake S processors fit in the new LGA 1200 socket, which means that you do need a new motherboard. You may not, however, need a new CPU cooler. Anything that fit an LGA 115x board will fit on an LGA 1200 board. This is nice because almost every cooler currently on the market says that it's for LGA 115x boards; however, there's still a caveat.
The new K-series processors have a 125W TDP, whereas previous generations were 95W. These new processors are faster, more powerful, and of course, hotter. In other words, if you buy a CPU cooler that says it's made for K-series chips, still be careful, since these K-series chips run hotter than previous generations. And if you buy one now, that cooler is probably made with previous generations in mind.
I found that the Intel BXTS15A did the job just fine on the Core i5-10600K; with the Core i9-10900K, not so much.
Core i5-10600K Specs
| | |
| --- | --- |
| Cores/threads | 6/12 |
| Frequency | 4.1GHz base, 4.8GHz max turbo |
| Cache | 12MB Intel Smart Cache |
| Bus speed | 8GT/s |
| TDP | 125W / TDP-down 95W |
| Lithography | 14nm |
| Max memory size | 128GB DDR-2666 |
| Max number of memory channels | 2 |
| Max memory bandwidth | 41.6GB/s |
| ECC memory supported | No |
| Integrated graphics | UHD Graphics 630, 350MHz base frequency, 1.2GHz max dynamic frequency |
| Max resolution | 4096x2304@60Hz, up to three displays supported |
| PCI Express | 3.0, up to 1x16, 2x8, 1x8+2x4, up to 16 lanes |
| Thermal solution specification | PCG 2015D |
| Price | $262-$263 |

You can get the full list of specs here.
Performance
We can think of the Core i5-10600 as a mainstream processor, so we can think of the Core i5-10600K as a mainstream gaming processor. The K means it's unlocked for overclocking, but it's also more powerful. The base clock speed on the Core i5-10600 is 3.3GHz, while it's 4.1GHz on the 10600K. Intel's regular desktop chips still have a 65W TDP, while the K-series is 125W.
It also includes hyperthreading, something that's new to Core i5 desktop processors. In fact, the entire lineup of Comet Lake S processors got hyperthreading this year. This means that there are twice as many threads as cores, so there are six cores and 12 threads on this CPU. Note that this provides an improvement in multithreaded applications, but not for everything.
The price listed on Intel's website is $262-$263, which is very much mainstream pricing. The Core i9-10900K that Intel also sent me is priced at $488-$499, so there's a big difference there between mainstream gaming and high-end gaming.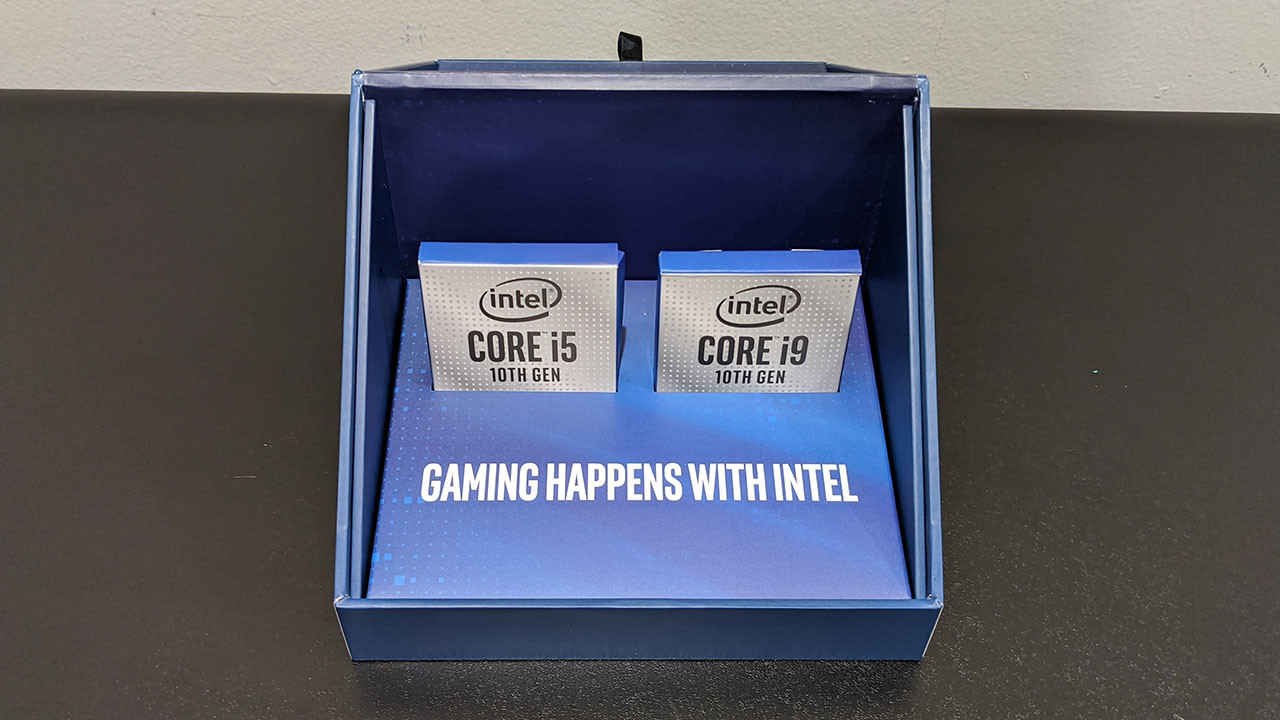 I ran the Core i5-10600K with an Nvidia GeForce RTX 2080 and 32GB HyperX Fury DDR4-2666 RAM, and DDR4-2666 is the best that's supported with this CPU. My experience with performance is that it ran great, from productivity to video editing to gaming. My regular desktop includes a Core i9-9900K with an RTX 2080 Ti, so loading times were longer than I'm used to and such, but that's to be expected.
The key point that I want to make is that the experience with the Core i5-10600K was pretty seamless, and this is a fantastic CPU for mainstream performance. I've learned from this experience, rather than reviewing pre-built PCs, that it's not as simple as Core i9 > Core i5. So far, my Core i9-10900K experience has not been seamless. With that CPU comes a requirement for better cooling and an overall more expensive build. With the i5, everything just worked well with the parts that I had.
Of course, I can tell you all about what I did with it, but what you'll really want to see are benchmarks.
CPU-Z
CPU-Z is an application that can be installed through ASUS' Armoury Crate application. Armoury Crate is also where you can find driver updates for components on the motherboard and such. CPU-Z can show you various information for your system, and you can run benchmarks that can easily be compared to competing processors from AMD or alternatives from Intel.
As you can see, the best that the Core i5-10600K beats in multi-thread is a Core i7-8700K, although in single-thread, it beats the Core i7-7980XE.
PCMark 10
PCMark 10 has an all-in-one test that can be broken down into various segments.

There's honestly nothing to complain about here. Notice that the CPU frequency is consistent throughout, and the CPU temperature is mostly consistent. You'll see when I do the Core i9 review that the temperature isn't quite as stable. This is really an excellent CPU, and this PC beat out 90% of other scores on this test. You can see from the chart that other 2020 gaming PCs are doing better, and that's fair, because as good as this is, there's still a Core i7, Core i9, Intel Extreme CPUs, AMD Ryzen, and AMD Threadripper to deal with, all of which sit at higher tiers.
PCMark 8
PCMark 8 has several tests that we can take a look at.

Compared to the HP OMEN Obelisk that I reviewed last year with a Core i7-8700, that PC got 4,562 on Home, 6,495 on Creative, and 3,584 on Work. The results are pretty similar, comparing this current Core i5 with an eighth-gen Core i7.
3DMark: Time Spy
3DMark is a great way of testing out gaming performance, although we'll look at VRMark for VR performance.

This isn't a very complicated test, but just take note that it beat 84% of other results with a strong GPU score. For example, last year's Core i9-9900K got 10,631 in the CPU section.
VRMark
VRMark has three different tests: Orange Room, Cyan Room, and Blue Room, and that's in order of complexity. I've actually never seen a PC pass the Blue Room test, only seeing some hit target frame rates but not recommended frame rates.
Orange Room
Cyan Room
Blue Room

Unsurprisingly, it passed the Orange Room and Cyan Room tests with flying colors, but not the Blue Room test. Also, I observed the CPU temperature based on the indicator on the motherboard, and it actually went down as the tests got more complex. The ambient temperature was 52 degrees Celsius, and it ran at 68 degrees on the Orange Room test, 63 degrees on the Cyan Room test, and 58 degrees on the Blue Room test.
Geekbench
Geekbench is a great test for straight-up CPU testing.
Geekbench has a whole website where you can compare this score to others. An iMac with a Core i5-8600K got 1,084 on single-core and 5,300 on multi-core. It might also be worth comparing to the Core i5-7600K. After all, being a mainstream CPU, you're probably on more of a mainstream upgrade cycle.
The Core i5-7600K was the last one that was quad-core before Intel moved to a hexa-core design in the i5. An iMac with a Core i5-7600K got 1,054 on single-core, but only 3,114 on multi-core. Also, if you want to search around a bit, it's easy to compare it to a similar CPU. The model number is similar, so you can just swap out that first digit that represents the generation.
You can also compare this to an AMD Ryzen 3600X, which is also hexa-core with 12 threads, but runs at a 95W TDP. It's also based on AMD's new 7nm architecture, while Comet Lake S is still 14nm. This came in at 1,224 for single-core and 7,188 for multi-core.
Cinebench
The last test that I ran is Cinebench.
The nice thing about Cinebench is that it's easy to see exactly where it stacks up against other CPUs.
Conclusion
Honestly, I wish I had more to say about the Core i5-10600K in comparison with AMD's Ryzen 5 3600X, since that's its direct competitor. And if you're building a new PC, you're likely faced with that choice between the two, especially since you need a new board for an Intel Comet Lake S chip anyway. Sadly, I don't have an AMD Ryzen 3600X to test it against, so I can't judge it one way or the other.
One thing I will say is that the new Ryzen processors have PCIe 4.0 support, while Intel Comet Lake S does not. PCIe 4.0 provides a 16GT/S bit rate and 64GB/s total bandwidth, double its predecessor. While Comet Lake S does require a new motherboard, the good news is that LGA 1200 should still be supported with 11th-generation 'Rocket Lake' CPUs. In fact, before requiring the new socket with Comet Lake S, Intel has been using the LGA 1151 socket from sixth-generation 'Skylake' through ninth-generation 'Coffee Lake'.
I like to use the phrase that no one ever got fired for buying an Intel PC, a callback to the old phrase, "Nobody gets fired for buying IBM." Intel has been the standard for PCs for decades, and you really can't go wrong by using its products.
And the Core i5-10600K is really good. It will get you solid performance, as you can see from the various benchmarks. Indeed, it's more powerful than before with hyperthreading and the higher TDP, but that higher TDP doesn't seem to come at a cost to thermals.
This is a mainstream CPU for mainstream gaming, and it absolutely gets the job done. Make no mistake; Intel makes better parts from the Core i7 and Core i9 families, and I'll cover the i9 next. But the i5-10600K doesn't break the bank at $262, and it doesn't break the bank when it comes to other parts that you're going to need in your build. If you go for a more powerful part like the Core i9-10900K, you absolutely need to put more thought into the power that it will consume, thermals, and more.
I haven't been able to find a listing for the Intel Core i5-10600K just yet, but the other parts that I used are all linked to above.
As an Amazon Associate, Neowin may earn commission from qualifying purchases.
Pros
Solid overclockable performance No thermal issues Low price
Cons
Requires new motherboard No PCIe 4.0