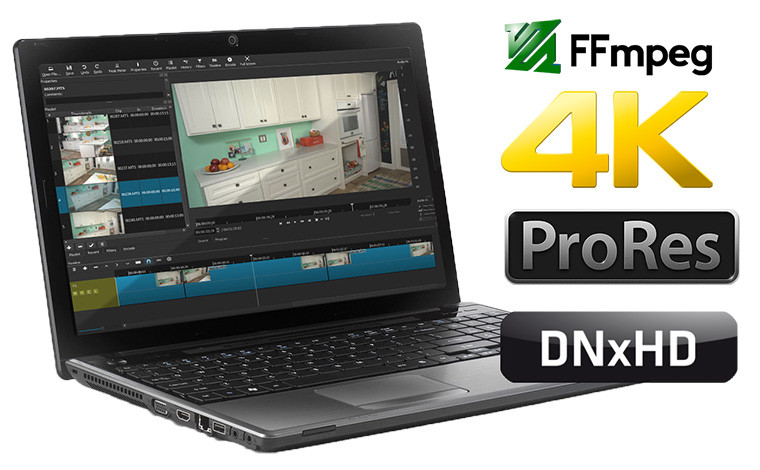 Shotcut is a free, open source, cross-platform video editor for Windows, Mac and Linux. Major features include support for a wide range of formats; no import required meaning native timeline editing; Blackmagic Design support for input and preview monitoring; and resolution support to 4k.
Editing Features
Trimming on source clip player or timeline with ripple option
Append, insert, overwrite, lift, and ripple delete editing on the timeline
3-point editing
Hide, mute, and lock track controls
Multitrack timeline with thumbnails and waveforms
Unlimited undo and redo for playlist edits including a history view
Create, play, edit, save, load, encode, and stream MLT XML projects (with auto-save)
Save and load trimmed clip as MLT XML file
Load and play complex MLT XML file as a clip
Drag-n-drop files from file manager
Scrubbing and transport control
Video Effects
Video compositing across video tracks
HTML5 (sans audio and video) as video source and filters
3-way (shadows, mids, highlights) color wheels for color correction and grading
Eye dropper tool to pick neutral color for white balancing
Deinterlacing
Auto-rotate
Fade in/out audio and fade video from and to black with easy-to-use fader controls on timeline
Video wipe transitions:
bar, barn door, box, clock (radial), diagonal, iris, matrix, and custom gradient image
Track compositing/blending modes:
Over, Add, Saturate, Multiply, Screen, Overlay, Darken, Dodge, Burn, Hard Light, Soft Light, Difference, Exclusion, HSL Hue, HSL Saturation, HSL Color, HSL Luminosity.
Video Filters:
Alpha Channel: Adjust, Alpha Channel: View, Blur, Brightness, Chroma Key: Advanced, Chroma Key: Simple, Contrast, Color Grading, Crop, Diffusion, Glow, Invert Colors, Key Spill: Advanced, Key Spill: Simple, Mirror, Old Film: Dust, Old Film: Grain, Old Film: Projector, Old Film: Scratches, Old Film: Technocolor, Opacity, Rotate, Rutt-Etra-Izer, Saturation, Sepia Tone, Sharpen, Size and Position, Stabilize, Text, Vignette, Wave, White Balance
Speed effect for audio/video clips
Hardware Support
Blackmagic Design SDI and HDMI for input and preview monitoring
Leap Motion for jog/shuttle control
Webcam capture
Audio capture to system audio card
Capture (record) SDI, HDMI, webcam (V4L2), JACK audio, PulseAudio, IP stream, X11 screen, and Windows DirectShow devices
Multi-core parallel image processing (when not using GPU and frame-dropping is disabled)
DeckLink SDI keyer output
OpenGL GPU-based image processing with 16-bit floating point linear per color component
Shotcut 18.10.08 new features:
Added support for Intel Quick Sync Video hardware-accelerated video encoders to the Windows build (in Export > Codec choose h264_qsv or hevc_qsv).
Added Grid and Safe Area overlays with a toggle/menu button to the player.
Added snapping to the grid and safe areas for the VUI rectangle control as used by Text, Size and Position, and more filters.
Added Open Other to the main toolbar with a drop-down menu.
Added the ability to drag-n-drop folders from a file manager into Shotcut.
Added the ability to supply multiple file and folder name arguments to the shotcut command line executable.
Added the ability to make a temporary Custom Video Mode (leave Name blank).
Added Settings > Video Mode > Custom > Remove....
Added View > Layout > Remove....
Added Settings > Clear Recent on Exit checkbox to prevent saving data on a shared computer account.
Added command line option --clear-recent to enable Clear Recent on Exit and hide that option in the Settings menu.
Added a dialog when you click to check for an update that asks if you want to check for update automatically (at startup only) with the option to suppress the dialog indefinitely.
Fixes:
Fixed audio preview distortion on Windows (regression in v18.09).
Fixed some AAC MP4 files start in the middle.
Fixed un-mute a track may not draw its waveforms.
Fixed whitespace in Text filter removed in Export.
Fixed crash adding clip to Timeline after removing all tracks.
Fixed simple keyframes go missing or not all the way to 00:00.
Fixed switching from simple to advanced keyframes in Text, Rotate and Scale, Timer, and Size and Position filters.
Fixed a possible crash when adding a transition by trimming.
Fixed crash on macOS after the app restarts itself when some Settings are changed.
Fixed moving a clip to the left where the right edge is not a blank.
Fixed some Timeline actions do not work correctly after a Ripple move.
Fixed undo/redo form trim-to-transition over a blank/gap.
Fixed Ripple moving a clip to the end of a track was not extending the hidden black background.
Hide the Text generator if Settings > GPU Effects is on (incompatible).
Fixed the Rotate and Scale filter preset not saving keyframes for the Scale parameter.
Fixed a crash opening multiple files at once either through File > Open or drag-n-drop from a file manager.
Fixed a crash closing a playlist-only project with Automatic Video Mode.
Fixed changing position or removing advanced keyframes for the Scale parameter of the Rotate and Scalefilter distorting the aspect ratio of the image.
Fixed Timeline > Split not working if the current track is empty. (It should split the topmost clip under the playhead.)
Fixed clicking the reset button of the Center checkbox of the Crop filter does not re-enable the other controls.
Fixed the Timeline and Keyframes timeline rulers are incorrect after changing Settings > Video Mode.
Fixed a crash when the project frame rate is very low (
Fixed a crash when switching keyframes on and off for position and size parameters in video filter such as Size and Position, Text, and Timer.
Fixed trimming multiple track filters hides them.
Fixed making a Text preset does not save the text (only all other parameters).
Changes and Improvements:
Changed resolution restriction from a multiple of 8 to a multiple of 2.
Improved the layout of the filter chooser in Filters.
Changed Timeline fade controls to behave the same as Keyframes simple keyframes.
Changed the Noise generator from opening as a live source to a clip with a duration.
Changed drag-n-drop to Playlist to not automatically open the first file unless the project is empty.
Changed the Rotation parameter of the Mask filter to use degrees, and fixed its reset button.
Added more library dependencies to the Linux portable tar, AppImage, and snap builds including the SWH LADSPA plugins.
Download: Shotcut 18.10.08 (32-bit) | Portable | ~100.0 MB (Open Source)
Download: Shotcut 18.10.08 (64-bit) | Portable | ~200.0 MB
View: Shotcut Home Page | Other Operating Systems
Get alerted to all of our Software updates on Twitter at @NeowinSoftware