Claim the complimentary report for free today, before the offer expires.
What's it about?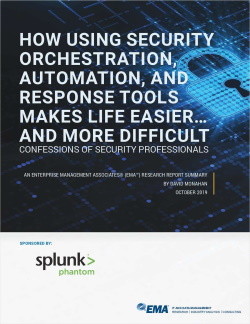 Enterprise Management Associates spoke with over 250 IT and Security professionals across North America on the topic of Security Orchestration, Automation, and Response (SOAR) tools.
On average, respondents identified a 48% efficiency improvement in security operations when using a SOAR tool. In fact, 97% of respondents said that a SOAR tool allowed for increased workload maintaining the same staff.
Can a security orchestration, automation and response tool help your security team? Download your complimentary copy of the report to learn more.
How to get it
Please ensure you read the terms and conditions to claim this offer. Complete and verifiable information is required in order to receive this free offer. If you have previously made use of these free offers, you will not need to re-register. While supplies last!
>> Confessions of Security Professionals on SOAR Tools - Free report
Offered by Splunk, view other free resources | Limited time offer
---
Not for you?
That's OK, there are other free eBooks on offer you can check out here, but be aware that these are all time-limited offers. If you are uncomfortable sharing your details with a third-party sponsor, we understand. Or via our preferred partner:
How can I disable these posts? Click here.
Disclosure: A valid email address is required to fulfill your request. Complete and verifiable information is required in order to receive this offer. By submitting a request, your information is subject to TradePub.com's Privacy Policy.