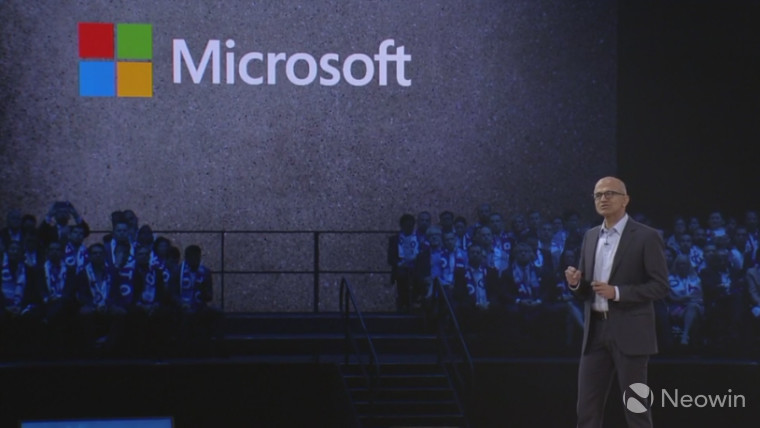 A couple of weeks ago, The New York Times unveiled an open letter posted on Microsoft's internal message board, signed by over 300 employees, that denounced the company's work with the U.S. Immigration and Customs Enforcement (ICE). Now, a recent survey conducted by TeamBlind shows that a majority of Microsoft employees that took part in the survey are content with collaboration between the tech giant and the law enforcement agency.
A total of 1,180 Microsoft employees participated in the survey that ran from June 20 through June 28. The picture below shows the exact breakdown of how they responded to the question being asked.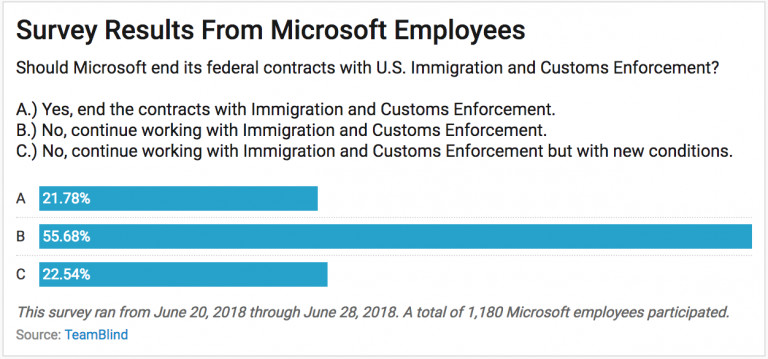 As can be observed by compiling the percentages of people who chose option A or option C, 44.32% of the employees who took part in this survey want the company to either revise the conditions of its contracts with the ICE, or end them altogether. The remaining 55.68% are content with some form of collaboration with the law enforcement agency.
Interestingly, of the total 5,166 Blind app users who took part in the survey, around 57% want the tech giant to end or alter its contracts with the ICE, with only 43% being content with the current agreements in place. This implies that the general public is not in favor of Microsoft associating itself with the immigration agency, at least in the way it currently is doing so.
Microsoft has faced severe backlash following the continuance of its work with the ICE in the past few weeks. The Trump administration's decision to enact a policy that led to about 2,000 children of illegal immigrants being separated from their families at the U.S.-Mexico border last month sparked major controversy. Microsoft's existing contract with ICE - which was initially largely ignored - led to the tech giant being caught in the crossfire, although the company insisted that it was not working "on any projects related to separating children from their families at the border".
It should be noted that with the tech giant currently employing over 120,000 people, this survey that undertakes the views of less than 1% of its total workforce is not enough to gauge the overall feeling among all employees. However, considering that only around 22% of those involved in this survey want to completely stop working with the ICE, it can perhaps be said that a majority of the firm's total workforce would not have a drastically different view on the matter.
Source and image: TeamBlind