Google's Pixel 4a was late to the game this year. It was supposed to launch at I/O back in May, and then I/O was canceled due to the COVID-19 pandemic. It finally arrived earlier this month. The reception was mixed, mainly because Google removed any choice from its new device.
Indeed, there's no XL model, it only comes in black, and there's just one storage configuration. There are no variants of the Pixel 4a at all. Some people felt like Google's heart just isn't in it anymore.
I disagree. I think the Pixel 4a is a winner, once again bringing all of the flagship features to the mid-range, while minimizing compromises. In many ways, I'd even take the Pixel 4a over the Pixel 4, given the new all-screen design.
Specs
| | |
| --- | --- |
| CPU | Octa-core Qualcomm Snapdragon 730G, 2.2GHz + 1.8GHz |
| GPU | Adreno 618 |
| Display | 5.81 inches, 19.5:9, 1080x2340, OLED, 443ppi, 100,000:1 contrast ratio |
| Body | 144x69.4x8.2mm (5.7x2.7x0.3in), 143g |
| Battery | 3140mAh, 18W USB Type-C fast charging |
| Memory / Storage | 6GB LPDDR4x, 128GB |
| Camera | 12.2MP dual-pixel f/1.7, Front - 8MP f/2.0 |
| Video | 4K - 30fps, 1080p - 60fps Front - 1080p - 30fps |
| OS | Android 10 |
| Material | Polycarbonate unibody |
| Price | $349 |

Day one
Design
I've always enjoyed polycarbonate smartphones. They don't feel cheap if you do it right, and they're much less prone to breaking than glass. This is a bit of a departure from Google's Pixel design though, because the entire chassis is a flat black.
Historically, Pixels have had a two-tone design, with a glossy top and a matte bottom. That changed with the Pixel 4, which is mostly similar to an HTC Desire's two-tone look. It had a flat back with a different color frame. Neither of those things are happening with the Pixel 4a, as it's Just Black. Indeed, the color name is apt, as it describes the device, and the fact that it's the only color option.
The back of the device has the regular Google logo, and above it, there's a fingerprint sensor. Yes, Google has revived the fingerprint sensor on the back. For me, the removal of a fingerprint reader was a real pain point of the Pixel 4 series. I don't know if you guys know this, but we live in a world now where we sometimes have to wear masks, and those masks break facial recognition. So now, I don't use phones that don't have fingerprint sensors. Including that feature is a big win in my opinion.
In the top-left camera, you'll notice that Google has the same square camera housing that it used on the Pixel 4 series, and it's for style only. In fact, that's another thing about the design that I've seen being criticized. Those larger camera housings are meant to hold multiple sensors. If there's only one camera, what's the point? Oh well. I'm not losing sleep over the shape of the camera.
On the right side of the device, there's a volume rocker, and above it, a white power button. The power button is the only part that doesn't match the chassis, and it's common among Pixel phones. I kind of like it, as it's a visual queue to know which button you should hit.
On the top of the Pixel 4a, there's actually a headphone jack, something not found on the more expensive Pixels. It was on last year's Pixel 3a series though.
And then on the bottom, there's a USB Type-C port for charging, along with a stereo speaker grille.
Display
The Pixel 4a has a 5.81-inch 19.5:9 screen, so it's almost exactly the same size of the screen on an iPhone 11 Pro. And while the screen is larger than the 5.7-inch 19:9 display on the Pixel 4, the 4a has a smaller chassis due to the smaller bezels. The screen is actually taller and a bit narrower.
The FHD OLED display is easily one of the highlights of the Pixel 4a, because while the 'a' series is supposed to be about bringing flagship features down to a lower price point, this is the first time that a Pixel has had an all-screen front. With the Pixel 4 series, there was a large top bezel for Google's Soli radar, and no one will forget the massive 'bathtub notch' on the Pixel 3 XL.
Instead, the Pixel 4a is the first to include a hole-punch cut-out in the top-left corner of the display. While this is probably my favorite Pixel smartphone display, there's a bit of bad news. It's 60Hz, while the Pixel 4 series was 90Hz. That's one of the compromises that you'll make at the $349 price point, which to be clear, is less than half the price of a Pixel 4.
It's also important to note that at 5.81 inches, this device is relatively small, and there's no XL model here. As I noted above, it's comparable to the iPhone 11 Pro or Pixel 4 in terms of size, making it smaller than the iPhone 11, iPhone 11 Pro Max, and Pixel 4 XL.
Like all Pixels, it supports an always-on display, but I want to call attention to my favorite feature, called Now Playing. It will automatically tell you what song is playing around you, and that will show up on the lock screen or the always-on display.
Camera
The Google Pixel 4a packs a 12.2MP camera, which is what the company has been using since day one. The only other resolution camera that's been used is the secondary lens on the Pixel 4 series. That does not, however, mean that they're all the same. This sensor has an f/1.7 aperture, making it the same lens as was used as the main sensor on the Pixel 4 series. The Pixel 3 series was f/1.8, as was the Pixel 3a series.
I admire Google's decision to go with a single-lens design. I see so many smartphones at this price point tout two camera sensors, and then it turns out that one of them is a 2MP depth sensor or something. Those 2MP sensors are just cheap ways to let an OEM say it used two lenses.
Indeed, Google has been championing single-lens photography since the beginning, and only added a second lens for the Pixel 4. Back when Apple introduced portrait mode with the dual-lens camera on the iPhone 7 Plus, Google did portrait mode with a single lens just weeks later when it launched the first Pixel phone.
This camera has all of the features that the Pixel is known for, including that portrait mode I just mentioned, along with Super Res Zoom, Night Sight, and more. Note that the camera will let you zoom in at up to 7x, so it doesn't let you get too wild. You'll see in the samples, however, that 7x zoom photos do come out pretty good.
This is one of the best smartphone cameras around. It does what it does well, and it's amazing that that comes in at $349. With every other device lineup out there, you're making some serious camera compromises if you switch to the mid-range; not with the Pixel lineup.
Night Sight is my favorite feature, even though Google's not the first to think of the idea of leaving the camera shutter open for longer and stabilizing the image; Huawei did it first. But still, it does a great job, and you can see some pretty stark differences in images, such as the ones that appear to be taken in pitch black conditions, until Night Sight is turned on.
You can also see in some of the earlier images what Super Res Zoom can do. Those pictures are taken at the full 7x, and they came out pretty good. It's wild for a single 12.2MP lens.
Performance and battery life
There's a lot of good coming in this section, and some bad too. The Google Pixel 4a uses a Qualcomm Snapdragon 730G processor, which is quite good. I've been saying for years that the Snapdragon 8 series offers more than most people actually need, and the 7 series is doing a great job. I'd prefer a Snapdragon 765 for a little bit more of a boost, but for $349, I'll take it.
The bad news is that there's no 5G in this handset. Yes, there is a Pixel 4a 5G coming later this year, which will arrive alongside the Pixel 5. We already know the price of the Pixel 4a 5G too, $499, and it's likely that both the Pixel 4a 5G and the Pixel 5 will include a Snapdragon 765G 5G chipset. In other words, you'll be paying $150 more for 5G and a bump in CPU and GPU performance.
This feels like it's one model too many to me, unless the Pixel 4a 5G ends up being the Pixel 4a XL that many wanted. If the Pixel 5 is going to ditch the Snapdragon 8 series and use the same chipset as the Pixel 4a 5G, then it would make more sense to me to just kill off the Pixel 4a 5G, and use a Snapdragon 690 5G in the Pixel 4a.
Battery life is great, lasting all day, but there's more bad news. The Pixel 4a doesn't support wireless charging, just like the 3a didn't. It does have 18W fast charging, but to me, the lack of wireless charging is a deal-breaker. The Pixel 4a is an amazing smartphone, but if you ask me if it will replace my daily driver, the answer is no, and the lack of wireless charging is why.
For benchmarks, I used AnTuTu. The other apps I usually use weren't supported from the Play Store, and I didn't go through greater lengths to install them. After all, Geekbench just tests the CPU, so the score should be pretty much the same as a result from any Snapdragon 730G.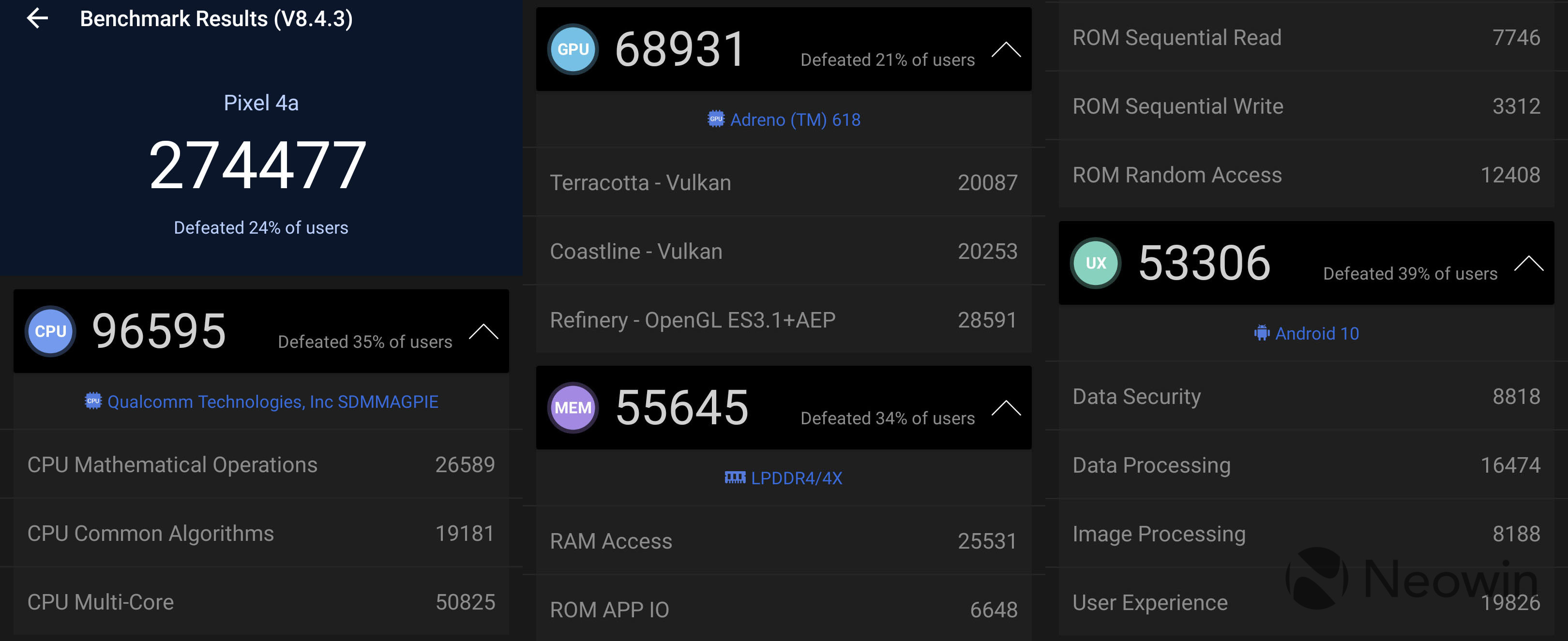 Conclusion
The Pixel 4a is an amazing device. But every time a device like this comes along and I sing its praises, someone asks me if I'd really be willing to make it my daily driver, and the answer is no, only because there's no wireless charging. I actually have a friend who wanted to buy a Pixel, and was turned off by the lack of wireless charging, so he went for a Pixel 4. But to me, $450 is a lot of extra money to spend for one charging feature.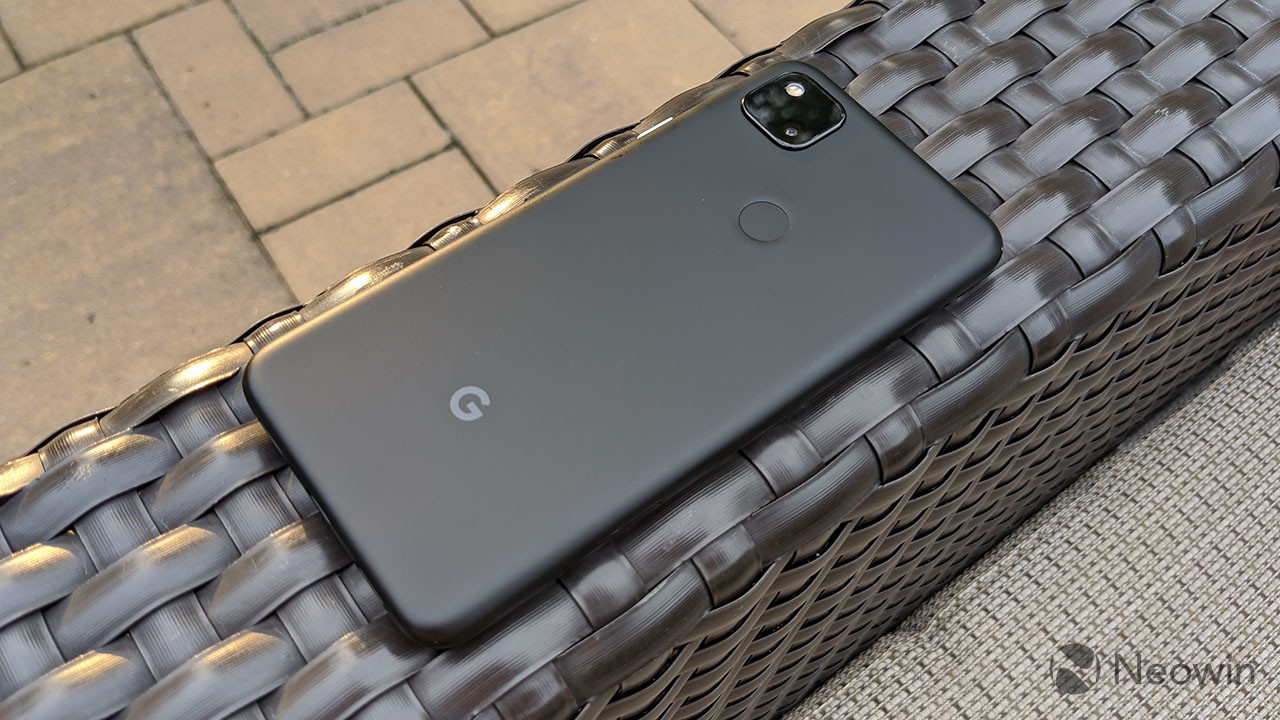 If you're OK with not getting wireless charging, the Pixel 4a is nearly a perfect phone. It runs stock Android and gets updates on day one, something that's true of any Pixel phone. And it has lots of cool Pixel-specific features, such as Now Playing, which automatically tells you which song is playing on the radio.
It's also got by far the best camera in a smartphone that costs under $400, and yes, that includes the iPhone SE. It's also just an overall pleasant phone to use that fits nicely in your hand, has a familiar fingerprint sensor, and has a beautiful OLED screen. As long as you're OK with not having wireless charging, the Pixel 4a is a buy. You can check it out on the Google Store here.
Pros
Pixel camera Unique design Solid performance Value
Cons
No wireless charging 60Hz screen No 5G