Google has updated its popular Google Reader app for Android, adding some features many have been crying out for. In a post on the Official Google Reader Blog, Brian Smith outlined the three main features to find their way into the update.
The first addition of note is the new Reader unread count widget. Now you can select any feed, label, person or indeed everything and have a handy unread count right on your Android home screen. Tapping the icon takes you straight to the area of your choice right inside the Reader app.
Next up is another widget, this one acting as a news ticker. Again you can choose any stream in Reader and have the widget cycle through new articles. Again, tapping the article takes you to the correct area inside Reader. Great if you want to keep up-to-date on affairs without having to open the app every 5 minutes.
Finally we have a feature that everyone's been crying out for: mark previous as read. We all have large reading lists these days, and often want to mark part of a stream as read without having to select each and every article manually. Now in the Google Reader app for Android, users can mark all articles that have been scrolled past as read. Everything on-screen and below stays unread for reading at your leisure. It's a simple feature that can make the world of difference for people like us. Bravo Google!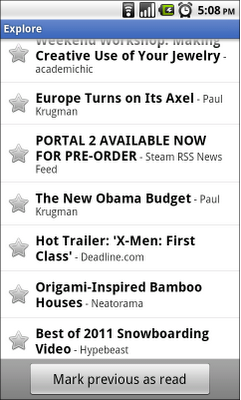 One final improvement that isn't getting much news is the addition of a Russian language option, thanks to two Googlers using their fabled '20% time' to get the translation done. That's obviously great news for Russian Android fans!
Now can we have some fancy new features in the Mail app too, please?