According to a new report from WindowsBlogItalia, Microsoft will be releasing an Office Online extension for Microsoft Edge.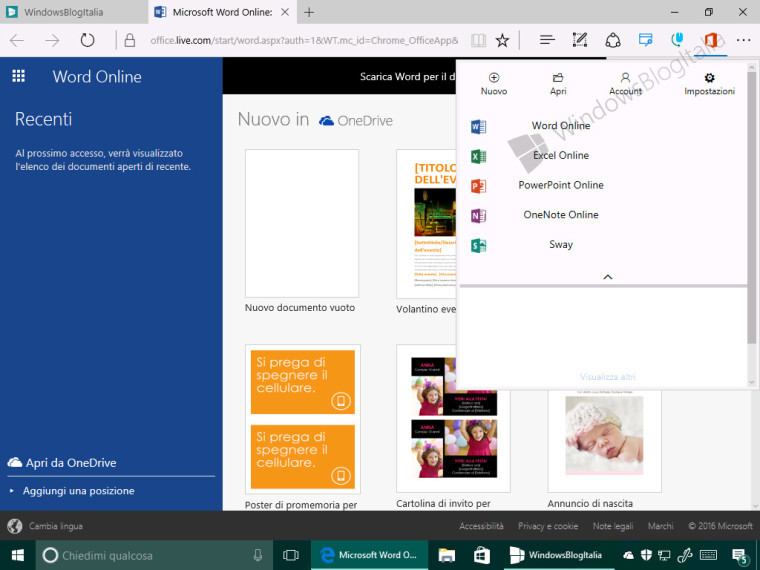 According to the description, the Office Online extension will allow you to (translated from Italian):
Create a new document in Word Online Excel Online PowerPoint Online OneNote Online and Sway.

Open a document from OneDrive or PC / tablet without the Microsoft Office suite is installed.

Change the Microsoft Account with which you are logged.

Or not to send feedback to improve the product.
As you can see, the extension doesn't seem as though it will do much more than a simple bookmark to the Office Web Apps. Of course, it can always become more fully-featured over time.
The Office Web Apps are completely free to use, making them a valid alternative to having an Office 365 subscription. In fact, it's the only way to use Office for free on screens over 10 inches.
The extension should be available soon. In fact, the report says that it's available now, so keep your eyes open. When it is available, you'll be able to find it here.
Once you find it, there will be a link to open it in the Store, which you'll be able to do if you're on Windows 10 build 14342. In fact, all Insiders should be on the same build at this point, as 14342 was released to the Slow ring last week.
Update: The Office Online extension is now available. You can download it right here.
Will the Office Online extension make you more likely to use the service? What extensions are you waiting for? Let us know in the comments!
Source: WindowsBlogItalia