Earlier this year, I reviewed Huawei's Watch GT. It was an interesting device, making certain compromises in order to get weeks of battery life. The new Watch GT 2 takes things a step further, adding some new features to bring it to parity with the competition.
It now supports music playback, and it finally has an always-on display, something that's a staple on most smartwatches. Now, you won't have to raise the watch to see the time. It still runs Huawei's in-house LiteOS, which has its own pros and cons.
The biggest pro is, of course, battery life. And while the Watch GT 2 packs a more sleek design and some new features, battery life is the biggest one. Just like with its predecessor, if you're OK with charging your smartwatch every night, this one isn't for you. If you don't want to worry about charging, and you want really solid sleep tracking, the Watch GT 2 is a serious contender.
Specs
Body
45.9x45.9x10.7mm, 41g
Case
46mm, black stainless steel
Chipset
Kirin A1
Strap
Black fluoroelastomer strap
Display
1.39-inch AMOLED, 454x454
Sensors

Accelerometer sensor
Gyroscope sensor
Geomagnetic sensor
Optical heart rate sensor
Ambient light sensor
Air pressure sensor
Capacitive sensor

Battery life
14 days
Buttons
Power button, function button
Water resistance
5ATM
Storage
4GB
RAM
32MB
OS
LiteOS
Price
€249

Huawei sent me the 46mm model for review, but there's also a smaller 42mm model, which weighs in at only 29g and promises a week of battery life. Personally, I like the style of the smaller one a bit more, so that's worth checking out.
Day one
Design
This is the third Huawei smartwatch that I've reviewed, and I feel like the Shenzhen company is continuing to refine the design. The first one was the Huawei Watch 2, a Wear OS smartwatch with massive bezels and was over half an inch thick. The original Watch GT shared a similar design, although it was a lot slimmer and the bezels were smaller.
Now, the Watch GT 2 once again shares the same design language, but the raised bezels are gone, replaced by angled glass. Despite this, it's still 0.1mm thicker than its predecessor. I'm happy with the thickness though; it's really anything beyond 12mm that you have to worry about, so 10.7mm is just right.
It's 5g lighter than the Watch GT at 41g, which means that it's more comfortable to wear. In my experience, lighter is always better when it comes to a smartwatch, at least in terms of comfort. If you get the smaller model, that comes in at just 29g.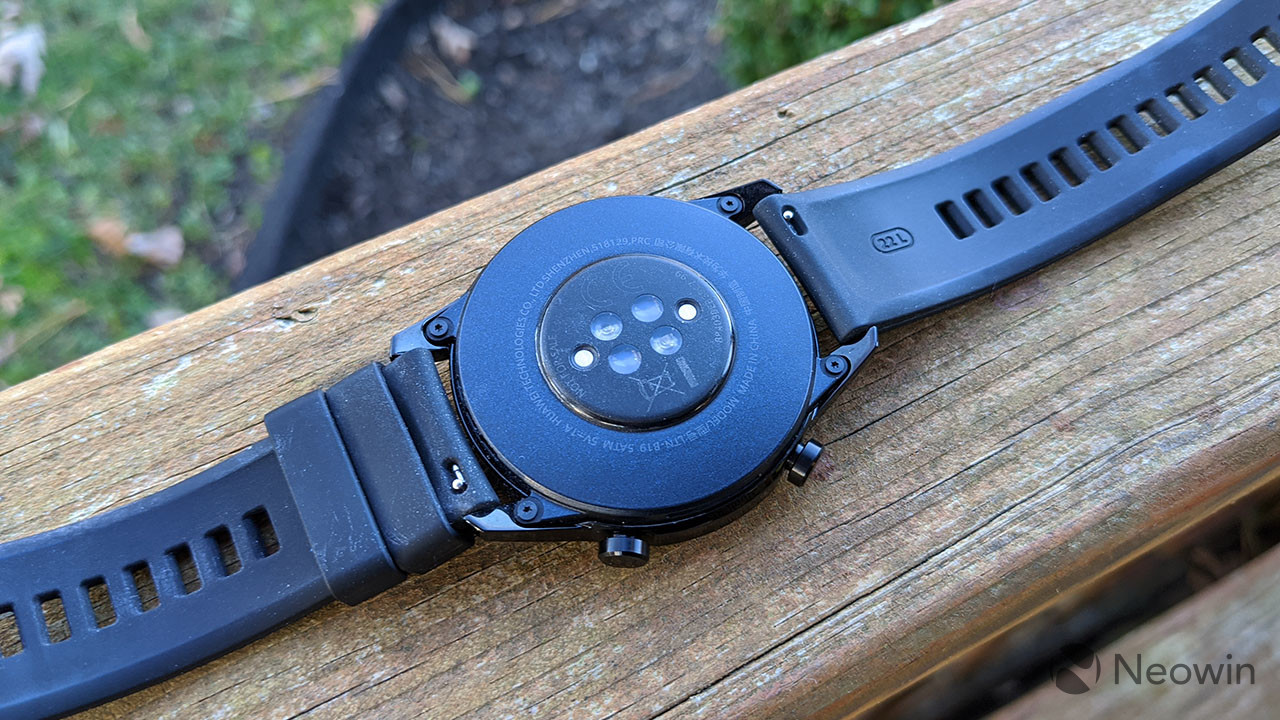 On the bottom of the watch, there's a heart rate sensor, and two pins for charging. I'm curious to see how those pins will hold up over time. While charging the device, you'll actually see a message on the screen that says to make sure those pins are clean. After all, they'll certainly get dirty over time; this is a device that you'll be wearing on your wrist while exercising. The nice part is that you don't have to charge it very often, but it seems like wireless charging would be a solution here.
The strap can be removed and easily replaced by using a standard pin mechanism. You can swap it out with any 22mm strap, so there's nothing proprietary going on here.
The case has two buttons on the side: a power button and a function button. Holding down the power button (the top one) will give you the option to power off or restart. Just pressing it serves as a home/wake button. It can wake the device, bring you to the apps menu from the watch face, or take you back to the watch face. The bottom button is customizable, but by default, it takes you to the workouts screen.
I really like where Huawei is heading in terms of smartwatch design. The angled glass without raised bezels gives the Watch GT 2 a polished look, although like I said earlier, I do like the curved glass look of the 42mm model better. They're both good-looking devices, so here's nothing wrong with that.
Display
The screen is a 1.39-inch 454x454 AMOLED display, so it's quite nice. The smaller 42mm model has a 1.2-inch 390x390 AMOLED screen. OLED is definitely something that you need on a smartwatch, and that's why it's included on any modern model. True blacks are critical for a watch face, where the only part that should be lit up are the parts that you want to be. You don't want to be able to see where the display ends and the bezels begin.
One of the big features this year is the always-on display. This is huge. It's a feature that's been available on Wear OS watches since the platform debuted over five years ago, and Apple just added it to its Watch this year. It works differently on the Watch GT 2 though.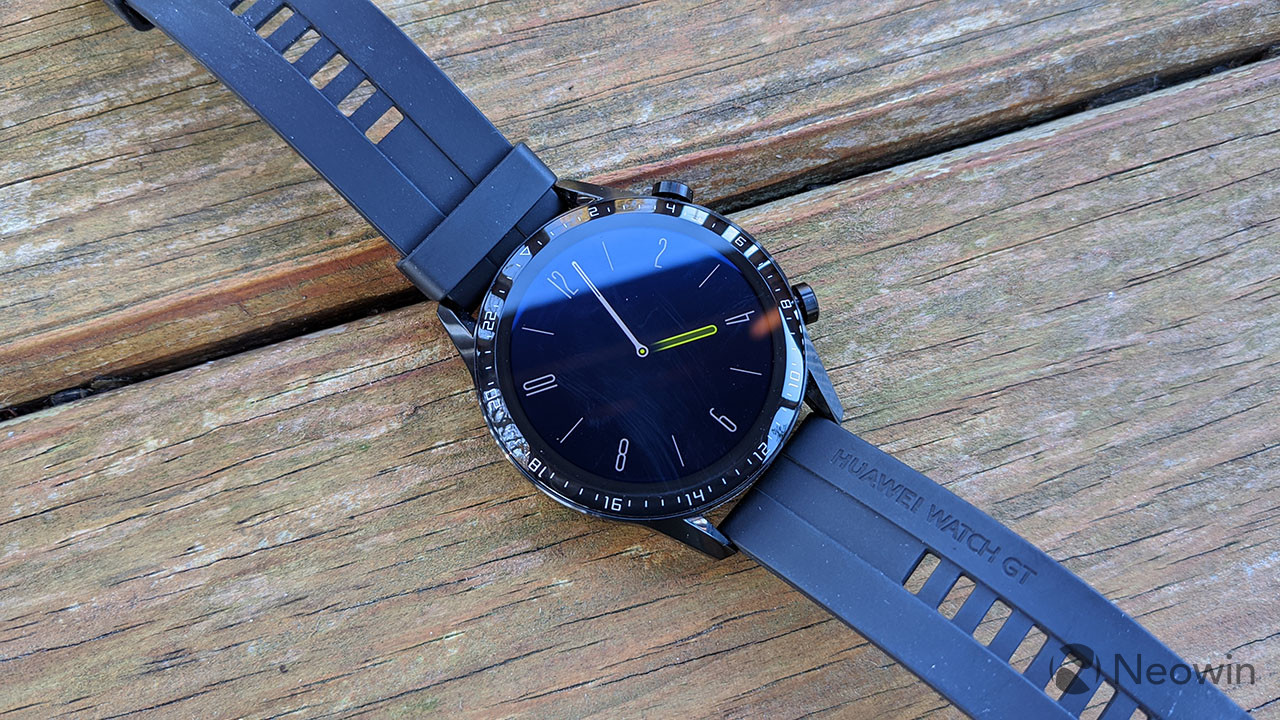 The always-on display doesn't correspond to your watch face. On other platforms, it would be a dimmed down or dumbed down version of the face that you're using, but on the Watch GT 2, it's an entirely different setting, a setting that's not turned on by default. You have to go to Settings -> Display -> Advanced -> Standby watch face. You can then choose between digital and analog styles, and you can choose between green, red, and white colors.
Note that it seems that at some point, Huawei added an always-on display for the original Watch GT. The settings let you choose between digital and analog, with no color options.
There's some bad news though. As soon as you turn it on, you'll get a message that says that using the always-on display will cut your battery life in half. No surprise there, but it also tells you that raise-to-wake will no longer work. That's right; if you use the always-on display, you'll have to press the power button or tap the screen to wake up the watch.
This is all a step in the right direction. In fact, that's how I'd sum up the Huawei Watch GT 2. With an always-on display, a refined design, music playback, and more, it's a step in the right direction for a platform that has limitations that are hard to get around.
LiteOS and watch UX
When Huawei introduced the original Watch GT and its new LiteOS platform, it said that it wasn't abandoning Wear OS. The Chinese firm hasn't introduced a Wear OS watch since then, and given how the political climate has changed, it seems unlikely that we'll see one any time soon. But the reasons for LiteOS remain the same; it doesn't have the same limitations as Wear OS.
That means that this watch can actually have weeks of battery life, rather than a day or two. Of course, that means that you're giving up the Google Play Store, as well as things like Google Maps. Turn-by-turn navigation on my wrist is something that I appreciate on a smartwatch, and it's disappointing to me that I can't do that with the Watch GT 2.
The watch comes with the following pre-installed apps:
Workout
Workout records
Workout status
Heart rate
Activity records
Sleep
Stress
Breathing exercises
Music
Contacts
Call Log
Air pressure
Compass
Weather
Notification
Stopwatch
Timer
Alarm
Flashlight
Find my phone
Settings
This is actually the order of the apps in the app drawer, and there doesn't seem to be any way to rearrange them. I'd have hoped for some settings in the Huawei Health app for that, but I can't find any.
Two of the key new features this time around are music playback and the ability to answer calls. While the Watch GT 2 does have a speaker, you'll want to use Bluetooth earbuds for this. The built-in speaker isn't very powerful; I think it's really meant more for notification chimes and such.
Music playback works well, but the limitation here should be fairly obvious, given what I just noted about Google Maps. The drawback here is that it doesn't support your streaming service. You can only play locally stored audio tracks on the device. I do appreciate the feature though, since I don't like to bring a smartphone to the gym. Just be aware that you'll have to supply your own music. It supports up to 2GB of locally stored music. In fact, the Watch GT 2 has 4GB of internal storage, compared to its predecessor's 128MB.
Another thing that I want to bring up are messy notifications. When you received a text and it's forwarded to the watch, the Huawei Watch GT 2 doesn't know that the right place to add a line break is between words. You'll see half of a word on one line and the other half on the next line. Again, it's just messy. I certainly wouldn't consider it a reason to go somewhere else, but just be aware of it.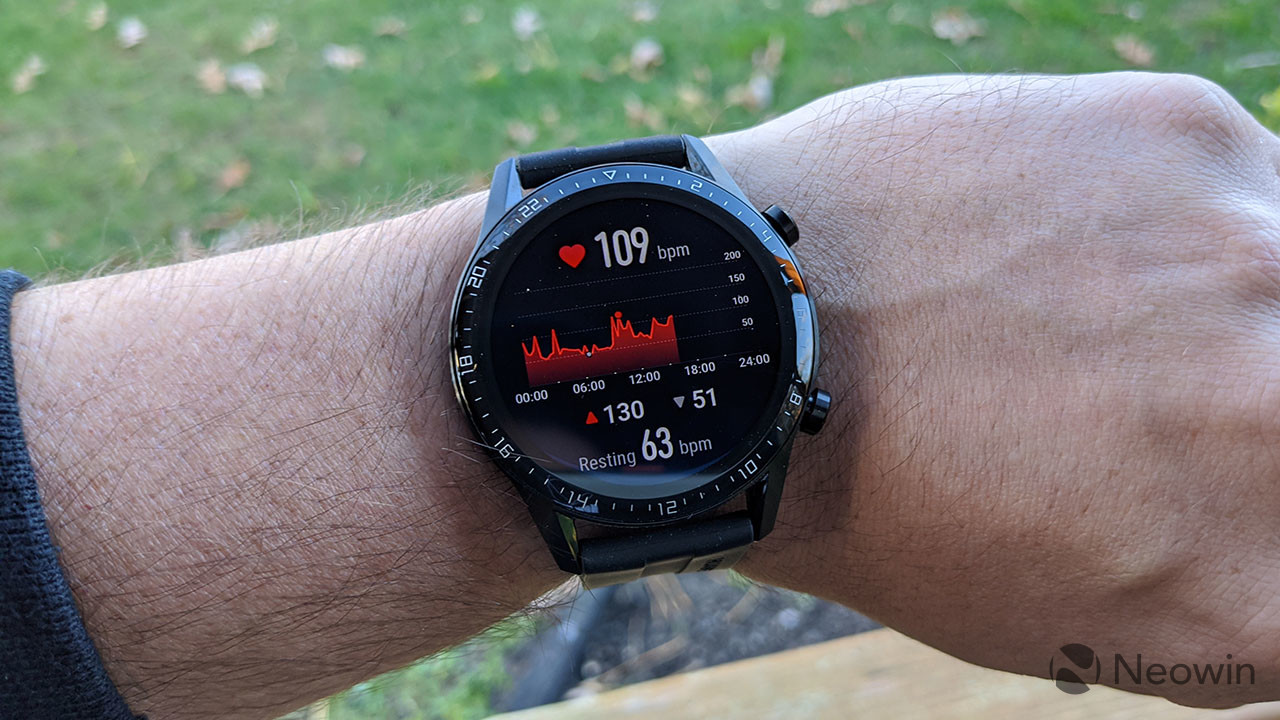 Notifications also don't show the icon from the app where they're coming from. That means that if you get a text through SMS, Skype, Twitter, Messenger, Hangouts, or Slack, you can't easily see which app it's coming from. Obviously, when you take out your phone, you'll see the notification there as well.
You can control where the notifications come from though. The Huawei Health app lets you toggle each app on or app. In fact, most of the device customization can be done through the Health app.
And those notifications build up. Swiping up from the watch face will give you the notification shade. Swiping down gives you quick settings. You can also swipe to the left or right to get various glimpses at things, like weather, stress, heart rate, step tracking, and more.
Huawei Health
Huawei Health is my favorite fitness tracking app. The interface is intuitive, and it provides insights that other apps just don't offer. For example, let's take a look at sleep tracking. Huawei has its TruSleep feature, which breaks down your sleep into different categories. This part is pretty common, as any sleep tracker will break down your sleep into light sleep, deep sleep, etc.
It also tells you what's normal, high, or low though. When you tap on one of those, such as my low score for deep sleep continuity, it actually provides suggestions for how I can improve that. I really appreciate this, as most sleep tracking is kind of useless, and Huawei found a way to make it meaningful.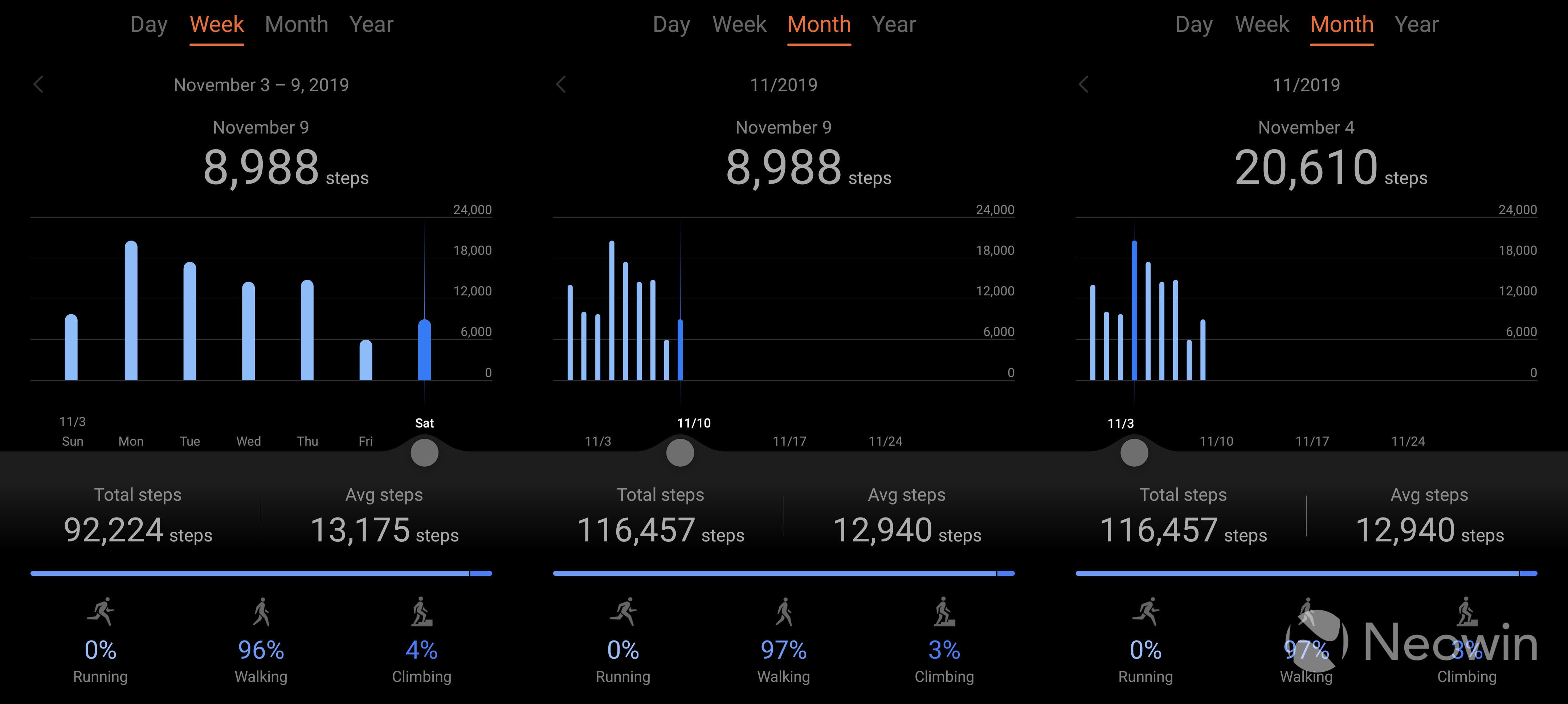 Each activity can has displays for daily, weekly, and monthly views. You can easily slide that little dot back and forth to view a certain period in that view.
There's also a new feature for detecting stress, another feature for wellness. My stress levels were never outside of normal, so I guess that's nice. When setting it up, it asks you a bunch of questions about your feelings on life and such. Still, the feature is a good addition.
Performance and battery life
I actually couldn't find solid specs about the internals of the Watch GT 2. I don't know the chipset or the RAM, although I'm guessing it has more RAM than its predecessor's 16MB. It does a lot more this time around.
Update: Huawei has confirmed that it uses a HiSilicon Kirin A1 processor and 32MB RAM.
The performance is great though, because it has a Huawei HiSilicon chip, and it has an OS designed by Huawei. It's great at doing what it's designed to do, and it can't do anything else. Wear OS watches have notoriously poor performance for a number of reasons, so if performance is something that you care about, that's definitely a plus.
And of course, Huawei promises up to two weeks of battery life. I found that on average, it should get about 10 days with general usage. Note that that's with some music playback and such. Playing music with Bluetooth earbuds, Huawei says that you'll only get about 24 hours, and only 10 hours when talking on the phone.
I couldn't make it the full 10 days though. I just can't do it. Seeing a smartwatch get down to 30% battery, even after a week of usage, puts me into panic mode and I need to charge it. Still, I went to Florida for a week for Microsoft's Ignite conference, and I could have just not brought a charger with me.
It's kind of unreal. I showed it to some people at the conference and people were shocked to hear that this thing can get the kind of battery life that it gets. It changes the way that you use it as well, when you just don't have to think about charging anymore.
Conclusion
Smartwatches are tricky to review, because we're still not at a place where there's a product that's perfect for everyone, and we probably will never be. They're extremely personal devices, so people are always going to have different preferences. Some people want fashion, some people want a full smartwatch ecosystem, some people want fitness tracking, and some people want battery life.
Nothing has all four of those things, and the Huawei Watch GT 2 is no different; however, it does get a bit closer than it did with its predecessor. You're missing the smartwatch ecosystem, and some functionality that other smartwatches have, such as the ability to use an always-on display and raise-to-wake.
But you do get the battery life, solid sleep tracking features (something lacking on Apple Watch and Wear OS), local music playback, and a beautiful design. Seriously, I do love the style on this watch, much more than previous Huawei smartwatches.
If you're in the market for a smartwatch, take a look at the four categories I outlined above and decide what's important to you. If it's design, battery life, and fitness tracking, then the Watch GT 2 is an excellent choice.
Pros
Battery life Design Always-on display Music playback Huawei Health
Cons
Missing key smartwatch apps Notifications interface AoD disables raise-to-wake