Huawei is adding a fifth member to its MateBook family today, the MateBook 13. It will sit alongside of the mainstream MateBook D, the MateBook E tablet, the premium MateBook X, and the even more premium MateBook X Pro. Like three of the aforementioned PCs, the MateBook 13 is a clamshell laptop, as Huawei doesn't seem to want to dive into convertibles at this time.
The firm says that despite the premium specs, the MateBook 13 really isn't considered premium. It has Intel Whiskey Lake processors, 8GB RAM, up to 512GB storage, and an optional Nvidia GeForce MX150 GPU with 2GB GDDR5 memory.
Starting at $999, the MateBook 13 is meant to compete with Apple's MacBook Air. The similarities in design are unmistakable, with its Mystic Silver and Space Gray colors, and its narrow black bezels (the bezels are 4.4mm). And of course, it has just two USB Type-C ports, although the MateBook 13 does ship with a MateDock.
It also has the fingerprint sensor that Huawei's PCs have become somewhat known for. It scans the user's fingerprint when pressing it, so after the PC boots up, you don't have to touch the fingerprint reader again.
The screen is 13 inches, with a 2160x1440 resolution, giving it a 3:2 aspect ratio. It supports touch and a 178-degree viewing angle. Indeed, while everything about it screams premium, this is meant to be a notch below that. We did ask about how this actually has better CPUs than Huawei's existing premium PCs, and we were told that there will be midstream refreshes for the MateBook X family with Whiskey Lake.
Huawei's MateBook 13 will come in two variants, and will be sold by Newegg and Amazon beginning on January 29. $999 will get you a Core i5-8265U, integrated graphics, and a 256GB SSD, and for $1,299, you'll get a Core i7-8565U, dedicated graphics, and a 512GB SSD.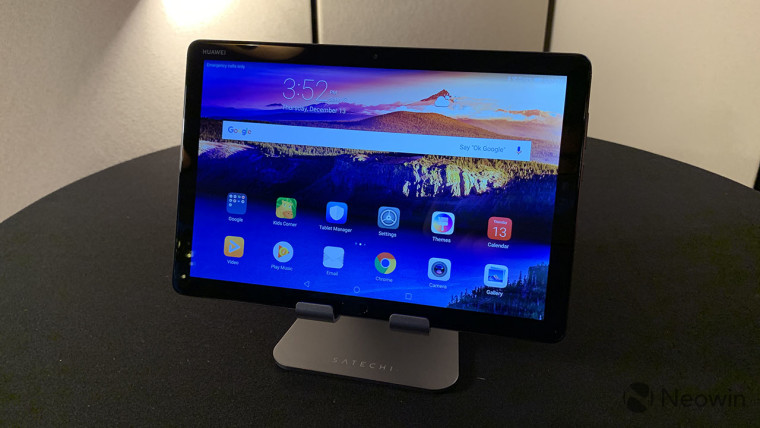 Huawei also introduced the MediaPad M5 Lite, a mid-range tablet designed for media consumption. It has a 10.1-inch 1080p display, 32GB storage, 3GB RAM, and a Kirin 659 chipset.
Also, Windows phone fans might appreciate this, as the tablet has a feature called Kid's Corner. It's exactly what you'd expect it to be, where you can set dedicated apps and such for kids to play around with without messing up your stuff. It also uses sensors to detect when the tablet is too close to a child's face and provides visual guidance to adjust the screen.
The MediaPad M5 Lite will be available later this month from Amazon and Newegg for $299.
Neowin is at CES to bring you all the coverage from the show floor, click here for other articles.