Most Windows users, whether they are on Windows 10 or the newest Windows 11, or perhaps even rocking something as old as Windows 7 or even Windows XP, are familiar with how the Windows Power options work. There are options to Shut Down, Restart, and Sleep a PC.
And in case of some emergency situations where users are unable to bypass an application when it has frozen or is in a hung state, the CTRL+ALT+DEL option comes in very handy. Most users are familiar with this as well, as it helps them terminate the hung state the app or the OS is in.
The CTRL+ALT+DEL launches a blue screen where a user gets a menu with the following options: Lock, Switch user, Sign out, and Task Manager. On Windows 10, there is also the option to Change Password which is not present in Windows 11.
Interestingly, what the vast majority of people running Windows do not know is the inclusion of a secret "Emergency Restart" option hidden in plain sight on the CTRL+ALT+DEL screen. In order to access this Emergency Restart dialog box, users must click the power button while at the same time pressing the CTRL key. Simply clicking only on the Power button merely will pop up the Sleep, Shut Down, and Restart options.
Here is what the Emergency Restart menu looks like. The dialog box cautions "Click OK to immediately restart. Any unsaved data will be lost. Use this only as a last resort":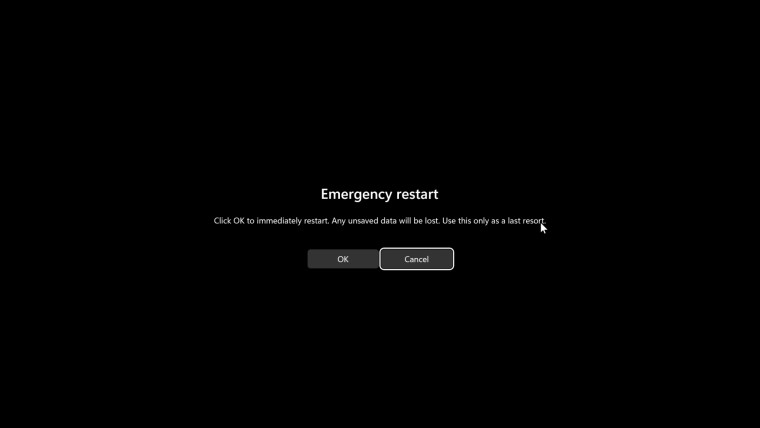 Microsoft has had this option for Emergency Restart since the inception of Windows itself, ie, Windows NT 3.1 back in 1993. Of course, the interface itself has evolved and become more modernized with every OS the tech giant releases. Perhaps one may argue it was the best during the Windows 7 and Vista days in terms of aesthetic.
Check this video below which takes you through the different Windows Emergency Restart menus:
Did you already know about this? Did you ever need to use this option? Let us know in the comments below!