Late last month, I transitioned from using a MacBook Air to a Surface Pro 4, and while the experience has been good so far, for the past week I have also been using something a bit more basic. The Onda V820W is what you would call a budget Windows 10 tablet, made by a company you most likely have never heard of, that sits just under 100 dollars . While this tablet is certainly priced right, can it meet the needs of an average or even more demanding consumer?
Specifications
8-inch 1280x800 IPS Retina capacitive touchscreen
Intel Atom X5 Z8300 Quad-Core CPU 1.84GHz / Intel HD Gen8 Graphics
2GB DDR3L RAM + 32GB ROM, microSD support up to 128GB
Front and rear camera at 2.0MP
Bluetooth/OTG/WiFi/HDMI functions
4200mAh battery
Design / Display / Camera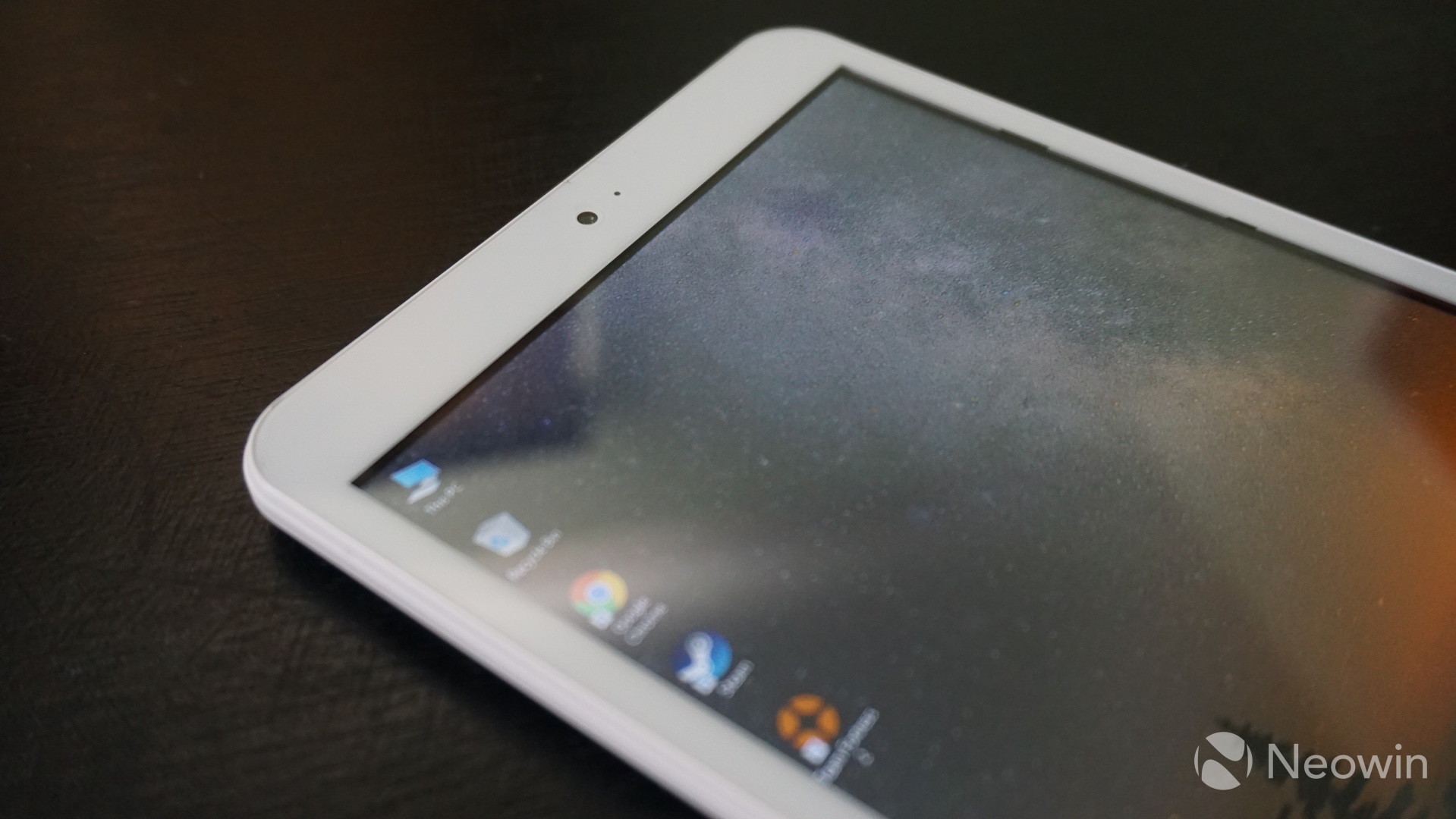 There's no getting around it, the Onda V820W isn't the most exciting tablet to look at or hold, and it doesn't source the best materials for its exterior plastic shell, but it does offer a fairly basic and agreeable design. The majority of the front is occupied by a 8-inch 1280x800 IPS display that offers good viewing angles, excellent color and looks crisp. It isn't the best display available on the market, as it does become a bit washed out in outdoor environments, but I also have no complaints while using this device during extended periods and in a majority of environments.
The display is flanked by a 2MP front-facing camera and capacitive Windows logo. The cameras are nothing to write home about, which is a bit disappointing considering that the front-facing camera might get some heavy use from a tablet user. The rear is also the same and produces lackluster shots during the day, night and lowlight. If you're inclined to shoot video, the Onda is capable of shooting at 720p at 30fps, but I wouldn't recommend it as a dedicated shooter. Beyond actual image quality, the positioning of the camera is a bit of a nuisance since it sits in the upper middle section of the tablet. That means that if you are shooting you'll have to be more conscious about where you are placing your hands as it can easily obscure the lens when shooting in landscape orientation.
The back plate is a hard plastic and offers a design that utilizes concentric circles to give the tablet some texture. Towards the bottom there is a small slit for the single speaker which is incapable of producing sound that is acceptable - even "cupping" the speaker didn't help and was barely audible. The right side of the V820W offers a power button and volume rocker, while the top of the device houses a micro HDMI, microUSB and 3.5mm headphone jack. For those looking to expand the 32GB of onboard storage, can do so up to 128GB via the microSD slot.
Overall, the Onda V820W is a simple looking tablet that won't win any awards for design, materials or its camera optics, but it does feel fairly sturdy, offers a great display. But, what about workload? How does this tablet perform in day-to-day tasks?
Performance
The Onda V820W for the most part, is capable of handling basic tasks and workloads. As detailed in previous reviews, my daily workload includes heavy writing, web browsing and some streaming via YouTube (4K offers smooth playback) and Netflix. The tablet had no issues performing the above tasks, although longer battery life would've been appreciated. Although 4200mAh might sound like a lot, during use the tablet was only able to provide a couple hours of use at a time. If 'battery saver' mode was engaged and brightness reduced, the base time could be extended by another couple of hours, total time depending on setting was around two to four hours. This wouldn't have been too much of an issue, but charging time for the tablet was dreadfully slow at around 7-8 hours for a full charge.
Naturally, I know words don't always paint the most vivid pictures, so I have also included the raw numbers from the PCmark and 3DMark tests. As you can guess, the tablet didn't excel in any categories, but its good to have the data. Just for kicks, I decided to fire up Steam and was pleasantly surprised being able to play Team Fortress 2 at a steady 30fps. The tablet's USB OTG feature came in quite handy as I was able to attach a wireless keyboard and mouse for some extended gaming and typing sessions.
Conclusion
The Onda V820W is a shining example of "you get what you pay for". It's a Windows 10 tablet that offers adequate computing power and looks better in promo pictures than in real life. I won't lie to you, when I first saw it online, I was impressed with its size and especially the thin bezels surrounding the screen. When I opened the package, I was a bit confused thinking that I might have been sent the wrong product.
Overall, the V820W offers a good experience, but there are some caveats that come attached to the $100 price tag. But, first, the good which comes in the form of Intel's Intel Atom X5 Z8300 mated with 2GB of RAM. This combo seems to provide just enough power for general tasks like browsing the web, streaming videos and also playing games. The display is also of high quality, with good color reproduction and acceptable viewing angles. Now, the bad: as mentioned previously, the camera on the tablet is just plain unacceptable for a device built in 2015. While some might be able to get away with not using the camera, there is an unavoidable issue that comes with owning the Onda. The most damning part of the tablet is the speaker and its lack of audible audio. A speaker that is not capable of producing adequate sound on a portable device is just gut wrenching.
But, like mentioned previously, you get what you pay for and at $100 USD, the Onda is a fairly decent tablet for the price. While it might not have jaw dropping good looks or the latest and greats in terms of specifications, it more than makes up for in its excellent pricing and performance.
Update: The title and pricing in body of this article was changed after publication due to a price increase on the linked website.
I'd like to extend a big 'Thank You' to the folks at Geekbuying who supplied the Onda V820W for this review. If you are interested in purchasing this device, you can pick it up from Geekbuying. You can check out more at Onda's official product page.