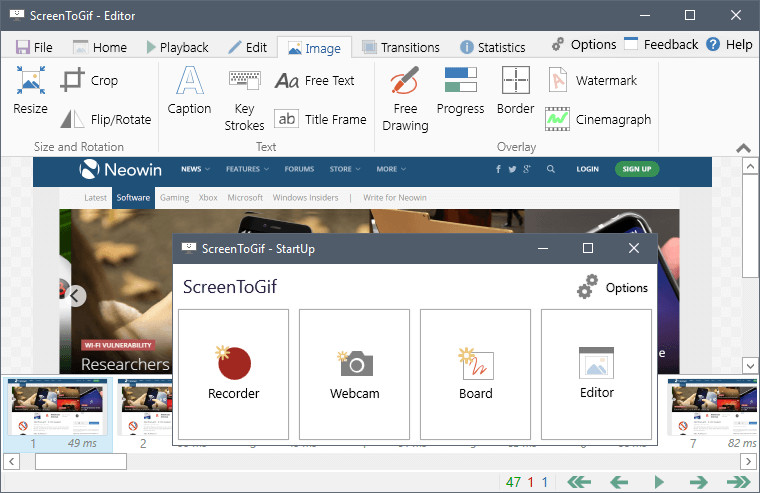 ScreenToGif is an open source program that lets you to record a selected area of your screen, live feed from your webcam or live drawings from a sketchboard. Afterwards, you can edit and save the animation as a GIF or video. Also there's the Webcam Recorder and the Board Recorder.
Features:
Record your screen and save directly to a gif looped animation or a video.
Pause and continue to record or start over by discard the recording.
Move the window around to record what you want, it stays on top.
You can add Text, Subtitles, Title Frames, Borders, Watermarks, Drawings, etc.
Crop and Resize.
Remove frames that you don't want.
Select a folder to save the file automatically or select one before encoding.
Add the system cursor to your recording.
Very small sized and portable executable.
What's new in version 2.11:
APNG support (for saving).
Added the option of copying the output file/filename/folder after the encoding.
Added the option of running post encoding commands.
Added the Obfuscate feature. It's used to pixelate a region of the image.
You can now use FFmpeg or Gifski to save your gif.
Added the option of uploading the gif to Imgur or Gfycat. (Experimental feature)
Added the Spanish (Spain) translations.
Updated the Russian and Chinese (Simplified) translations.
You can now download FFmpeg and Gifski directly using the app. Head over to Options > Extras to download it.
It's now possible to press the enter key to load the selected project from the table of recent projects.
Bug fixes:
Images with high dpi (for example, 600dpi) were not displayed correctly.
Clicking on 'Recent Projects' if the temporary folder does not exist would give an error.
After changing the delay of frames, the Statistics tab was not updating.
When opening a project (or any other file) via drag and drop on top of the executable (or link) or via the "Open with..." context menu, the app was opening the startup window instead of the editor.
While using the new recorder, if the record button was pressed without a screen region selected, an error was happening. Now it will enter the selection mode.
While clicking on the link to open the file that already exists for types other than Gif, it was only opening the gif file.
Download: ScreenToGif 2.11 | Portable ScreenToGif | ~2.0 MB (Open Source)
View: ScreenToGif Home Page | User Guide
Get alerted to all of our Software updates on Twitter at @NeowinSoftware