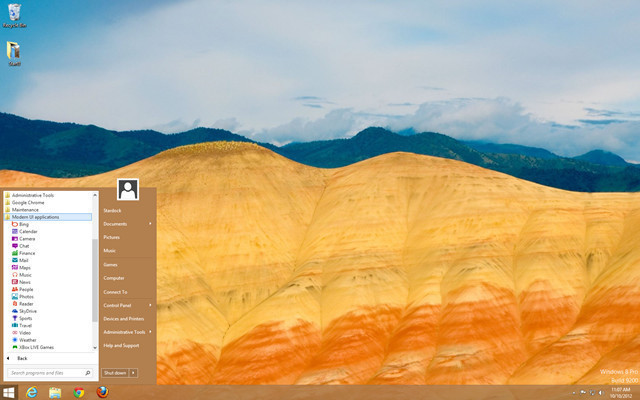 Stardock's Start8 is one of many third party Start menu programs for Windows 8.1.
Many Windows 8.1 users got excited earlier this week when rumors hit the Internet claiming Microsoft is planning to add a full Start menu back to the desktop. At the time, the reports claimed that we would have to wait until Microsoft unleashes its next major Windows release, code named "Threshold."
Now a new article at ZDNet, citing unnamed sources at Microsoft, claims that not only is the Start menu project likely to happen, but that it could be released before the planned "Threshold" update. One possibility is that Microsoft could include the new Start menu as part of a smaller Windows 8.1 update that will be released in the spring of 2014. That same update could also include support for a smaller Surface tablet.
The same report claims that Microsoft has not decided what kind of a design the Start menu should have. The project apparently has an internal name "mini-Start" because it's not designed to take up the entire display like the regular Start screen does in Windows 8 and 8.1. It will be interesting to see if Microsoft comes up with a UI for the menu that is similar to the classic Start menus in Windows XP, Vista and 7 or something that looks more like a list of Windows 8.1 Modern tile styled apps.
Source: ZDNet | Image via Stardock