Hot on the heels of the leak last week from WP Dev Podcast comes another leak of images from the platform. The images detail a set of features rumored to be coming to the platform, but these are proof that these features should be announced next week in the May 24 Mango announcement.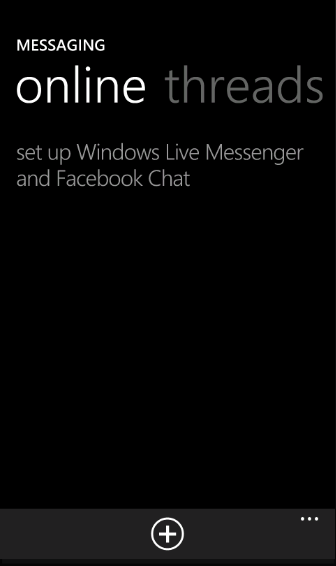 The first screenshot shows off the previously reported Messaging Hub chat integration, showing that Windows Live Messenger and Facebook Chat are built right into the platform with Windows Phone OS 7.5. It also shows an option named "threads" which is presumably "SMS" renamed, but this also could be email threads or some sort of unified messaging solution. Also shown above is "groups" which simply allow you to email or text a large group of people in one action.
The next two screenshots show off the Skydrive integration to the Office Hub. This confirms that even deeper integration will be available, allowing the user to save and retrieve documents from the cloud (Skydrive is currently "supported" but only OneNote is able to utilize the service.
The games hub has been overhauled, and will also allow cloud sync of saved games and settings (similar to that seen in "Steam Sync" where games synchronize across PC's). Finally, pictured below is a feature we haven't heard of before; "Show album art on Lockscreen." The feature does what it says, but it is rumored to be a dynamic display, similar to that of the Zune desktop experience (rather than static album art).
It seems suspicious that the developer podcast is receiving these images and leaking them on a regular basis. It could mean that this is intentional from Microsoft or that the site has found an MVP or Microsoft employee who is willing to leak the images. Either way, expect a Windows Phone 7 announcement on May 24. Neowin will be attending the event and will cover the news as it happens.