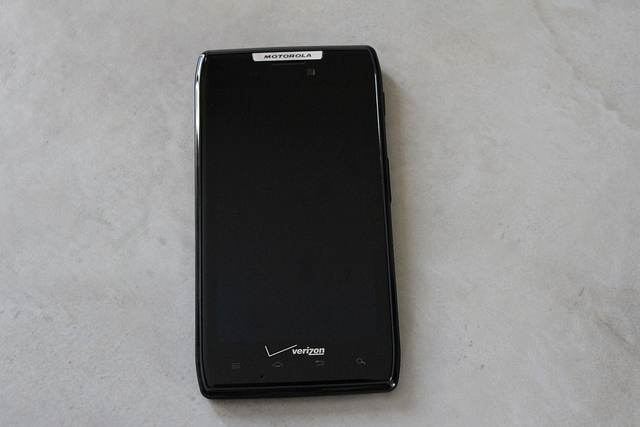 The Droid Razr is a phone that is using a name that helped to define Motorola in the mobile phone segment. By taking on this branding, Motorola is betting big that this device will not tarnish the name that the original Razr established. The Droid Razr retails for $649.99 or is $299.99 on a two year contract.
Specs:
Hardware:
The Droid Razr comes in at 7.1mm and it definitely feels like a slice of mechanical joy that the original Razr first introduce. Coming in at just over a quarter inch thick, you begin to realize that this phone is pushing the boundaries of how thin a device can be and still retain the quality that doesn't make it feel cheap in your hands. One thing did become clear during our review, design was placed over functionality for this device. Does the device turn heads? Yes, but is that always a good thing?
Just because a device is thin, does not mean it isn't wide. The 4.3 inch device has a bezel that makes the device feel as if the screen is larger than 4.3 inches. With the extended bezel, the device does feel rather wide at times and those with tiny hands may not be able to firmly grasp the device.
The one thing that does separate this phone from other Android devices but does link it closer to that of the iPhone, is that the battery is not user replaceable. For some this may be a deal breaker for others, it's a non-issue. For us, it goes both ways as if you compare it to an iPhone, it's not a big deal but then again, in the Android community, user replaceable batteries are rather common.
Display:
Motorola is packing in the goods with the display as it comes in with a resolution of 960 x 540 Super AMOLED display which allows you to make the most of the 4.3 inch real estate provided by the Droid Razr. The screen is beautiful, but one thing to note is that it's not the best display that we have seen as there is something awkward about how text is handled when scrolling as it becomes a bit jaded when compared to other devices.
For the average user, most will not notice the small imperfections of the screen and it does work well on this device. Those who are overly sensitive and notice the finer things in life may get annoyed with some of the blurring of text when scrolling but it is far from a show stopper.
Software:
Victory! Motoblur is not on this device, well, at least the naming of the skin is not. For the most part, a lot of Motoblur has been removed from the skin but elements of the theme are still hidden in the cracks and can still be found when using the device. There are also many free apps that come on the device and Verizon is pushing its free NFL mobile app for those on 4G for the 2011 season. There are the usual other apps such as Vcast, Blockbuster and a few others. Motorola also includes Motocast which is similar to the iCloud service.
Another interesting and useful app is the "Smart Actions". These location based tasks are clever and quite useful. You can set them up to turn specific features on and off depending on many different metrics. You can have it adjust device settings when at work, turn off certain features when the battery hits a denoted percentage, or even automatically silence the ringer in certain locations such as the office (it can change settings based on location). They take some time to setup, but once done, they reduce the amount of times you have to change particualr settings in your daily routine.
Battery:
Motorola made big claims when introducing the phone that the battery would not be short sided in use, but we have yet to use a 4G device that doesn't kill the battery when pulling down data. We can't give a full breakdown of battery usage yet as we have limited time with the device but it does have a 1780 mAh battery. We noticed, as one would expect, that heavy use of 4G does impact the battery, but in a single day we made several calls, checked email, and of course, browsed the web.
The battery appeared to be standing up to this punishment but we were not exactly heavy on the 4G use either. 
Camera:
Not surprisingly, Motorola is using an 8 megapixel shooter in this device. If that sounds familiar, it's because Motorola has been using this same camera in the Bionic. There is also a 1.3 megapixel camera upfront that and as you have guessed, is used for video calling.
Overall we were generally pleased with both of the cameras. The rear camera was modest in its color reproduction and focus time was acceptable to the point that it should not impede use. It was not the fastest focusing camera we have ever used on a mobile device but it is far above the worst we have seen too. It's well above average, especially in well lighted areas but low light pictures did begin to show noise at even modest darkness.
Video capture is above average as well. The device comes pre-set to 720P but you can bump it up to 1080P. We might suggest that if you require high quality 1080P video to purchase a dedicated device, but for a cell-phone, it does reasonably well. Personally, we will keep it at 720P as 1080P video will fill up your internal storage rather quickly.
Performance:
The device feels great in use, but is far from perfect. Actually, the only time we really saw a slowdown with the device was occasionally while browsing the web. Quadrant came back at 2700 on average over a series of tests during the day which puts it in company with many other high end smartphones.
If you were thinking that it's really thin and that Motorola must have sacrificed on the performance to get it this thin, you were wrong. However, if you are watching a movie or any other intensive action, the device does get a bit warm.
Call Quality:
The Droid Razr is an average performer in this category. Sure, calls were easily heard and understood on both ends but definitely had a tint of tin to them. The same can be said for the speakerphone; it's clear the thinness of the device plays into quality but it doesn't render the device unusable, far from it. 
Conclusion:
The Droid Razr is a device that will turn heads but also makes a few sacrifices to get the job done. It is by far one of the best looking devices on the market with its sleek profile and Kevlar back plate. But to get that thin profile, the device is rather light and almost (almost!), feels cheap and the display does leave some room for improvement.
What Motorola has done proves that it can compete in the design game and produce a fantastic looking device. If you need a gorgeous device that runs Android but cuts only a few corners, this is your device. But at the same time, with the Samsung Galaxy Nexus right around the corner that will also be on Verizon, it makes the decision a little bit harder.