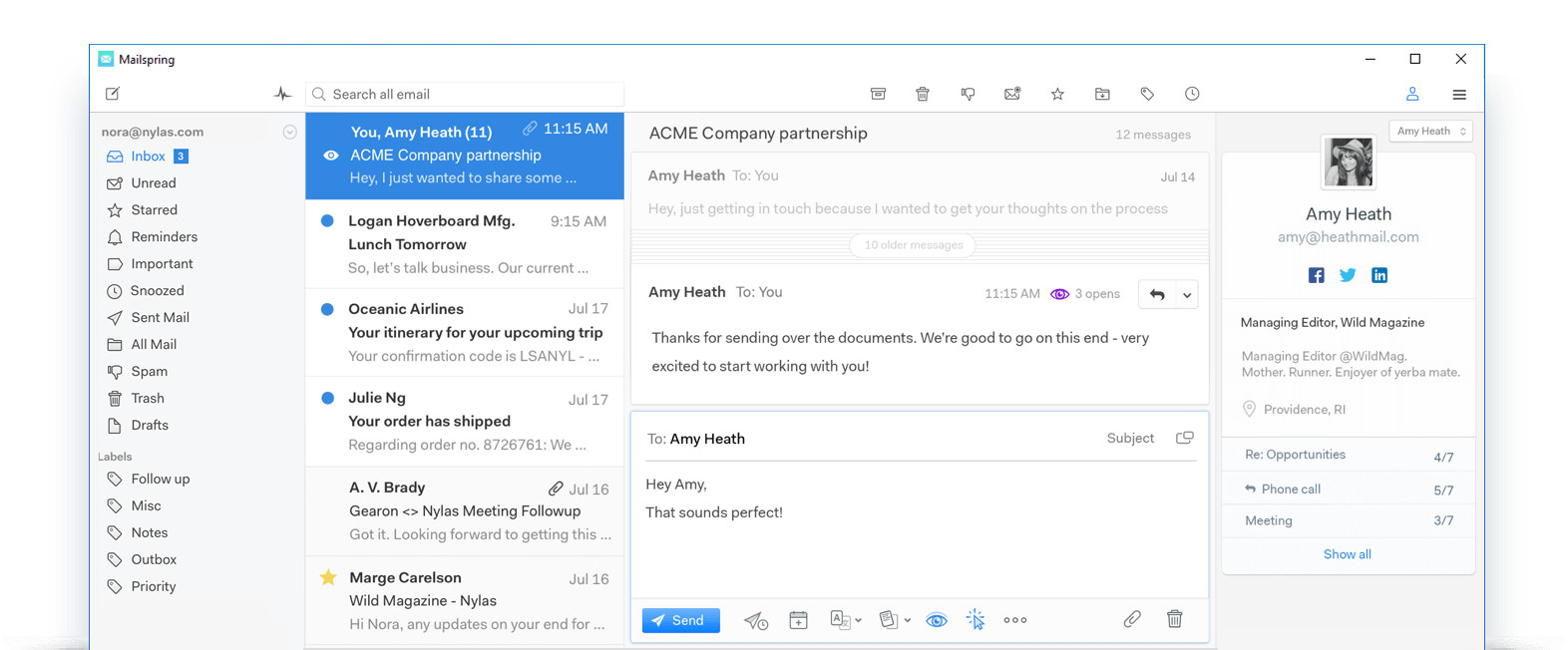 MailSpring is an open source email client application which support Windows, MacOSX and Linux. Mailspring supports all IMAP providers, including Gmail, Office 365 and iCloud. It sports features such as an unified inbox, snoozing, reminders, templates, offline search, and support for Gmail labels. Mailspring is free for Mac, Windows, and Linux. However, if you use features like Snooze, Send Later, Send Reminders and Read Receipts often, you'll need to purchase a subscription to Mailspring Pro within the app. Mailspring Pro costs $8/mo and helps support the development of Mailspring.
About Mailspring ID
When you install Mailspring for the first time, you'll need to create a Mailspring ID. Your Mailspring ID is separate from your email account(s) and you can use any email address or password you'd like. Mailspring does not store your email passwords in the cloud. It syncs only the minimal amount of data required to power features like snooze, send later, etc., and uses a hashing mechanism to identify emails and associate it's metadata across installs.
If you create a Mailspring ID and later decide you don't want one, you can sign in to the Mailspring ID dashboard (https://id.getmailspring.com) at any time and permanently delete your account and all data associated with it.
Mailspring 1.1.3 changelog:
Improvements
When adding an IMAP account, Mailspring now uses the domain's MX records to identify if it can use settings for a common email service to skip the full, complicated IMAP settings screen.
When adding a Gmail account, Mailspring now uses two-legged OAuth instead of three-legged OAuth which allows it to renew it's access token more rapidly. (Re-authenticate Gmail accounts for this to take effect.)
Mailspring VACUUM's the SQLite database every two weeks to prevent fragmentation that can eventually ruin performance. Unfortunately, data cannot be read or written during this process and it can take ~2 minutes for a 3GB database, so it is performed at launch with a new progress screen.
Fixes
On Linux, the system tray icon is smaller (22x22 with 18x18 content vs 32x32)
In dark themes, quoted text no longer appears a dark purple that is difficult to read.
Mailspring no longer becomes "blocked" when ingesting a large number of deletions in a mailbox and will no longer attempt to retrieve many, many new messages all at once.
When changing accounts in the composer the signature correctly updates to the new account's default. #570
In the message viewer, the "Download All Attachments" button appears if the email contains multiple images. #583
In the message viewer, inline images specified using a "cid:filename.png@RANDOM"-style URL now render correctly in the message body instead of as attachments. #569
Threads with only sent emails no longer appear as from "1969" in some places. #508, #457
The "Local Time" shown in the company sidebar is now correct and updates in realtime.
On Linux, mailspring.desktop no longer reports that the app is an editor for text/plain #602
Undo no longer triggers in both the email body and other recently edited text fields at the same time. #613
Creating a draft no longer clears the conversations's "snippet" in the thread list.
When printing a thread, Mailspring no longer prints undefined beside particicpants with no name.
When pasting HTML, Mailspring now correctly preserves links that have other styling. #592
When using "two pane mode", viewing the same conversation repeatedly will mark any new messages as read. #617
When sending an email, the word "attachments" in your signature will no longer cause the app to complain about missing attachments. #610
Mailspring no longer attempts to create the folder Mailspring..Snoozed on providers that include the path delimiter in the IMAP namespace prefix. #634
When composing an email, Mailspring will display an alert if you need to choose a Drafts folder to send mail. #634
Mailspring now uses Electron 1.8.2-beta5, which includes stability and security fixes.
Exporting raw data from the Activity Dashboard now waits for the filesystem buffer to flush, preventing it from writing only some of the email data on slower hard drives.
Mailspring no longer briefly spawns duplicate sync processes in some scenarios when you have many accounts linked.
When your mailbox contains emails with the same subject and participants and no Date header, Mailspring now syncs them all instead of syncing them as a single message, which should prevent thrashing
A subtle multithreading issue has been fixed which could cause your folders to become corrupted and prevent Mailspring from launching.
Memory and Performance
Creating a draft is now ~16x faster in scenarios where lots of quoted text is present.
The undo history of the composer is cleared when you navigate away from a draft, reclaiming memory.
Completed tasks are purged from the app's task queue more rapidly so performing many, many actions on your mailbox does not cause the application to use more memory.
Download: Mailspring 1.1.3 | Other Operating Systems | 87.8 MB (Open Source)
View: Mailspring Homepage | Mailspring Screenshot
Get alerted to all of our Software updates on Twitter at @NeowinSoftware