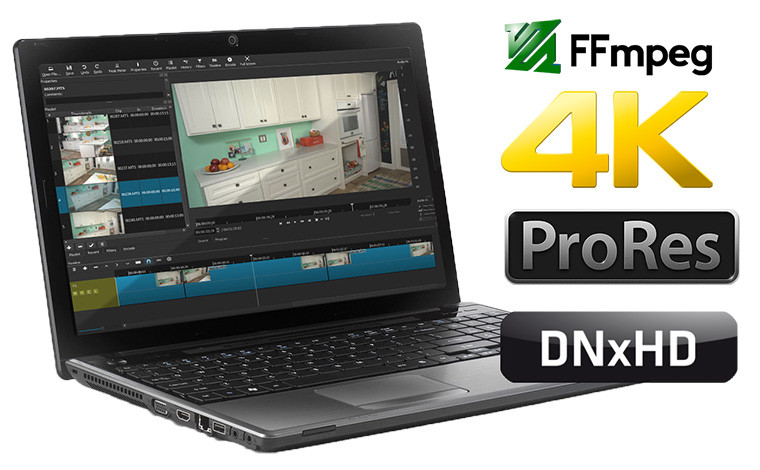 Shotcut is a free, open source, cross-platform video editor for Windows, Mac and Linux. Major features include support for a wide range of formats; no import required meaning native timeline editing; Blackmagic Design support for input and preview monitoring; and resolution support to 4k.
Editing Features
Trimming on source clip player or timeline with ripple option
Append, insert, overwrite, lift, and ripple delete editing on the timeline
3-point editing
Hide, mute, and lock track controls
Multitrack timeline with thumbnails and waveforms
Unlimited undo and redo for playlist edits including a history view
Create, play, edit, save, load, encode, and stream MLT XML projects (with auto-save)
Save and load trimmed clip as MLT XML file
Load and play complex MLT XML file as a clip
Drag-n-drop files from file manager
Scrubbing and transport control
Video Effects
Video compositing across video tracks
HTML5 (sans audio and video) as video source and filters
3-way (shadows, mids, highlights) color wheels for color correction and grading
Eye dropper tool to pick neutral color for white balancing
Deinterlacing
Auto-rotate
Fade in/out audio and fade video from and to black with easy-to-use fader controls on timeline
Video wipe transitions:
bar, barn door, box, clock (radial), diagonal, iris, matrix, and custom gradient image
Track compositing/blending modes:
Over, Add, Saturate, Multiply, Screen, Overlay, Darken, Dodge, Burn, Hard Light, Soft Light, Difference, Exclusion, HSL Hue, HSL Saturation, HSL Color, HSL Luminosity.
Video Filters:
Alpha Channel: Adjust, Alpha Channel: View, Blur, Brightness, Chroma Key: Advanced, Chroma Key: Simple, Contrast, Color Grading, Crop, Diffusion, Glow, Invert Colors, Key Spill: Advanced, Key Spill: Simple, Mirror, Old Film: Dust, Old Film: Grain, Old Film: Projector, Old Film: Scratches, Old Film: Technocolor, Opacity, Rotate, Rutt-Etra-Izer, Saturation, Sepia Tone, Sharpen, Size and Position, Stabilize, Text, Vignette, Wave, White Balance
Speed effect for audio/video clips
Hardware Support
Blackmagic Design SDI and HDMI for input and preview monitoring
Leap Motion for jog/shuttle control
Webcam capture
Audio capture to system audio card
Capture (record) SDI, HDMI, webcam (V4L2), JACK audio, PulseAudio, IP stream, X11 screen, and Windows DirectShow devices
Multi-core parallel image processing (when not using GPU and frame-dropping is disabled)
DeckLink SDI keyer output
OpenGL GPU-based image processing with 16-bit floating point linear per color component
Shotcut 23.05.07 changelog:
Restored Settings > GPU Effects.
Restored Lens Correction video filter.
Added Motion Tracker video filter.
Added Speed: Forward Only and Speed: Forward & Reverse filters.
Added saving and loading filter sets: Filters > + > Sets.
Added an Add To Timeline button to many things in Open Other.
Added a visual rectangle control to the Mask: Simple Shape filter.
Holding Shift while dragging a point in the Corner Pin filter moves all corners together.
Added faster and better quality YADIF deinterlacer plus addition of BWDIF deinterlacer.
Added 10-bit export presets under the "ten_bit" category.
Added support for Intel ("qsv") AV1 and VP9 hardware encoders on Windows including 10-bit for AV1.
Less audio crackling in exports when audio source is not 48000 Hz sample rate.
Less audio crackling upon start of playback in preview.
Upgraded Qt to version 6.4.
Upgraded Glaxnimate to version 0.5.3, which fixes some bugs and can animate motion along a drawn path.
Upgraded FFmpeg to latest version 6.
Upgraded MLT to latest version 7.16.0.
Upgrade AV1 codecs to latest versions.
Stabilize and Normalize: Two Pass on a timeline clip is faster.
The Lens Correction video filter is back.
Added Settings > Language > Hebrew.
Open Other > Text now has a Rich option.
Changed File > Export > Video and its shortcut to be the same as clicking Export > Export File.
Fixed seeking on raw FLAC audio files.
Fixed Record Audio breaks the state of the player's mute toggle when you unmute the Shotcut audio during recording.
Fixed using the mouse wheel to scroll the timeline horizontally on macOS and Linux.
Fixed image padding not transparent during a transition.
Added low disk space warnings to the Properties > Convert and Reverse actions.
Fixed loading projects made with version before 19.06 using comma for decimal symbol.
Fixed chroma bleeding for interlaced YUV 4:2:0 video sources.
Fixed Shotcut became very slow if something wrong and very large was saved to Recent.
Removed Settings > Theme.
Removed Settings > Player > External Monitor with a system monitor.
Removed Settings > Display Method on Windows and macOS.
Removed export progress on the Windows taskbar icon.
The minimum version for Windows is now Windows 10.
The minimum version of our non-Flatpak Linux binaries is now based on Ubuntu 20.04 LTS, which uses glibc 2.31.
The macOS app is now universal and runs on either Intel or Apple Silicon without Rosetta.
Download: Shotcut 23.05.07 (64-bit) | Portable | ~100.0 MB (Open Source)
View: Shotcut Home Page | Other Operating Systems
Get alerted to all of our Software updates on Twitter at @NeowinSoftware