As promised earlier this week, the NASA Space Administrator, Jim Bridenstine, met with the SpaceX founder, Elon Musk in the company of two astronauts today to discuss their progress on a project that the two companies are collaborating on as part of NASA's Commercial Crew program—Crew Dragon.
On his official twitter profile, Jim Bridenstine tweeted about today's meeting. The live stream posted by CNBC Television on YouTube is attached below:
The NASA Administrator prefaced the media address by first thanking the team at SpaceX for the tour and the subsequent discussion related to Commercial Crew. Bridenstine then defined the agency's stance on Crew Dragon and Commercial Crew:
"Know this, NASA has a lot under development right now. And there's a big difference between development and operations. [...] And what we're doing right now is we're developing brand new things that have never operated before. And Commercial Crew is one of them. And the Crew Dragon is an element of Commercial Crew."
The meeting comes after a period when it seemed that the wavelengths and the expectations of the two companies did not perfectly harmonize. However, today's meeting shows that the relations between NASA and SpaceX are still strong, which can be seen in the public address delivered by the two. Musk addressed the media by saying:
"Human spaceflight is the reason that SpaceX was created, and we're incredibly honored to partner with NASA. And just to make this happen, this is a dream come true, really."
While Bridenstine claimed:
"Elon and I are in strong agreement on this — that the one thing we have under development that is of the highest priority is launching American astronauts on American rockets from American soil."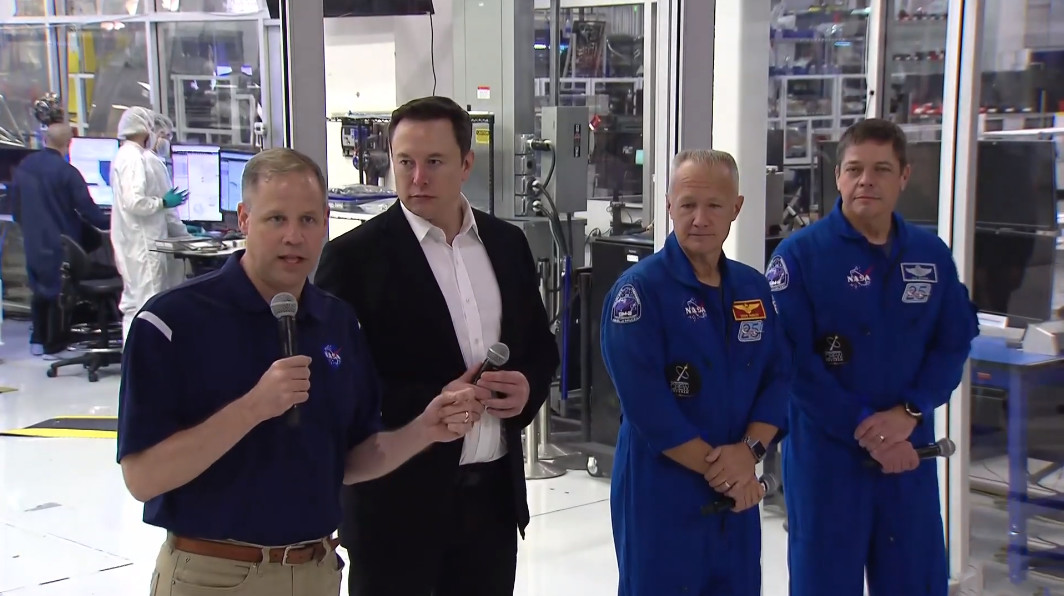 There is more good to take away from today's meeting at the SpaceX headquarters in Hawthorne. Jim Bridenstine envisaged that the first crewed "Demo-2" test flight of the Crew Dragon might take place as early as Q1 of next year with the capsule arriving on launch site—Cape Canaveral—in December this year. But there is still a fair bit of testing left before that, the administrator clarified.
Musk also dabbled in the upcoming drop tests for the new Mark 3 parachutes that the company has been working on as part of the project. "My opinion is that these are the best parachutes ever, like, by a lot," Musk waxed eloquent about them. The SpaceX founder announced plans for conducting at least 10 parachute drop tests by the turn of the new year.
Judging from the Hawthrone meeting, the two companies seem to be back on the same page so we might see some interesting developments in the next few months. If you're interested in finding out more about today's meeting, you can watch the live stream here.