At the beginning of November, Alcatel shocked exactly no one by unveiling the IDOL 4S with Windows 10. Rumors of the device began back in February before Mobile World Congress, although back then, we thought it would be called the IDOL 4 Pro. The handset even appeared on T-Mobile's website during Microsoft's Surface Studio launch, leading many to believe that the company would show it off at the event.
The IDOL 4S with Windows 10 is not like Alcatel's last attempt at a Windows phone, which was also a T-Mobile exclusive. The Alcatel OneTouch Fierce XL sat on the low end, whereas the IDOL 4S is as high-end as they come. In fact, the device is more comparable to the HP Elite x3 - which we recently reviewed - than its Android-powered namesake.
Specs
| | |
| --- | --- |
| CPU | Quad-core Snapdragon 820, dual 2.15GHz Kryo, dual 1.6GHz Kryo |
| GPU | Adreno 530 |
| Display | 5.5", 1080p, 401ppi, AMOLED |
| Body | 153.9x75.4x7mm, 152g |
| Camera | 21MP, Front 8MP |
| Video | 4K - 30fps, Front 1080p - 30fps |
| Aperture | f/2.2, Front f/2.2 |
| Camera features | PDAF, dual-LED flash, Front LED flash |
| RAM | 4GB |
| Storage | 64GB, expandable to 256GB |
| Battery | 3000mAh |
Day one
Coming out of the box, it was clear that the IDOL 4S is a beautiful Windows phone, possibly the best-looking one that exists. It's not the most unique design that you'll see, as it resembles a Samsung Galaxy S6, but to be fair, the S6 is also a stunning design.
Virtual reality...on a Windows phone
The IDOL 4S with Windows 10 is the first Windows phone to support virtual reality in an official capacity. Sure, any phone works with a Google Cardboard, and you might be able to find some apps or websites that work with it, but this device comes with a VR headset and a number of VR apps, including VR360Gallery, VR360Video, VRGallery, VRLauncher, VRStore, VRVideo, and Captain Fellcraft VR.
First of all, my experience with virtual reality is limited to Samsung's Gear VR and Google Cardboard, both of which involve inserting a phone into a headset. The Gear VR has some obvious advantages to Alcatel's solution, which is mainly that it's powered by Oculus. It offers a vast range of apps, games, and content. You can even use a Gear VR to watch Netflix or Hulu in a virtual movie theater or living room.
You won't find such a diverse offering on Windows 10 Mobile. In the VRStore, you'll find two 360 photos, one 360 video, and seven games. Two of the games - Roller Coaster Ride VR and VR Crazy Real Roller Coaster Simulator - are, you guessed it, riding around on animated roller coasters.
There's another game called Zombie VR, which is pretty fun. Basically, there are crosshairs in your line of sight, you aim at the zombies, and it shoots them. No button pressing is necessary. It's a bit glitchy, such as when the zombies are really close to you, it doesn't shoot them and they just sort of fall down.
The headset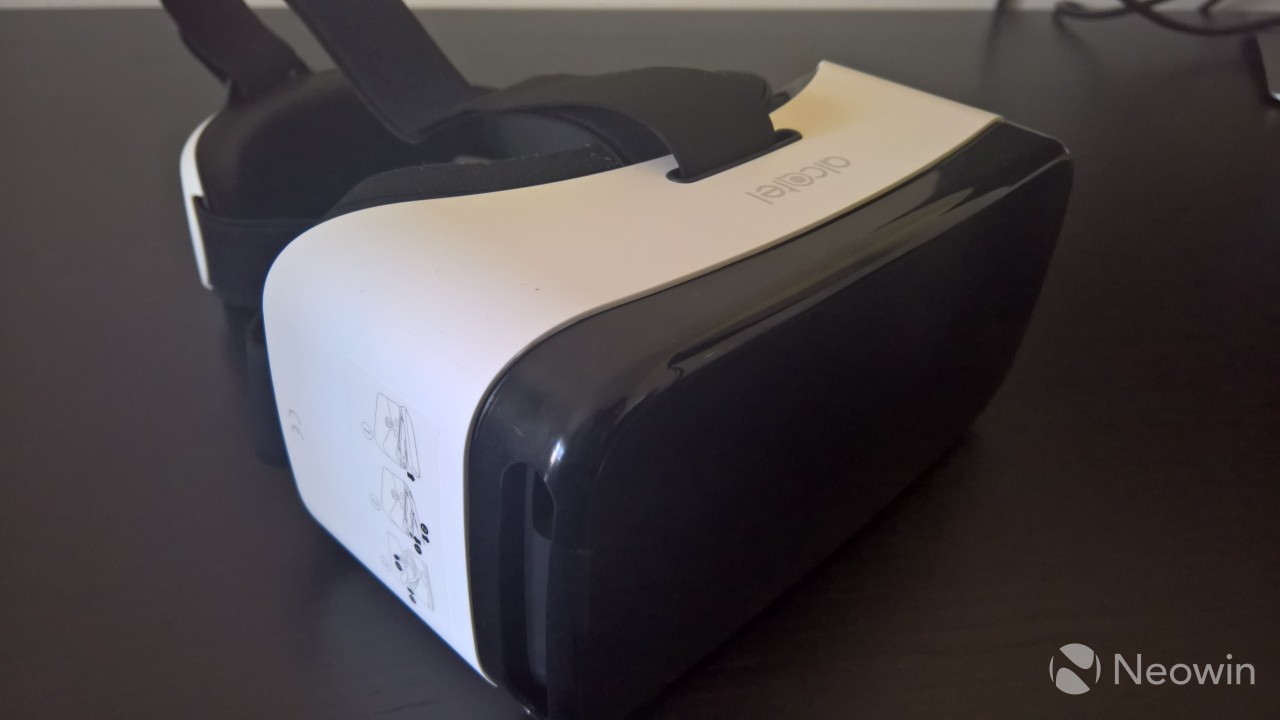 While the content that's offered might need a bit of work, the headset itself has some features that I really like. For example, there's an opening that will allow you to charge your phone, and another to plug in a headphone jack. If you want to use headphones with Samsung's Gear VR, you need a Bluetooth set.
There are two buttons on the bottom of the headset that work with the phone: one button is to be used for going back, and the other is for selecting things.
I did take issue with one part of the headset's design. When you take it out of the box, there's a cover on the front and a cover on the back of it, which I thought was awesome, as my Gear VR often collects dust when not in use. Unfortunately, once you attach the straps, the rear cover no longer fits, so unless you want to remove the straps every time you're done with it, that rear cover will likely become a paperweight.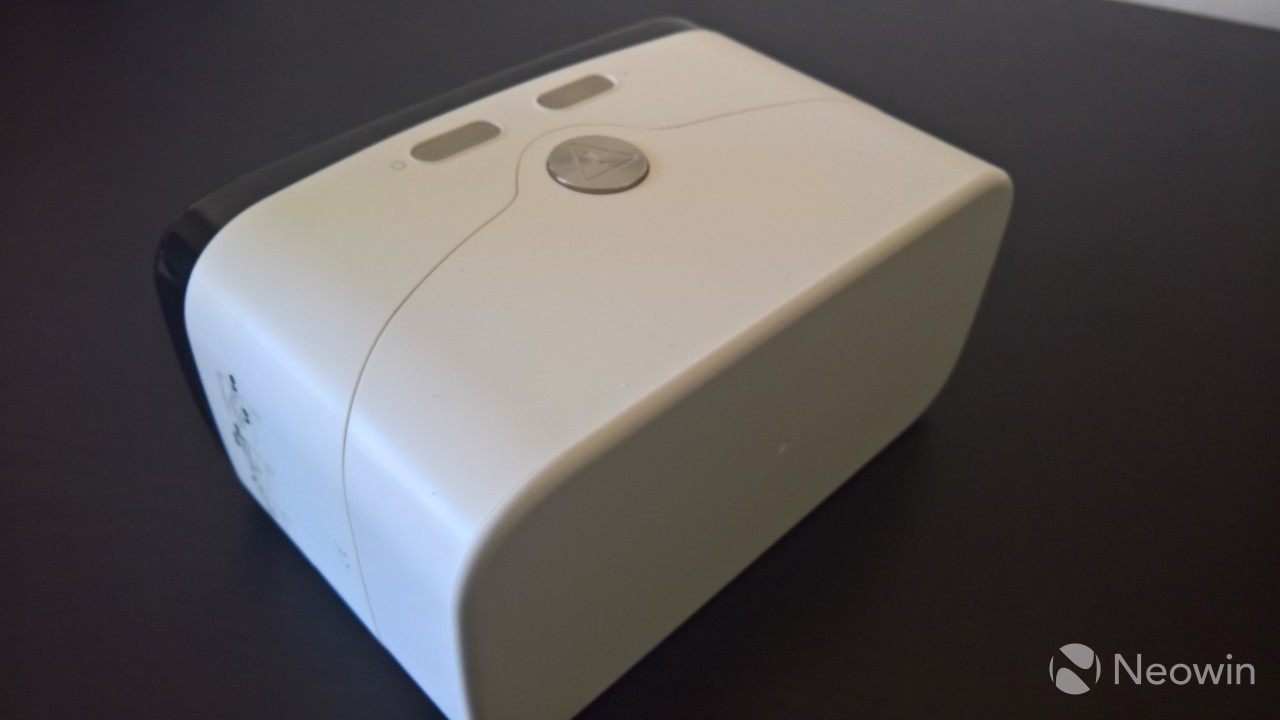 One more thing
The good news about content is that you're not limited to apps and games. There are sites that you can use to watch 360 videos, and if you have your own, you can load them onto the device. There are even some streaming offerings that you'll see on the menu when you attach the device and it goes into VR mode.
Of course, you're likely going to want more than just videos or other kinds of cross-platform content. I do worry about the quality and selection of games that are offered, because let's face it, this is Windows 10 Mobile. Existing apps don't often get updated, and new ones don't show up much.
There's no NFC
That's right. This is a flagship phone that doesn't have near-field communication technology. I actually reached out to Alcatel to find out how the phone recognizes the VR headset if there's no NFC, and was told that there are two sensors in the front of the device.
Of course, the question really is, will you really miss NFC? My guess is that you wouldn't.
The obvious use case for NFC is mobile payments, which in the case of Windows 10 Mobile is Microsoft Wallet. The big problem here is that Microsoft hasn't even expanded the availability of Wallet since it launched in June beyond the Lumia 650, 950, and 950 XL, and the service is only supported by nine banks at the moment, with Chase and Fifth Third coming soon.
Obviously, NFC has other uses, much of which include a faster way to pair through Bluetooth, but I don't think that you'll miss the feature too much.
Design and display
As I mentioned earlier, the IDOL 4S has a strong resemblance to a Samsung Galaxy S6. It has the metallic glass panel on the back, and the rear camera is even a similar shape. Of course, it doesn't have a physical home button on the front, and instead, the fingerprint scanner is located on the back.
With that in mind, the Galaxy S6 is still a beautiful phone, and so is the IDOL 4S. I'd go so far as to say that this is the best-looking Windows phone that has ever been made. Aside from just looks, it feels premium, thin, and light.
But perhaps most important for Windows phone fans is that it actually has a physical camera button, a feature that we're seeing less and less in flagships. Personally, I feel like it was awkwardly placed, and when I unboxed the device, I thought it was the power button (it actually took me about a week to stop pressing it by accident to wake the phone or put it to sleep).
While the camera button is a small circle in the middle of the right side of the device, you'll find the volume rocker above it, and on the top part of the left side, there's the actual power button. Finally, the USB Type-C port is on the bottom - although it's all the way to the right, which will make it hard to fit in some Continuum docks - and the headphone jack is on the left side of the top of the handset.
The 1080p AMOLED display is absolutely stunning. Personally, I feel that there is no need for 1440p on a phone, and you'll never see the difference, unless, of course, you use virtual reality. In a phone like this that even comes bundled with a VR headset, QHD can be an advantage. When VR isn't in use though, the 5.5-inch display is bright and vibrant.
Windows Hello
Alcatel's new flagship Windows phone uses a fingerprint scanner for Windows Hello biometric authentication. Fingerprints have only been supported by Windows 10 Mobile since August when the Anniversary Update was made available.
Previously, Windows phones used iris scanners exclusively; examples of this would be the Lumia 950 and 950 XL, which were released in 2015. HP's recent Elite x3, on the other hand, uses both.
The fingerprint scanner on the IDOL 4S is satisfactory. It can feel a bit slow when using it to wake the device, although it certainly feels faster if you're already on the lock screen. Like the Elite x3, it seems slowed down by the "Hello, Rich" animation.
Personally, I prefer a fingerprint reader on a phone, while facial recognition is better on a PC. The idea is that the user should have to make as little effort as possible to unlock their device. When you open the lid on your laptop, it will wake, recognize your face, and sign you in. With a phone, you take it out of your pocket, press a button to wake it up, and that button recognizes your fingerprint and signs you in.
Continuum
Like any modern flagship Windows phone, the IDOL 4S supports Continuum, which is the ability to plug the handset into a monitor and use it like a PC. Alcatel obviously decided to go with a VR focus for this phone, rather than a Continuum focus, so it doesn't sell a docking station for the device.
Luckily, you can still use any docking station that you want, such as Microsoft's Lumia Display Dock, HP's Desk Dock, or even a USB Type-C to HDMI adapter. You can also use Continuum wirelessly, which will require a receiver that supports Miracast.
Of course, you're limited to UWP apps while you're using the device as a PC, and they will only be in fullscreen mode (until the Creators Update). With that in mind, the feature itself works great, much better than it did on devices with lesser hardware, such as the Lumia 950 and 950 XL, which had a Snapdragon 808 and 810, respectively.
Rear camera
Let's once again take this moment to celebrate the fact that the IDOL 4S with Windows 10 has a physical button to launch the camera. This is a feature that longtime Windows phone users will surely appreciate, even if they don't appreciate the camera itself.
And sadly, those longtime fans aren't likely to be satisfied with the camera. If you've been using Lumias for years, you've been spoiled with PureView, and this doesn't compare.
The IDOL 4S uses a 21MP sensor with an f/2.2 aperture. It has phase detection autofocus (PDAF), which is a nice touch, but it lacks other things that we've come to expect from flagships, such as optical image stabilization (OIS) and 1080p video that's recorded at 60fps.
The device uses Windows Camera by default, and Alcatel doesn't offer its own app, which I always find a bit disappointing. Windows Camera is a great app, but it restricts the device's camera abilities to Microsoft's development efforts. For example, the app didn't support panorama at all until August.
You won't be able to change the resolution of the photo that you're going to take. You get 21MP (16MP at 16:9), and that's it. The photos don't take up a lot of storage though, as the vast majority of the samples that you're about to see come in at under 2MB.
You'll notice that a lot of the photos are the same, but with different lighting. It's very normal for a smartphone camera to compensate for light differently depending on where it's focused, but the IDOL 4S is a bit drastic. Obviously, you'll want your photos to be focused on a certain point, especially if it's a macro shot, but that might end up being too dark or too light. You can work around this a bit by using Windows Camera's manual focus feature.
Low light performance is where this camera disappoints. It's sad too, since low light photos are what PureView, and thus Windows phones, have become known for.
Front camera
The front camera on the IDOL 4S is 8MP, and like the rear, has an f/2.2 aperture. This doesn't make for the best low light performance, but you do get an LED flash. In fact, that makes this the first Windows 10 Mobile phone to have a front-facing flash, a feature that's now common among iPhones and Android phones.
Of course, most modern devices simply light up the display for use as a flash, a method that has become pretty effective. Sadly, there isn't a single Windows phone that has adopted this idea, and I really don't know if it's a limitation of the devices themselves, the OS, or the Windows Camera app, but the IDOL 4S does have additional hardware to make it possible.
Also, before anyone asks (I'm looking at you EvilGardenGnome), these photos were taken at different times and were meant to capture different lighting conditions. And yes, at some point between these times, I shaved.
Battery life
Battery life is about what you'd expect from a Windows phone with a 3000mAh battery. You won't have trouble getting through an average day, unless you push it pretty hard.
I ran a battery test with WP Bench - which is what I normally use for Windows battery tests - and the result was two hours, 57 minutes, and 38 seconds, which was only a bit less than what HP's Elite x3 achieved. These tests should be taken with a grain of salt.
Unless you're a big-time power user that's never near a charger, you're not going to have a problem. Fortunately, if you use a Continuum dock, you'll also be charging the IDOL 4S throughout the day.
Performance
Alcatel's IDOL 4S with Windows 10 rocks a Snapdragon 820 chipset, 4GB of RAM, and 64GB of storage, which is about as flagship-class as it gets - considering that Windows 10 Mobile doesn't officially support the Snapdragon 821 - and it's exactly the same as HP's Elite x3.
One benefit that you'll see in performance from HP's flagship is that the IDOL 4S has a lower resolution display at 1080p. A 1440p display has 3.7 million pixels, while 1080p is just 2.1 million, which is a lot less work on the GPU.
For benchmarks, we'll use AnTuTu. There are actually two versions of the app in the Windows Store, one of which is a UWP app that's comparable to iOS and Android, and the other is an old beta app that hasn't been updated since 2012. We're going to use both, but to be clear, the old v0.8 is only there in case you want to compare the score with older Windows phones, as there hasn't historically been a wide selection of benchmarking apps available on Microsoft's mobile platform.
With the exception of 3D graphics, the IDOL 4S got smoked by the Elite x3 in just about every way, which scored a total of 114,840. For comparison, the Lumia 950 XL (Snapdragon 810) scored 88,405, while the Galaxy S7 (Snapdragon 820) scored 129,187.
Conclusion
Ultimately, the Alcatel IDOL 4S with Windows 10 is a powerful and beautiful Windows phone that's actually designed with consumers in mind. It's an extremely pleasant device to use, although it's not without its shortcomings.
As mentioned above, the camera could certainly be better. It's also not likely that a firmware update will fix anything, as it simply doesn't have the specs of a modern flagship camera. There's no OIS and it has a small aperture.
Also, and I don't know if this is really a deal-breaker for anyone, but the device also lacks NFC. Microsoft's mobile payments solution doesn't even work on any non-Lumia devices just yet, so we'll see if this ever really matters.
The VR experience is pretty cool, especially considering that it's never been done on a Windows phone. For this reason though, it would have benefited from a higher resolution display.
The IDOL 4S is a T-Mobile exclusive, so if you're an AT&T customer (as many Windows phone users in the US tend to be), or you live outside of the US, your choice for a flagship Windows phone would still be the Elite x3. Alcatel still hasn't confirmed that it's going to stay an exclusive to the Un-carrier, but it certainly appears that way.
But with all of those shortcomings, you really can't beat it for the price. For $469.99, you're getting an elegantly designed Windows phone with a vibrant display, powerful internals, and a bundled VR headset. If you were looking for a new Windows phone, this is it.
Pros
Stunning design Beautiful display VR support Powerful hardware Lots of storage
Cons
Mediocre camera VR quality Slow fingerprint reader No NFC