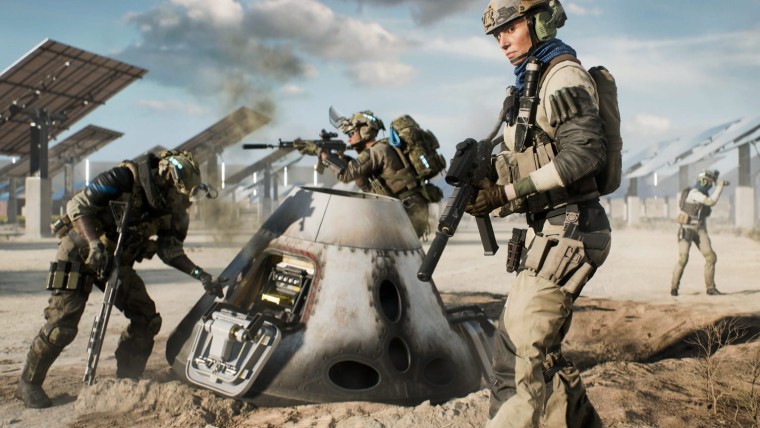 Battlefield 2042 is an upcoming first-person multiplayer shooter that focuses on warfare in the near future. While there are plenty of multiplayer modes to choose from, the game also adds a game-mode editor called Portal that allows you to make custom experiences by changing the rules.
Today, developer DICE gave us a look at some maps like the Battle of the Bulge, El Alamein, Arica Harbor, Valparaiso, Noshahr Canals, and Caspian Border that will be a part of Battlefield 2042 at launch. The game provides default settings so you can play them just like you did in past Battlefield titles, but also allows you to change different parameters if you want a more personal match.
With Battlefield 2042 Portal, you can use these maps as starting points and make minor changes like adjusting weapons loadouts. However, the option to change bullet velocity, health-regeneration speed, and damage multipliers for various body parts is also there.
The trailer gives you an overview of the content available in Portal. The tool features characters, items, and more from Battlefield 3, Battlefield Bad Company 2, and Battlefield 1942.
You don't need to own Battlefield 2042 to try out Portal because it can be accessed through a browser. Just log into your EA Account and start playing around with the tool. You can send your creations to friends via a code. If they have Battlefield 2042, they can start playing your customized mode immediately.
The steps to create your custom game are listed below. You can read about them in greater detail on the game's website if you want to try it out once the title launches.
Choose a game mode like Conquest or Rush.
Select the maps you want to play on.
You can then change basic rules like the number of human players and bots.
Next, you can tweak modifiers like aim assist, friendly fire, or extreme weather.
You can also change if soldiers can sprint or aim down sights.
You can change how vehicles are spawned in-game. For example, only have carrier vehicles instead of combat ones.
The user interface is also customizable so you can remove items like the compass or ally identification.
You can change bot behavior by making them attack everyone instead of being on a team.
You can add which attachments, characters, gadgets, guns, and vehicles are available in the match.
The Rules Editor allows you to tweak even more settings like bullet velocity and health regeneration speed.
Keep in mind that Portal changes how matches play out and what you have access to. You can't make your own map by placing objects like Halo Forge.
Battlefield 2042 launches on November 19, 2021, starting at $59.99. However, if you purchase the Gold or Ultimate editions of the game, you can play it on November 12. EA Play and Xbox Game Pass Ultimate members can get it for 10% less through their subscriptions. Battlefield 2042 is coming to PC, PlayStation 4, PlayStation 5, Xbox One, and Xbox Series X|S.
---
What do you think of Battlefield 2042 Portal? Do you think it'll enhance the longevity of the game? Let us know in the comments below.