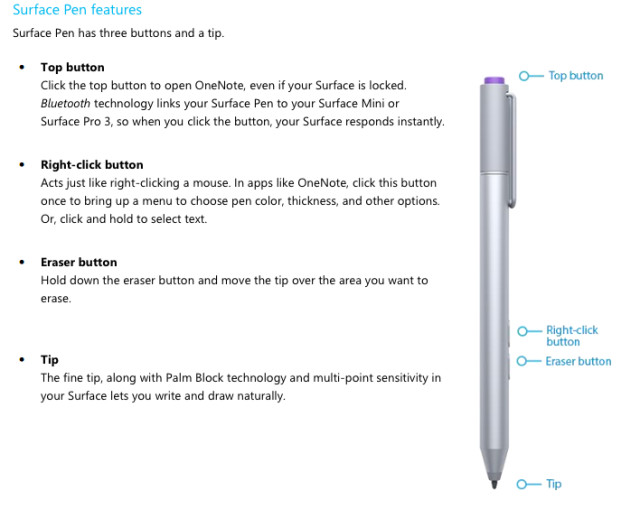 Earlier today, Microsoft accidently confirmed that the Surface Mini is real; the evidence came in the Surface Pro 3 new user guide with multiple references to the device.
While we knew the device was real, thanks to the copious amount of information we were able to leak, we were still a bit baffled that the device was killed at the last minute. While we knew our sources were good, it's reassuring to see Microsoft confirm that the device was indeed originally slated for launch with the Pro 3.
While Microsoft has not said anything yet about the Mini references in the Pro 3 documentation, we can derive from the material that the Mini will support pen input.
We had been saying for some time that pen support would be coming to the Mini and this documentation confirms this information; what's more interesting is that the pen will also work on an ARM-based device. Knowing this, it's possible that the next iteration of the 10-inch Surface will support pen input as well.
This information aligns with what we had heard previously about the Surface Mini with Microsoft wanting to position it as a note-taking device. Considering that Microsoft is waiting until, at least, the launch of Gemini (the touch friendly version of Office for Windows), they may position the Mini as the ultimate mobile office tablet.
With Gemini expected, at the earliest, this fall, don't expect the Surface Mini to be released in the near future. While fall is not that far away, we would expect Microsoft to separate the launch dates of the Pro 3 and the Mini by a modest amount of time. And with Elop now running the show too, the device could be killed entirely but we don't think that will happen.
Microsoft has not offered any kind of statement about the Mini references in the Pro 3 documentation and don't hold your breath, as we are not expecting them to say anything.