"When does it open? When does my flight leave? How long does it take to get there?" Ask your phone these questions today, and you won't get a very useful response.
But as Google's Aparna Chennapragada explained at the company's I/O developer conference today, these are exactly the questions that the new Google Now on Tap function aims to answer, by understanding the context of your enquiries as you ask them.
Google Now on Tap is baked into the new Android M release, and it can bring up contextual answers and suggestions based on what you're doing, where you are, and when you're doing it. In one example, a user gets an email from a friend suggesting they go to see the new movie Tomorrowland tonight - by holding down on the Home button on the phone, Now on Tap immediately brings up a card with the trailer, reviews, movie times and relevant apps.
In another example, a Skrillex song was playing in Spotify. After asking Google Now "What's his real name?" - note: "his name", not "Skrillex's name" - it instinctively understood the context of the enquiry and brought up the answer: Sonny John Moore.
In a further example, a Viber message from Aparna's husband suggested they go to a restaurant called 'Evvia' for dinner, and asked her to get the dry cleaning because he didn't get the chance to do so. Holding down the home button brought up a card for the restaurant - including quick links to call and find the restaurant, and apps to discover further details about it. It even created a Google Now card reminding her to pick up the dry cleaning.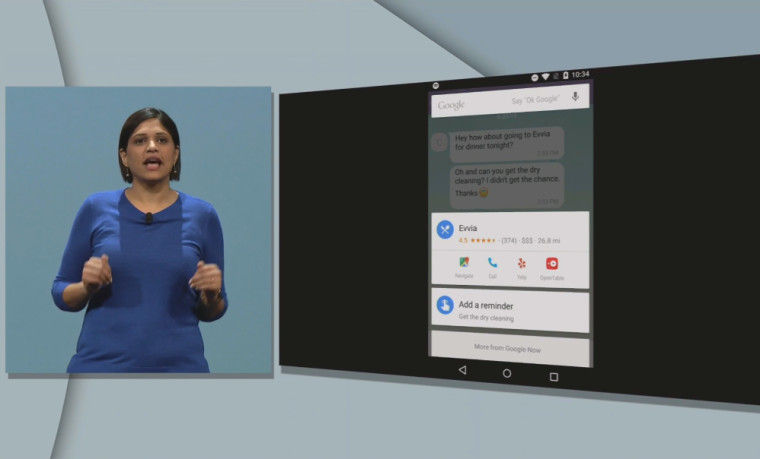 And what's especially notable about this latter example is that the app didn't need to be modified at all to enable this functionality - as it's baked into Android M, the OS can simply scan through the information on screen when prompted, and surface contextually useful info to help the user perform the tasks they're most likely to want to do.
As Google explains:
When you tap and hold the home button, Google gives you options that are a best guess of what might be helpful to you in the moment. But if you need something specific, you can also get Google to help by saying "Ok Google" from any screen, and any app.
Chennapragada put it another way:
When you tap and hold the home button, you're telling Google Now, 'Hey! Here's something I need help with! Use this context. And Google Now uses this context, and brings you back relevant answers.

But as you might have noticed, it's not just about answers, it's also apps. So what does it mean for developers?

This is a new way that you can reach and re-engage with users, once your app is indexed by Google.
The functionality also extends to Chrome on Android M - simply by tapping on words on a web page, you can bring up contextual information cards. Tap on an actor's name, for example, and you'll get a card with further web pages, details of what shows and movies he's been in, and apps to help you find out more about him. Tapping on an app will bring up the actor within the app, rather than just opening it and making you perform a search separately.
Chennapragada ended by saying: "In all these examples, be it the article you're reading, the music you're listening to, the message you're replying to, the key is understanding the context of the moment."
Google is clearly hoping that context makes it king when it comes to winning over users around the world.