Two days ago, Microsoft announced that the next major update to Windows 10 - formerly known as Redstone (Rs1) - will be called the Anniversary Update. They detailed a few new features, but most of what we now know came in later sessions.
As Build wraps up today, we know just about everything that Microsoft is going to tell us for now. Here's what we know, along with a bit that we were expecting but didn't hear about.
What we know
New Pen features
This was one of the first features that the firm showed off at Build. The idea is to make it more convenient to use a Pen with a Windows 10 PC than it is to use a pen and paper.
If a user writes a date into Sticky Notes, it will turn into a link. Clicking that link will allow the user to set a reminder in Cortana.
Of course, that's not all. Users can draw on top of pictures in the Photos app. Perhaps more interesting is that the user can annotate a map in 3D mode and when the orientation is changed, the text moves with it.
There's also an all-new Ink Workspace, delivering features such as a digital ruler. Bryan Roper - who demoed the new app - even tweeted his drawing when he was done.
New Action Center, Android notifications, and Cortana improvements
These three things all go together and this is a major part of the update. Cortana is continuing to be strengthened as the bridge between a user's phone, tablet, PC, HoloLens, and game console.
Assuming that you have Cortana installed on your Android phone, your notifications will show up on your PC. Not only that, but Action Center is synced to the cloud, so when you swipe away a notification on one device, it's gone from the other as well.
Action Center will also include widgets and tiles, along with an all-new interface with cards and hero images. Cortana will have cards as well.
Notifications will be vastly improved as well. You'll see a number by the Action Center icon that reflects how many notifications you have.
"Chaseable" Live Tiles
If you're a heavy user, chances are that you've seen something interesting on a Live Tile, opened it, only to find that you can't find the information that was on the Tile. Now, you won't have to.
With "chaseable" Live Tiles, it will bring you directly to the information that was showing on the Tile. Sadly, it looks like now there's now no way to simply launch an app by tapping on an active Live Tile.
Start screen
This isn't set in stone - as Microsoft is looking for feedback from Insiders first - but the Anniversary Update may include a redesigned Start Menu/Start Screen.
You can vote for what you think of the changes right here.
Continuum
The theme this year really seems to be all about strengthening the things that we already have. The core principles of Windows 10 are the ability to have the same experience across all devices and empowering users to do more, so that includes things like the Universal Windows Platform, Cortana, and Continuum.
Windows 10 will be getting a feature that's similar to Apple's Handoff. There's no official name for the feature just yet, but users will be able to answer their phone from a PC, as well as be able to pick up where they left off in applications.
This includes SMS messaging as well, a feature that's very notably been lacking from the Messaging + Skype app. Since everything is synced with the cloud, the inking features discussed above will also show up.
Microsoft Edge
Of course, Edge will be getting a load of new features as well, many of which are already available to Insiders, such as extensions and the ability to pin tabs.
Edge will also be receiving the Windows Hello treatment. You'll be able to use the biometric authentication to log into web sites, as passwords rapidly become a thing of the past.
Project Centennial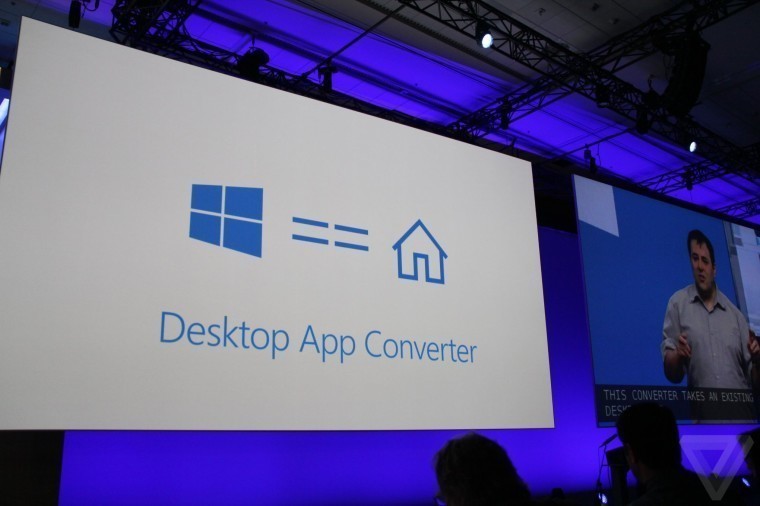 Microsoft's promise to bring Win32 apps to the Store is finally coming to maturity, as the firm will be releasing the Desktop App Converter. This will package a Win32 app as a UWP app.
Project Centennial apps will have access to the full suite of UWP APIs and features, such as Live Tiles; however, they will only run on x86 devices.
Xbox One features
As mentioned earlier, Cortana is the bridge between your phone, PC, tablet, HoloLens, and game console, so with the Anniversary Update, Microsoft will finally fulfill its promise to bring Cortana to the Xbox One.
With that, we're also going to finally see a Universal Store and the ability to run UWP apps. Right now, anyone can turn their Xbox One into a dev unit.
In fact, if you do, you'll be asked to download a Preview build for the Anniversary Update, build 14290. Sadly, this build doesn't yet contain the Universal Store or Cortana.
What we don't know
While all of this seems like a lot, there are also some things that we really expected to see, but didn't. Of course, it's completely possible that Microsoft has more in store, despite Build being over.
Continuum for phones
When Continuum for phones shipped in the first Windows 10 Mobile devices, it didn't seem ready. You can't snap apps, let alone use windowed apps. Everything is full screen and to be honest, pretty bare bones.
Many people expected the next major update to fix some of that. If not windowed apps, then at least split-screen.
Also, HP's Elite x3 was announced at Mobile World Congress but won't ship until the Summer. The device is very Continuum-focused, so many assumed that the Summer timeframe meant that it was waiting for Redstone, aka the Anniversary Update.
OneDrive sync engine
The story of OneDrive is an interesting one. With Windows 8.1, it used something called placeholders, which allowed the user to see their entire OneDrive. Some files were stored offline and some were online-only. Attempting to use an online-only file would download it for use.
Windows 10 removed this feature, forcing the user to choose which folders to sync, all of which would be stored offline. You could still see all of your OneDrive, as long as you synced the entire thing, and as long as you had enough storage for that.
Microsoft had said that they wouldn't be bringing back placeholders; however, they would be implementing an "alternative" in a new sync engine that would be available by the end of 2015. We still haven't seen this alternative, nor has Microsoft really spoke about it very much.
In December, rumors started to swirl that the firm would be bringing back placeholders in Redstone, now known as the Anniversary Update. For those that had built a work flow around the feature, this was certainly a hopeful for Build.
Of course, Build is Microsoft's developer conference, so the news is - as it should be - related to developers. Typically, we learn about what's next for the OS, as developers need to know about the features and APIs that they can implement in their apps. For example, Apple will almost certainly announce OS X 10.12, iOS 10, tvOS 10, and watchOS 3 at WWDC in June.
Then again, Microsoft just has so much more going on than Windows. Cloud services such as Azure now make more money for the firm than Windows does, so it stands to reason that Azure is more important to them. Office makes more money than either of them.
Nevertheless, the news to come from Build is likely exciting to even the most tepid of Microsoft fans and there's still going to be more to talk about for some time.
Photos via WinBeta