One of the common complaints about the streaming environment is that there are too many services, this can make it difficult to keep track of what services have what content. A service that I use, called JustWatch helps to overcome this issue.
It lets you add streaming services that you use to your account and lists the programmes that are available. It's also available in most countries around the world but its usefulness will vary based on the amount of streaming platforms available to you. In this overview, I'll run through setting up your account and briefly go over the features that are available.
Set up an account
To get started with JustWatch you need to make an account, you can sign up with your email, Apple account, Facebook account, or Google account. By signing up, JustWatch will remember the shows you've liked or disliked and the services you're subscribed to. JustWatch is available as a mobile app too, so you can log in on multiple devices.
If you've just signed up, the website might ask you which services you have, otherwise, press the yellow icon in the upper right which will let you adjust your streaming services, country, language, and more.
One of the biggest letdowns about JustWatch is that some of the 'free' services aren't free at all, so depending on where you live, you may have to check unfamiliar services to make sure they are free before adding them to JustWatch if you don't want to pay for that service.
In the UK, BFI Player and ITVX are listed as free services but many of the results actually need subscriptions to both of these services. Once you do have your free services sorted out and have added any paid services you use, like Netflix or Amazon Prime Video, then you can get started with JustWatch properly.
Finding something to watch
The first page you'll see when you go to JustWatch is the 'Discover daily' homepage (above) which shows streaming charts for your services, just-added shows, shows you may like based on your likes, top shows in your country, and more.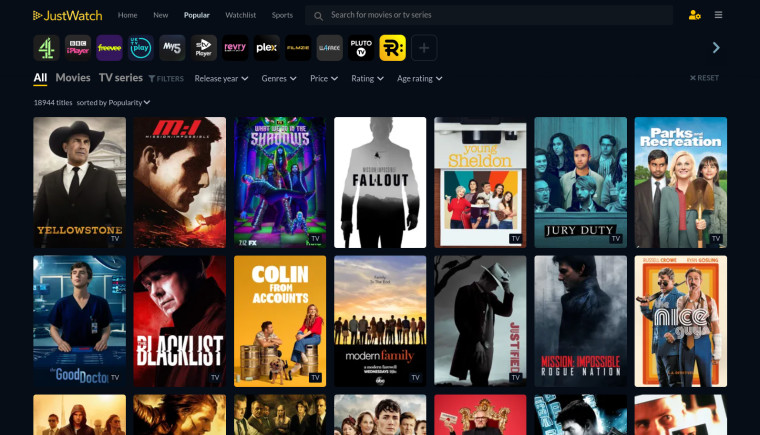 In addition to this, you have the 'New' and 'Popular' tabs. 'New' shows you a timeline of new content, while 'Popular' pulls in all content from your services and displays them in terms of their popularity - this is the tab I usually head to when I'm looking for a film to put on.
If you want to tune your results further, there are filters for release year, iMDB rating, price, content type, genres, streaming quality, and age rating. The age rating filter will grab ratings from your national ratings agency, in the UK where I use this service, it grabs ratings from the British Board of Film Classification (BBFC).
Once you find an interesting show, clicking on it in JustWatch will give you the options to track the show, mark it as seen, like, or dislike it. You will also see options about where to stream, buy, or rent the content.
That's all there is to it really, to be clear, you don't stream any content directly on JustWatch, it points you to each of the actual streaming services you've added to your account.
Let us know in the comments if you've tried JustWatch before or if you know of any other similar services.