On its own, LG's G8X ThinQ isn't that exciting of a smartphone; well, to be fair, let's say it's not anymore exciting than the G8 ThinQ that came out earlier this year. What's more exciting is the LG Dual Screen, an accessory for the G8X that in most cases, comes with the device, and gives you a dual-screen experience.
The accessory plugs into the G8X and adds a second 6.4-inch FHD OLED display; in fact, it's the exact same panel, providing a complete dual-screen experience. LG added some additional software support as well, such as allowing you to use one screen entirely as a keyboard.
It's cool to experience something that's a little different from the rest. With the age of foldable smartphones here, it's worth noting that dual-screen smartphones are here as well, so we'll all have a variety of form factors to choose from.
Specs
CPU
Snapdragon 855, 2.84GHz Kryo 485, triple-core 2.42GHz Kryo 485, and quad-core 1.78GHz Kryo 485
GPU
Adreno 640
Body
159.3x75.8x8.4mm (6.27x2.98x0.33in), 192g (6.77oz)
Display
6.4 inches, 1080x2340, OLED, 403ppi
Camera
12MP (standard) + 13MP (ultrawide), Front - 32MP
Aperture
f/1.8 + f/2.4, Front - f/1.9
Video capture
Standard: 4K - 60fps
Ultrawide: 4K - 30fps, 1080p - 60fps
Front: 4K - 30fps, 1080p - 60fps
Storage
128GB, UFS 2.1
RAM
6GB
Battery
4000mAh
Color
Aurora Black
OS
Android 9.0 Pie
Price
$749.99

Design
From the back, this device looks almost exactly like the G8 ThinQ that I reviewed earlier this year. It's a black glass sandwich, and it doesn't have a camera bump. Yes, you read that correctly, and it's something that I really appreciate from LG. It's something that the industry has really gotten away from, but the camera doesn't protrude from the device at all. It's completely smooth.
The camera has only two lenses though, with a tragic omission of a zoom lens in a world of triple-lens premium smartphones. We'll talk more about the camera later. One thing that's different from the G8 ThinQ though is that there's no fingerprint sensor on the back, as LG finally put it in the screen.
As usual, the bottom of the device sports a USB Type-C port for charging, although it does support Qi wireless charging. There's also a 3.5mm headphone jack, making LG one of the last to support the legacy port. But not only does LG support it, but it excels at it. LG uses a 32-bit Hi-Fi Quad DAC, so the headphone experience with the G8X is much better than you'll find on non-LG phones. You can turn it on and off too if you want to hear the difference, and the difference is noticeable with any analog headphones, not just premium ones.
On the left side of the device, there's a volume rocker and the Google Assistant button, a button that LG insists on including in its phones. Get ready to mix it up with the power button, which is on the right side. One thing that the Assistant button is useful for though, is doing certain things with the Dual Screen accessory, such as answering calls with the phone folded shut.
Dual Screen and display
The display of the device itself is 6.3 inches with a 1080p resolution. The OLED screen has a small notch for the front camera, and it's much smaller than the notch on the G8 since it doesn't include all of those nonsensical Air Motion sensors. As usual, LG made a great OLED display.
But wait, there are two of them. With the Dual Screen accessory, LG used the exact same panel that's included on the phone. And when I say it's the exact panel, I mean it, right down to the notch. LG told me that there's a reason for having a notch on the second screen without a camera, and it has to do with using the exact same panel. It allows for the color calibration to be exactly the same between the two displays.
But it's all pretty awesome. The most natural use case is to have two apps side-by-side. If you're feeling lazy, that could be Twitter and Facebook. Or, it could be email and Microsoft Word, if you're feeling a bit more productive.
As I noted earlier, you can use an entire display as a keyboard, which makes for a great typing experience. You can swap the app between displays by swiping with three fingers. The reason that I mention this now is because you probably want the display with the actual phone - the side that's heavier - to be the part that you're holding, so if you're using that display, you can swipe it to the other screen and then the keyboard will appear on the bottom.
Another use case is just to prop up your phone. In the PC world, we call this tent mode. The Dual Screen accessory has a 360-degree hinge, and when you fold it all the way back, the second screen shuts off. That means that you can indeed use this as a normal phone if you want, albeit a much thicker phone.
While I absolutely loved using a phone with two screens for the last few weeks, my biggest issue was software. I installed Microsoft Launcher and was really disappointed that I couldn't get it to work on the second screen. It seems that the dual-screen affect works by showing two instances of LG's launcher, so you can replace it on the main one, but not on the other.
The Dual Screen accessory does have its own settings. When you first insert the phone into the case, you'll get a pop-up to ask if you want to turn on the second screen. There will also be a small icon on the side that you can open with additional options. And then, the green icon that you can see on the second screen opens a full settings menu, which allows you to do things like turn the app drawer icon on and off, but not switch the launcher.
The front of the accessory is mirrored, making it really hard to photograph, but there's also a small display at the top that will show you the time and notification badges. It can also tell you who's calling, as there is a cutout for the speaker, so you can talk on the phone without opening the case.
Ultimately, I really loved the LG Dual Screen. Having a second screen is something that I never knew I wanted, and now I don't want to live without it. But I also think that this is a somewhat early implementation of it. It could use more software support, as Android users are used to being able to customize launchers and keyboards.
Don't get me wrong though. LG did a great job with its own software on this. For example, not only can the keyboard go full screen, but you can use the second screen for a game controller as well, or you can create your own gaming controller.
Camera
The camera on this device is not exciting, and it's not as good as the one on the LG G8 ThinQ. The two sensors on the back are 12MP and 13MP for standard and ultrawide lenses, respectively, and the apertures are f/1.8 and f/2.4. For comparison, the G8 had 12MP and 16MP lenses with f/1.5 and f/1.9 apertures, so low-light performance would be better.
It does have the features that you'd expect though, such as 4K 60fps video capture, at least from the main lens. The front camera supports 4K 30fps video capture too, something that we didn't see in the G8.
It has features like night mode, and the AI camera that is meant to see what you're taking pictures of and adjust settings accordingly. The front camera is 32MP with Quad Bayer technology, meaning that it can combine four pixels into one for better low-light performance.
​​​​​​Again, the camera really wasn't the focus of this product. The big focus is clearly on the Dual Screen accessory, and productivity.
Performance and battery life
Going into this, I was a bit worried about performance. For example, with gaming focus behind allowing you to use a screen as a game controller, I was worried about the screen having to push the extra pixels of a second display. As it turns out, my worries were for nothing. It makes sense too, since these are both FHD+ displays, so two of them adds up to just over five million pixels, which isn't more than your average QHD+ screen.
Overall, the performance is exactly what you'd expect with a Snapdragon 855 and 6GB RAM, which is fine. It does use UFS 2.1 storage, rather than the faster UFS 3.0 storage that's being used in some newer phones.
Battery life depends on how you use it. Two displays means that you're burning through battery life, although the G8X does have a 4,000mAh battery, which is pretty good. Using the Dual Screen accessory, I was able to stretch it across the day on most days, and without it, it wasn't a problem at all to get through the day.
For benchmarks, I used Geekbench 4, Geekbench 5, AnTuTu, and GFXBench. I did run them all with and without the Dual Screen accessory attached, but the results were so similar that it's not even worth showing both.
First up is Geekbench 4, which tests the CPU.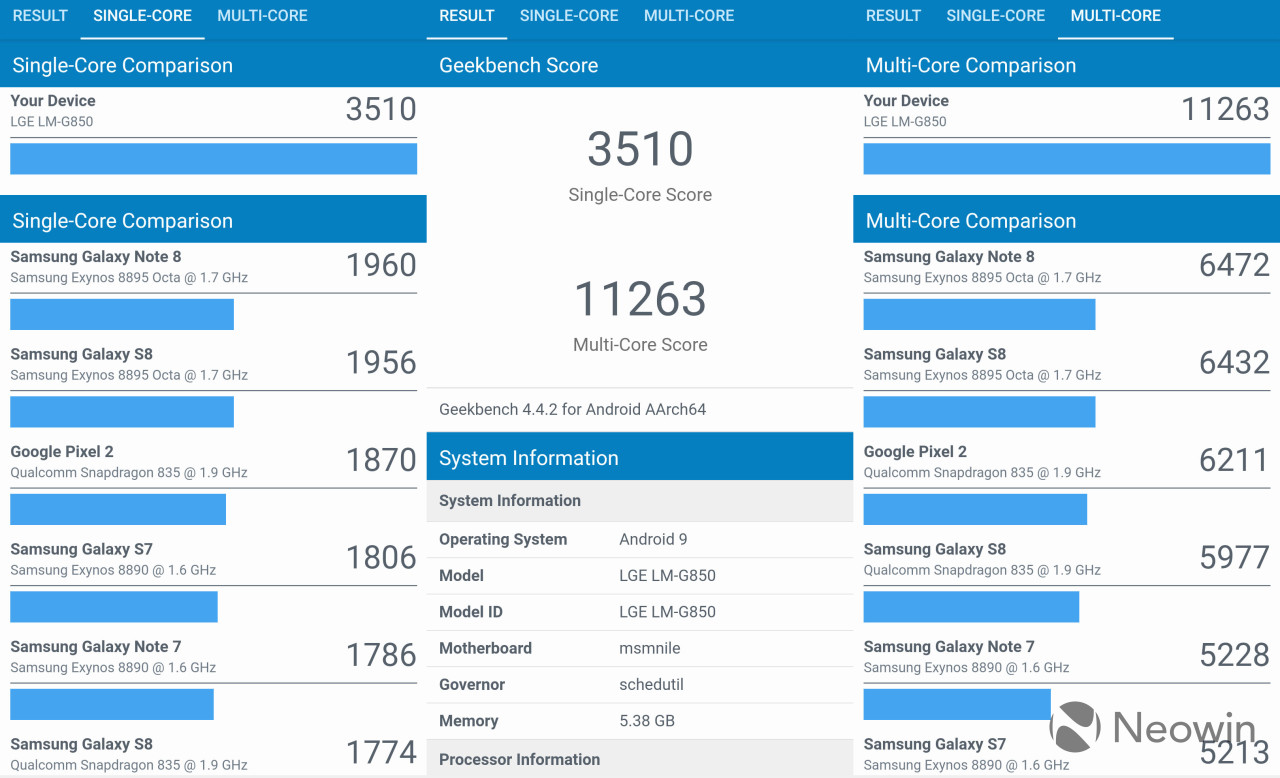 You can compare this to the G8 ThinQ, which has similar hardware and got 3,513 on single-core and 10,989 on multi-core. Next up is Geekbench 5, a newer version of the same product.
We can compare this one to the OnePlus 7T, which scored 785 on single-core and 2,816, as that device uses the more gaming-focused Snapdragon 855+ chipset. Next up is AnTuTu, which has an all-in-one test.
The G8X outperforms the G8 on AnTuTu, as the G8 got 356,631. The big boost was in the RAM department. Finally, GFXBench tests the GPU.
Conclusion
If you like to try out new experiences, than the LG G8X is for you. This is absolutely a great experience too, and the possibilities of having aa second display are endless. It's great for productivity, gaming, entertainment, mindlessly scrolling through social networks, and more.
My biggest issue with it is the lack of support for third-party software, and LG's native software doesn't help, as I'm just not a fan of it. The other issue is that the camera is decidedly mid-range, so if you're looking for a camera-centric device, this is not it.
What's cool though, is that this phone isn't very expensive in terms of today's market. Right now, it looks like AT&T has it for $779 and Sprint has it for $749, and either of them are giving away the Dual Screen accessory for free. On a side note, I really wouldn't recommend this device without the Dual Screen accessory.
I loved it though, possibly because I'm just a nerd that likes things that stand apart from the pack a bit, or possibly because I think new form factors are fun. If it sounds appealing to you though, I definitely recommend at least checking it out. You can find it on LG.com here.
Pros
Dual-screen display Productivity features Gaming features Performance OLED