At Microsoft's 2015 Convergence conference, CEO Satya Nadella unveiled Office Delve, a service that works with Office 365 to "surface relevant content and insights tailored to each person." Office Delve is powered by Office Graph, which maps the interactions and connections between different people and various types of content across Office 365.
By "unlocking" key information associated with a particular employee, Microsoft claims that Delve enables teams to work more effectively, allowing the computer the ability to surface information and trends quickly and effectively. Delve also features a powerful search tool that allows users to research a client, look up information about a task and stay in the loop about a project, all within Office 365.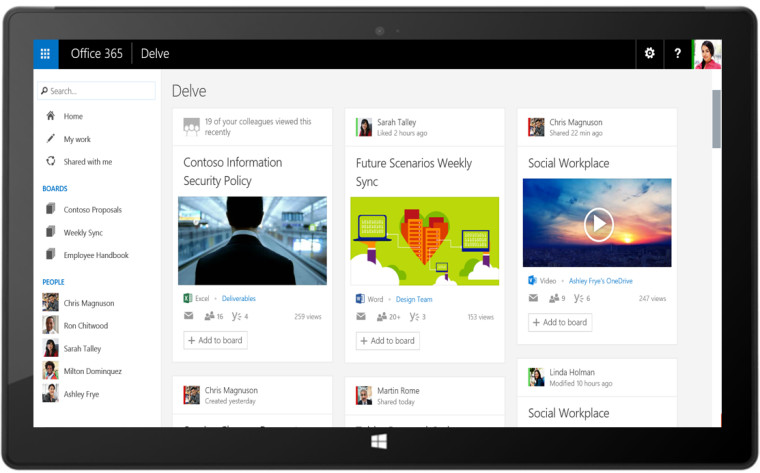 On top of this, Delve presents the information in an easy-to-view way, utilizing a "card-based" system to present snippets of information that could be useful to a particular individual. By drawing information from SharePoint, OneDrive, Yammer and Mail, Delve could potentially lead to far better time-management within a business.
Going forward, it is clear that Microsoft is now working to draw all of its services together. Office 365 provides enterprise-level programs, Yammer provides communication and Mail provides, well, mail. Delve offers a way to autonomously search all of these, adding yet another piece of Microsoft's puzzle.
Microsoft's Convergence event is live right now, watch the live stream here.
Images via Microsoft