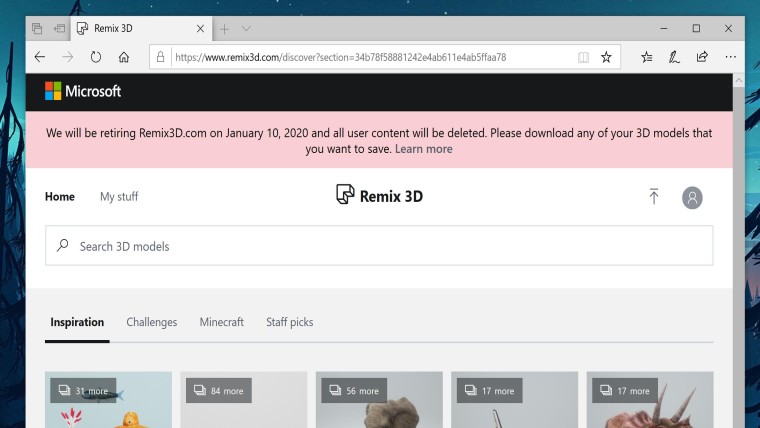 Microsoft renewed focus on "creators" began with the original Windows 10 Creators Update back in 2017. A major part of the announcement was devoted to Paint 3D, bringing a fresh coat of paint to the well-known application in the form of 3D capabilities through the various models present either within the app, or from Remix3D.com website that housed a myriad of content from other users.
While the catalog website did receive a round of updates shortly after, there hasn't been much news from the company with regards to adoption figures or updates. However, recent reports suggest that Microsoft might be planning to shut Remix3D.com down. References found by renowned leakster WalkingCat, further reiterated by developer Rudy Huyn on Twitter point to verbiage that suggests that the Remix 3D website will be retired on January 10, 2020, and that users download their 3D models as all user content will be deleted.
While the verbiage is still not live on the website, references to the banner point to a possibility of the update to the website sooner than later. While the website is expected to be retired, there is no news on what impact it will have on the future of Paint 3D. It is no surprise that the app is not the favored choice of the two Paint apps, as the company's plans to deprecate the app, making Paint 3D the default, was caught with criticism. The company later confirmed that Paint will not be removed from Windows 10 just yet.

It is interesting to see how the company communicates the retirement of the website and the future of the 3D capabilities in Windows 10. With recent re-organizations and changes to the leadership at Microsoft, there have been some interesting changes at the company and its product focus. If the retirement of the Remix 3D website, though minor, is indicative of any future changes is anyone's guess.
Image: Rudy Huyn (Twitter)