Details emerged last week of Microsoft's plans for some of its future devices, since the company took over Nokia's devices business earlier this year. Today, more information has been revealed, including some aspects of what Microsoft has in store for its Windows Phone operating system. 
One of the devices revealed in the recent leak was referred to only by its codename, McLaren. That handset was identified as a new flagship, destined for AT&T, Verizon and T-Mobile (or its successor), scheduled to arrive later this year. Windows Phone Central later reported that that device will be the first to launch with new '3D Touch' technologies. 
As WPCentral noted, one intriguing aspect of 3D Touch is called MixView. A simple example of MixView in action would be to hover your finger over a Start screen tile, with the tile reacting to that presence by opening up to display a view of mini-tiles featuring shortcuts or commands which can then be pressed normally, allowing users to complete quick tasks without necessarily having to open an app or search for a function hidden in menus.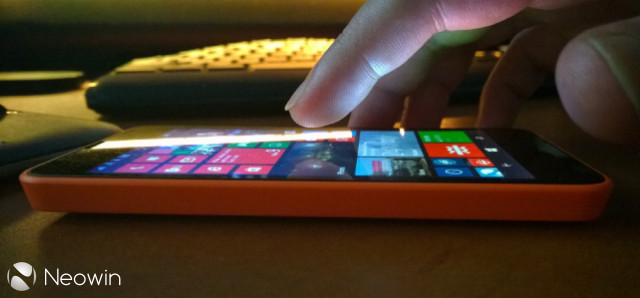 But Microsoft's plans for gesture and touch interactions go much further than this, as The Verge revealed today. While some manufacturers have used front-facing cameras to implement gesture support, Microsoft's efforts are much more sophisticated than this. The company has been developing hardware that turns virtually the entire handset into a 'sensitive' unit, with touch implementation extending beyond the display, and gestures that do not rely solely on the camera. 
This is where McLaren comes in: it will be the first device to support Microsoft's new 3D Touch system, and it will be unique among other Windows Phones in its use of sensor technology. No other Windows Phone manufacturers will support this technology at launch; this will, initially, be a Microsoft exclusive.
Citing sources familiar with Microsoft's plans, The Verge reveals that the sensors around the device will, for example, be able to understand how a device is being held, allowing for a more 'intelligent' orientation switch than the current on/off 'rotation lock' setting. The handset's bezels will also be able to control elements of the user interface, such as swiping a finger across one edge to zoom in and out on the camera viewfinder. 
Further examples include the ability to answer a call simply by picking up the phone and holding it to your ear, and hanging up by putting it in your pocket or bag. Waving your hand in front of the display could be a way of dismissing notifications, while simply holding the phone against your chest while in a call would mute the microphone completely. 
Microsoft's intentions with 3D Touch are to make gestures intuitive, and more significantly, to remove hardware buttons from Windows Phone devices. Even the power button could be removed, replaced by touch-sensitivity recognizing a hand gripping the device, for example. 
McLaren is expected to make its début in November, but we'll no doubt hear much more about its impressive new technologies between now and then - not least because Microsoft will be looking to its growing developer community to take advantage of these new capabilities, ready for the next generation of sensor-packed Windows Phones. 
Source: The Verge / Windows Phone Central | images are illustrative and do not represent the McLaren device