Microsoft has been enjoying a lot of success lately with the company's "most powerful console ever", the Xbox One X, getting positive reviews from gamers and critics alike. The firm has also enjoyed the launch of numerous titles on its platform including PlayerUnknown's Battlegrounds (PUBG) and Cuphead.
However, its latest move doesn't seem to have impressed a lot of people. Microsoft's official Xbox Twitter account has come under a lot of fire for plagiarizing a concept creator's work without credit.
Reddit member Macsterr recently posted an Xbox One ad concept featuring PUBG, and it appears that the @Xbox Twitter account has used it in a promotional tweet without crediting the author or even asking for permission.
Get lost in this year's Best Multiplayer experience. #PUBG [T] is now on #XboxOne: https://t.co/42H3kdCxP6 #TheGameAwards pic.twitter.com/ABEuOp2hzE

— Xbox (@Xbox) December 26, 2017
It is important to note that the image posted by Macsterr did use assets from previous images, however, credit was appropriately given to relevant authors. This does not appear to be the case here as there do appear to be some minor cosmetic changes made to the original image, which featured a white Xbox One X instead of a black one, as well as no background objects. However, the overall similarities in the design are uncanny.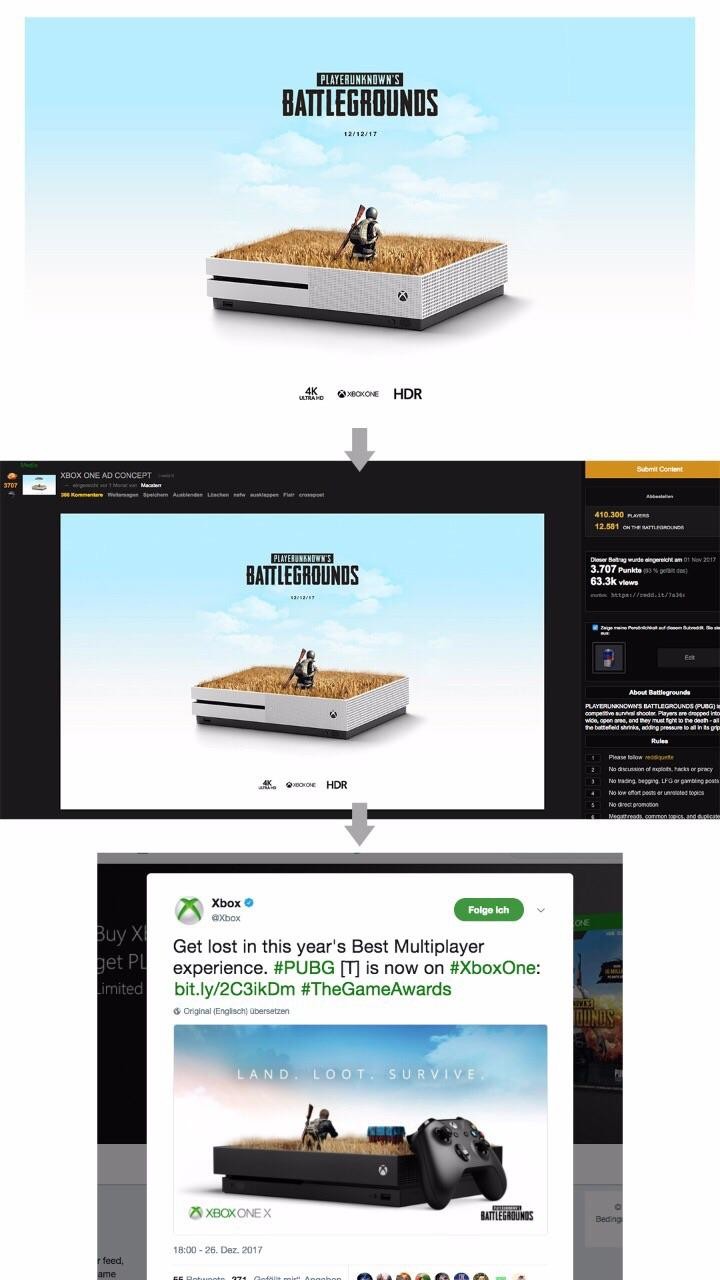 While some initially speculated that Microsoft might have paid the artist for the rights to the image, it appears that this is not the case as Macsterr has taken to Reddit to protest against the company's antic.
As it currently stands, the Reddit post has gained almost 60,000 upvotes with thousands of members sympathizing with the artist, and hundreds of others taking to Twitter to voice their anger at Microsoft:
December 27, 2017
It is important to note that this could be an honest mistake from the person managing Microsoft's @Xbox Twitter account, who may have come across the image without realizing that it wasn't created by the firm itself. However, the company has offered no explanation as of yet, and it remains to be seen how it resolves the matter while appeasing scores of furious people.
Source and image credit: Macsterr (Reddit)